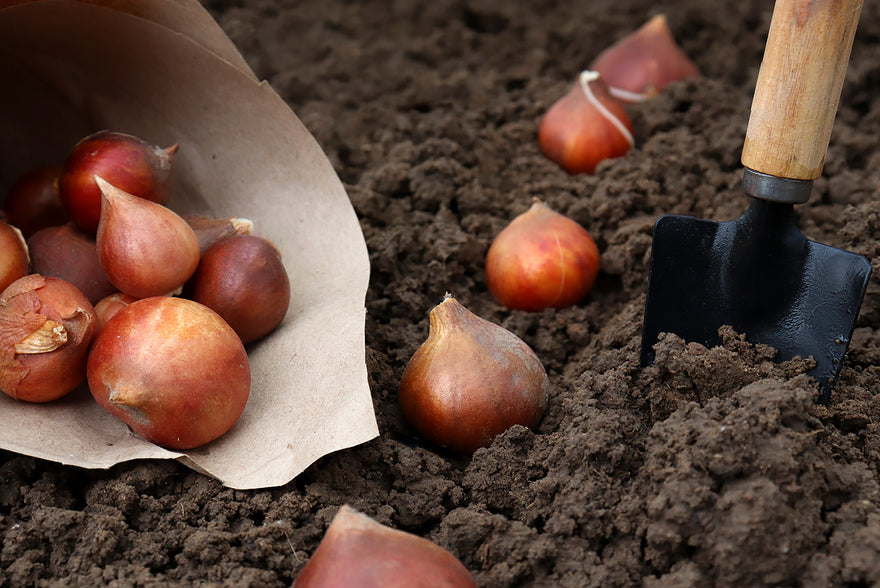 The wonderful tulips we know today were bred from a handful of wild species that came from Eurasia and North Africa. Carolus Clusius introduced tulips to European gardeners in the sixteenth century after getting bulbs from an ambassador who had first seen them in the gardens of Sulayman the Magnificent. Tulips typically flower in April, although some late season varieties can emerge closer to May, early season tulips (such as botanical tulips) usually start flowering around March.
Tulips are one of the most reliable ways of introducing a bucket-load of colour to your garden in spring. There are so many combinations and styles you can achieve with them, which is part of what makes growing them so much fun!
Tulip planting basics
Your tulip bulbs have been groomed for years by expert growers to give you the very best results. They're very easy to grow, but a few basics ensure gardening success. Choose a sunny or partially shaded spot with well-drained soil and prepare your bed with plenty of added compost (about one spade of compost for every three spades of soil). Now it's time to get planting and make magic happen!
Heights per tulip class:
How to plant Tulip bulbs
— Tulips are fully hardy and are perfectly fine to be outdoors all winter. They should be planted between October and mid December for best results. If you receive your bulbs in September, it is best to wait until the weather is cool before planting them, until then you can store them in a cool, dry place which is out of reach of squirrels and mice.
— Tulip bulbs can be planted directly outside in borders or patio containers.
— If you have a heavy soil or soil with a high clay content, it is a good idea to incorporate plenty of compost and some grit or sand into the planting area to aid drainage.
— If planting in containers, we recommend using peat-free multipurpose compost.
— Choose a position in full sun or partial/dappled shade.
— Plant the bulbs around 15-20cm deep with the pointed side facing upwards.
— Space the bulbs around 10cm apart from each other in containers for a full display. You can allow a little more space between bulbs in borders.
Plant calendar
| Jan | Feb | Mar | Apr | May | June | July | Aug | Sep | Oct | Nov | Dec |
| --- | --- | --- | --- | --- | --- | --- | --- | --- | --- | --- | --- |
| | | | | | | | | | | | |
| | | | | | | | | | | | |