How to plant Camassia bulbs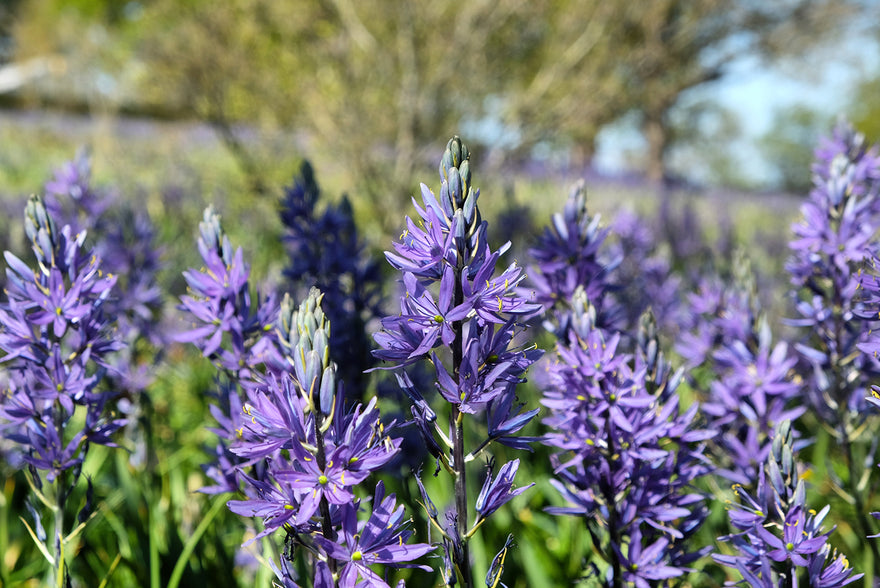 You can create a really dazzling late spring display with the beautiful upright flower spikes of Camassia. Plant this perennial classic in autumn for an effortlessly sophisticated display which will grace your garden every year. Naturally a meadow dweller, they love a spot with cool, moist soil and look fabulous as they peep above the long grass. They're also great for planting in borders. If you have a partially shaded border, you can achieve that idyllic cottage-style look by grouping them together in statement groups where they'll bring a beautiful and natural splash of colour to the space.
A few planting basics
Happiest in cool, moist soil, find the right spot for your Camassias and you can enjoy their starry beauty year after year! These elegant plants look most at home dotted around randomly in a wild, grassy area. They can also thrive in mixed borders too as long as the soil doesn't become too dry. For the best effect in borders, plant them in groups so their subtle flowers can make a bigger impact.
Planting instructions
— Plant in Autumn for flowers in late spring
— Suitable for growing in borders or through grass
— Choose a position in full sun or partial shade with soil which remains cool and relatively moist through the year
— Create a natural look in meadows by planting bulbs individually
— If planting in groups, allow 10-15cm of space between bulbs
— Plant the bulbs 10-15cm deep with the pointed side facing upwards
Plant calendar
| Jan | Feb | Mar | Apr | May | June | July | Aug | Sep | Oct | Nov | Dec |
| --- | --- | --- | --- | --- | --- | --- | --- | --- | --- | --- | --- |
| | | | | | | | | | | | |
| | | | | | | | | | | | |