How to plant Muscari (grape hyacinths)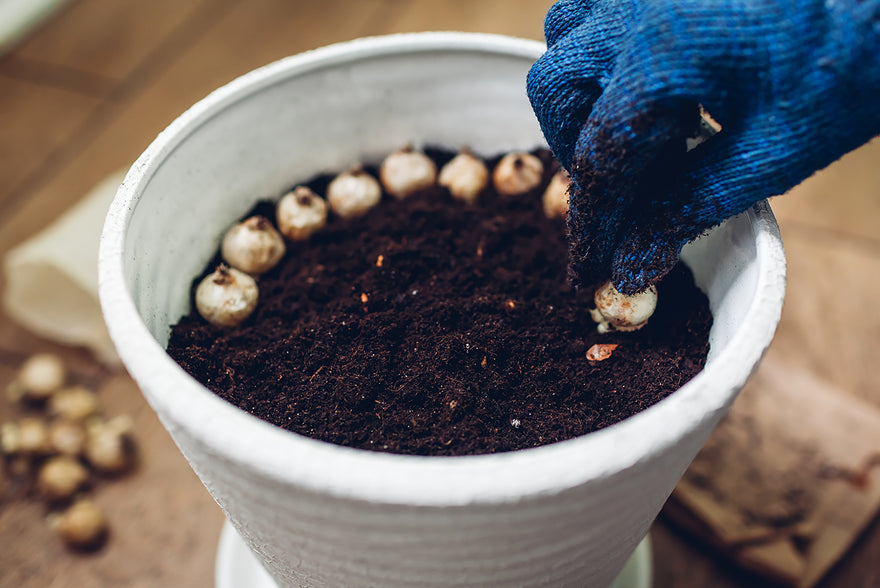 Muscari, commonly known as Grape Hyacinths, are easy to grow bulbs which naturalise over the years, creating a fabulous effect every spring when they burst into gorgeous swathes of colour. Reliably flowering from early to mid Spring, their cheery blooms bring the garden to life and also provide a plentiful and valuable source of nectar for pollinators. They grow happily in most places and they're compact too, which makes them a great choice for urban gardens and pots. Plus, if you like home-grown cut flowers, a bunch of these make a very pretty posy!
Muscari planting basics
Tough and reliable Muscari tolerate many kinds of conditions. If you have an area which is in full sun or partial shade, whether it's exposed or secluded, in borders, pots or through grass, these low-growing treasures will pop up each year with the minimum of fuss. Over the years they naturalise and eventually create a colourful carpet. Plant them in close groups or swathes to start with so that their dainty flowers can create a big impact!
How to plant Muscari bulbs
— Muscari are fully hardy and don't require frost protection over winter.
— Plant in autumn for flowers in spring.
— Suitable for growing in borders or pots.
— Choose a position in full sun or partial shade.
— Create a natural look by planting in close groups.
— Plant the bulbs 5-10cm deep with the pointed side facing upwards.
— Allow around 5cm space between the bulbs.
Plant calendar
| Jan | Feb | Mar | Apr | May | June | July | Aug | Sep | Oct | Nov | Dec |
| --- | --- | --- | --- | --- | --- | --- | --- | --- | --- | --- | --- |
| | | | | | | | | | | | |
| | | | | | | | | | | | |