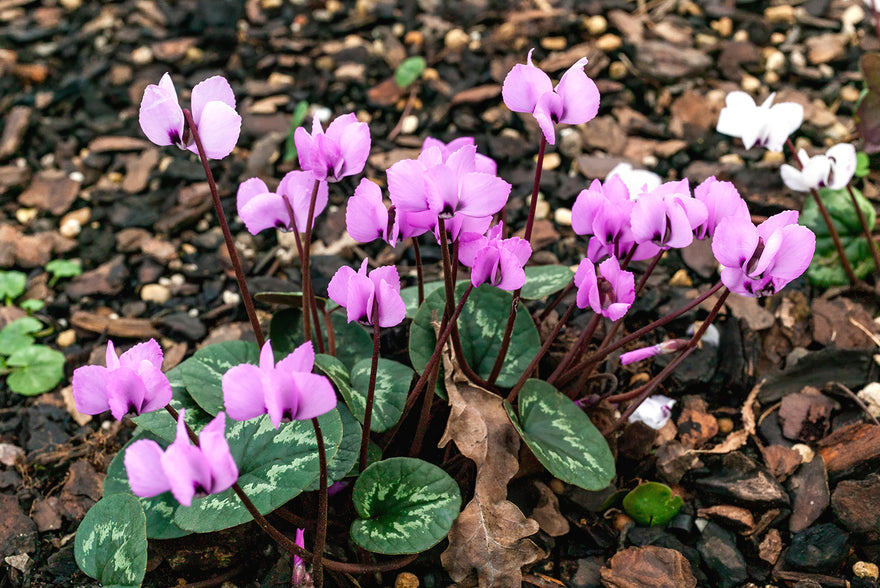 Cyclamen are fully hardy and will be happy outdoors throughout winter without any frost protection. They should be planted between September and late November for best results in the first year. If you're not ready to plant them as soon as you receive them, you can store them in a cool, dry place for a short while. They may start to deteriorate from mid November onwards so it is best to get them planted before then - they won't store until the following year.
— Cyclamen flowers in autumn, often they will produce some blooms in the first year after planting. In spring they will produce attractive leaves. They flower every autumn in larger clumps each time.
— Cyclamen tubers are large and quite flat. They can be planted directly outside in borders or patio containers, they look great under trees and cope well in dry areas.
— If you have a heavy soil or soil with a high clay content, it is a good idea to incorporate plenty of compost and some grit or sand prior to planting to aid drainage and to help the roots to anchor when settling in.
— If planting in containers, we recommend using peat-free multipurpose compost.
— Choose a position in full sun or partial/dappled shade.
— Plant the tubers shallowly with the top just level with the soil surface, a hole which is around 5cm deep and wide enough to fit the tuber is usually sufficient. Any buds, eyes or shoots should be facing upwards, this is usually on the domed side.
— Space the tubers around 10-15cm apart from each other or dotted around in beds or areas under trees.
— Cover back over with soil/compost after planting. It's a good idea to water them in after planting to settle them and to continue watering regularly in autumn if the weather is mild and dry. They will not require any further watering through winter unless it is very mild and dry.
Plant calendar
| Jan | Feb | Mar | Apr | May | June | July | Aug | Sep | Oct | Nov | Dec |
| --- | --- | --- | --- | --- | --- | --- | --- | --- | --- | --- | --- |
| | | | | | | | | | | | |
| | | | | | | | | | | | |