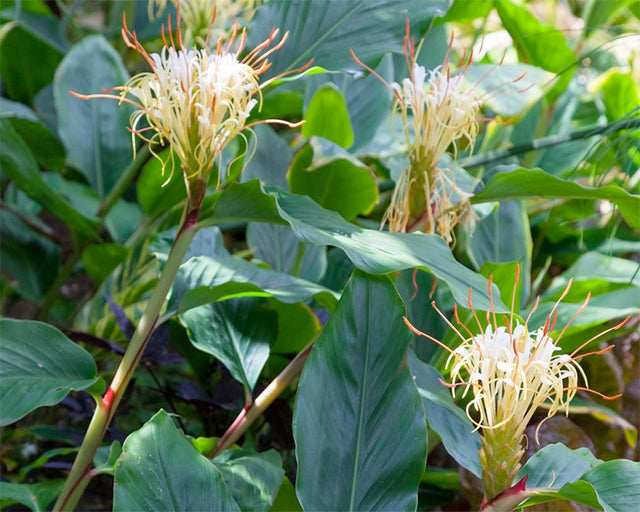 All about growing Hedychiums (Ginger Lilies)
Looking for something big and impressive to blast high-impact punchiness to your summer planting schemes? Then you must give Hedychiums a try! Also known as Ginger Lilies or Kahili Ginger, these super-charged treasures throw out tall, upright stems of bold banana palm-like leaves which pad out your planting space with lush, jungle-like greenery. Secondly, from late-summer through to autumn these sturdy stems are topped off with a truly fabulous, chunky and dense flowerhead formed of highly fragrant intricate blooms!


↑ Growing Hedychiums is easier than you might think

Hedychiums are great if you want to add height and structure to border combinations. You don't have to wait long for these towering upright perennial superstars to make an impact, they reach full size in just one season, plus they grow back for another fantastic show every year thereafter too. Despite being tall, they have a narrow footing so don't take up too much room – they quite like to be planted close so you can really pack them in to make bold blocks in planting schemes for a really full and professional-looking border display.
Whether your garden style is fully tropical themed or you enjoy a full mix of plant types, these wonderful gingers just ease their way into any style. Plant them in groups in a sunny border and look forward to being immersed in their fabulous tropical vibe!
How to grow Hedychiums

Despite their incredibly exotic and impressive looks, growing Ginger Lilies is easier than you might think. They just need a good sunny spot in the garden with a nice rich soil and they will be very happy. Hedychiums are very strong, their chunky stems support themselves well, so there's little need for staking.
They're even fairly hardy too, so in most cases they survive a typical winter with just a topping of mulch, then they'll return with more incredible stems the following spring. But as they're not fully frost hardy they'll need a little bit of extra care to get them off to a good start in their first year. The best way is to pot them up and grow them indoors before transplanting outside a little later, or to wait until risk of frost has passed if you're opting to plant them straight outside into the ground.
Hedychium rhizomes
Hedychiums grow from rhizomes which look like thick, knobbly roots. Often, when they are supplied they already have some reddish buds developing on the rhizome – these buds are what grow into the stems of the plant. When planting, the rhizomes need to be positioned on their side just below the soil surface with any visible shoots facing upwards.
Where to plant Hedychiums

Choose a border which receives plenty of sun through the day or is in shade for just part of the day. Hedychiums do best in a sheltered spot, away from strong winds. These tall-growing perennials are perfectly suited to a mixed border where they should be planted in close groups. With a very narrow spread and also happy to be quite confined, Ginger Lilies do well in small beds and borders or even large patio containers.
Planting instructions for Hedychiums
There are two ways to get started with Hedychiums. Either give them a head start by starting them off in mid-spring in pots and growing them on indoors (a greenhouse or conservatory is ideal) to plant out when risk of frost has passed. Alternatively, you can plant them straight outside directly into the ground from around late May.
When planting in containers, use a good quality loam-based compost. If planting straight into the ground, it's well worth digging in a mulch first to improve the richness of the soil.
The rhizomes should be planted shallowly, just below the surface of the soil, and at a spacing of around 30cm from each other. Position the rhizomes on their sides with any visible shoots facing upwards, then cover back over with soil and give them a thorough soak with water.
When transplanting Hedychiums which have been potted up and grown on earlier in the season, dig a hole in the soil in a sunny, sheltered position and plant the entire rootball.
Make sure you keep your rhizomes well watered while they're getting started. Once in growth, they should be watered regularly in their first year.
The flowers are produced towards the end of summer and usually last right through to autumn.
Hedychium aftercare

Enjoy your plants right through to the first frosts in autumn. As soon as the frost touches the leaves they will lose their colour, and this is the time to cut them back. Use secateurs or loppers to cut the stems off at around 5cm above ground level.
These perennial plants can tolerate frost, although they need a bit of extra insulation during the winter months to protect them from long periods of freezing temperatures. In most areas of the UK, a generous topping of dry mulch over the crown of the plant is sufficient protection against snow or deep frosts. If you want to be extra safe, you can also pin down a layer of horticultural fleece over the dry mulch. This would need to be removed when the weather starts to warm up and the stems begin to grow again in the spring, which is usually around April.
Hedychium in brief

Grown from rhizomes
Thrives in full sun or partial shade
Half-hardy perennials, may need frost protection
Plant in spring, flowers in late summer
Height 1.5-2.5m. Spread 70cm
Grows in most garden soils or soil-based compost
Suitable for borders
Fragrant flowers
Excellent as cut flowers
The best Hedychiums to grow

There's a wonderful variety of Hedychiums to choose from with different flower forms and colours. They're highly fragrant, with a sweet, spicy scent! Here are out top three:
This fabulous Shaving Brush Ginger Lily really makes a bold statement, with green architectural foliage which provides interest and padding to planting schemes from early summer right through to autumn. Typically growing to a height of between 1.5-2.5m tall and topped with an exquisite plume of wispy flowers from late summer onwards, it's a real showpiece!
Also known as the Kahili Ginger Lily, Hedychium gardnerianum is known to be one of the most hardy and resilient. The flowerheads are particularly large, bearing ornate wispy yellow blooms with striking red stamens for an extra eye-catching display. Blooming in late summer above a 1.5-2.5m tall leafy stem, it brings a new burst of colour and freshness to the garden just when it's needed most.
With a tall upright flowerhead comprising intricate highly fragrant orange flowers during late summer, if you like the hot colours of the late season this is a fabulous plant to add to your collection! These distinctive flowerheads are produced at the top of an impressive stem of large green leaves, typically reaching a height of between 1.5-2.5m. Ideal for the middle of a mixed flower border or for nestling among tropical foliage plants.
Planting combinations for Hedychiums

If you're looking for ideas of what to pair up with these gorgeous plants, let us inspire you with some of our favourite Hedychium planting partners!
Late-summer blooming and enjoying a garden hot spot, these two both have complementing upright structures and flaunt warm, fiery flower colours.
Similar in growing habit and tropical, leafy appeal, Canna and Hedychium are a match made in heaven! What's more, they both treat you to additional late-summer colour when they wrap up the season with a burst of impressive flower power.
If you're going for a tropical look, striking foliage is a key ingredient. Try combing your Hedychium plants with Colocasia 'Black Magic' for a full and contrasting foliage display which lasts through most of the season.