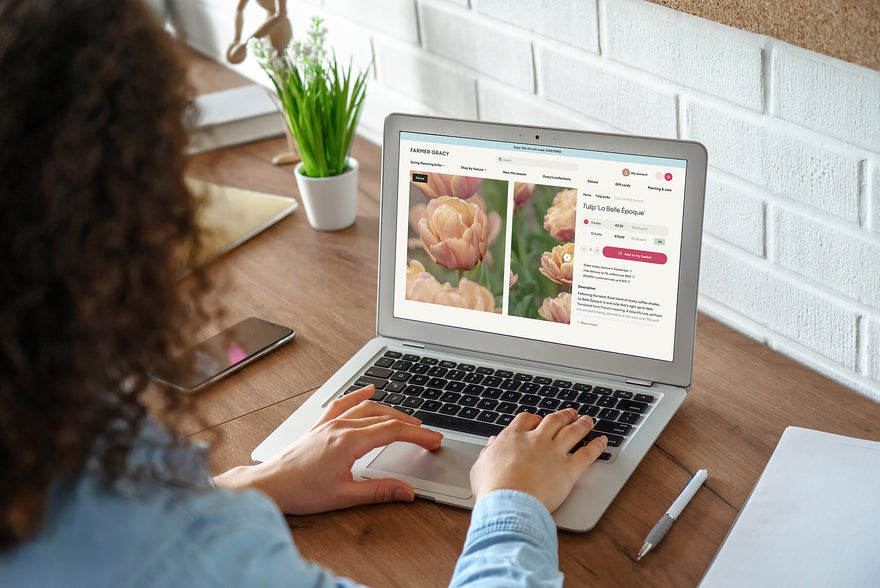 Buying bulbs and plants online — how to shop
It can be a real tonic for enthusiastic gardeners during the darker winter months to look ahead and make plans for new plantings in the garden. Perhaps there was a patch of the border that looked a little dull during the growing season and purchasing something new to fill that spot can be really exciting. Once you start to peruse the many varieties of bulbs and perennials available, it can sometimes be hard to choose! This guide is here to help you make the right choices, and have a great shopping experience.
There are several things you can consider when buying your bulbs and plants online. Below are some expert tips to help you navigate the selection and buying process.
Ordering online at Farmer Gracy
We have a wide and comprehensive variety of bulbs and perennials available to order throughout the year. You can browse our full range anytime on our website. If you are looking for something in particular, perhaps scented, tall, small or rare and unusual, you can look for it in the following ways.
— Narrow your search: Whether you're looking for something of a particular colour or flowering time, or for a specific planting space. You can use the filters on the website to make it easy to find the right plant. Select the options which apply to the conditions or plant characteristics you are looking for and a choice of appropriate plants will appear. Find tips on using the search filters are below in the section 'Filtering your search'.
— Browse through the categories: Perhaps you know you'd like a Dahlia or some crocuses. You can view the full range of each plant type within its category page. Every plant type has a category of its own. For example, the Crocus category will display all the Crocus varieties so you can see them all in one place. You can find all of the categories within the top navigation bar on our website under the 'Spring-flowering bulbs' or 'Summer bulbs & plants' heading. If you are using a tablet or phone, this may appear as three lines at the top of the page and the categories are listed below.
— Use the search box: Perhaps you know the specific bulb you would like to purchase and want to find it directly. You can simply type the name into the search box. You can also use the search box to look up categories, for example, type in 'tulip' and then select the 'tulip bulbs' option which appears below. The search box is located at the top of the website.
— Browse across the entire range: Ideal if you are browsing for anything to plant in the current season and don't have anything specific in mind. Click on the main category 'Summer bulbs & plants' or 'Spring-flowering bulbs' and there you can browse the full, seasonal range.
Filtering your search
Narrow your search to find exactly what you are looking for by using the filter options. You may be after something of a certain colour, height, or with a specific flowering time. Or, you may need to find varieties which are well-suited to a certain soil type or aspect. Selecting one or multiple filters will show a selection of well-suited or recommended varieties. Filters include:
— Genus
— Established height
— Sunlight (e.g. shade, sun)
— Flowering time
— Suitable for (e.g. pots, borders, wildlife gardens)
— Life cycle (e.g. annual, perennial)
— Habit (e.g. clump forming, spreading)
— Soil type (e.g. clay, sand, loam, stony)
— Soil moisture
— Leaf colour
— Weather exposure
— Years to establish
— Established spread
— Soil pH
Here's how you can use these handy filters
Choose from the full range:
— From the homepage, click 'Shop all' under the seasonal heading 'Spring bulbs' or 'Summer bulbs'. If you are using a desktop, once you have clicked on this link you will land on a page which displays everything in the range and the filter options are on the left hand side. If you are on a tablet or phone, the filter options can be used by clicking the filter button.
— Click on the + next to each filter to open the options. As an example, if you are looking for varieties suitable for a clay soil, open the 'Soil type' filter options and select 'clay'. You can narrow it down further if needed by selecting a genus, height, flowering time, colour or other feature. E.g. if you select 'clay' from 'Soil type' and 'May' from 'Flowering time', you will be shown all varieties which flower in May and that can tolerate clay soil.
— To change your search, ensure you remove the previously selected filters by clicking on the X next to each selected filter option.
Choose from a category:
— If you're looking specifically for tulips or dahlias, for example, select the relevant category from the drop-down menu under the 'Spring-flowering bulbs' or 'Summer-flowering bulbs' heading on the homepage. Once you have clicked on the plant type or sub-category, you can view the full range of varieties within that category.
— You can use the filter options within the category to view a selection of varieties specifically by colour, flowering time, suitable growing places or height, as well as other attributes and features.
Shop by feature:
— You can browse by feature to help you find plants which are good for a specific use or have certain characteristics. Use this to view varieties which attract pollinators, are great as cut flowers, packed in paper, perennials, or drought tolerant. These are just some of the special features – you'll find lots more when you hover the cursor over the 'Shop by feature' link, which is located on the top navigation of the website.
— Once you have clicked on the feature you are interested in, for example, 'fragrant', you will land on a page which shows only varieties with fragrance. You can then use the filter options to narrow that down if you're after something specific, such as Narcissus from the 'Genus' filter, or colour for instance.
New and Deluxe varieties:
If you fancy trying something new or especially fancy, click on 'New this season' or 'Deluxe' from the top navigation. These categories include a mixture of different varieties, so using the 'Genus' filter to pick out only the Alliums, Irises or Tulips, for example, will help you find those exciting new additions without scrolling through everything else in the category. You could also filter by colour, flowering time or soil type if you have a particular spot you'd like to fill with something new and unusual.
Adding to basket & payment
You will see on each individual plant profile that you can order bulbs in different pack sizes. Larger pack sizes come with an extra discount. Click 'add to basket' when you've made your choice and either continue shopping or proceed to checkout by clicking on the basket symbol.
At the first stage of checkout, you can check the items in your order, enter an offer code if you have one, and enter your delivery details. Always check that the delivery details are full and correct, even if they have been automatically filled for you. Errors with addresses or post codes will cause delays to your delivery. Enter a phone number if possible, in case the courier needs to contact you to arrange delivery.
At checkout, you can also choose an express checkout option like Paypal or ShopPay for a speedy payment process, or you can proceed to the second stage of checkout where you can enter your card and billing details.
Offer codes & newsletter
If you subscribe to the Farmer Gracy email newsletter, or follow us on social media, you will be kept up to date of all our promotions and special offers. If you have a valid offer code, this can be applied at the first stage of checkout to claim your discount. If you are not subscribed to our newsletter but would like to be, simply enter your email address in the subscribe section on our website.
Delivery charges
Delivery charges do apply. The delivery charge will be the same whether you order one item or several. Orders over a certain amount qualify for free shipping – you can find out about delivery charges to your country via the links below:
— UK, Northern Ireland & islands shipping costs
— EU shipping costs
Ordering by phone
Ordering online is quick, easy and secure and can be done at any time. For those who prefer to order over the phone, please call us during office hours on 0330 808 7304 — leave us a message and we'll call you back as soon as possible to take your order. We're also happy to advise on plant choices, discuss the range in case you do not have access to the internet, and answer any questions you have.
Add to your order
If you already have an order which is waiting to ship, you can add items to your order to save you placing a new order and paying another postage charge. Simply contact us at customercare@farmergracy.com and we can organise that for you. As all available bulbs are shipped during the same planting season, all items in your order will be sent together.
Shipping
At Farmer Gracy, we have two shipping seasons: spring and autumn. Between late February and May we ship summer-flowering bulbs and plants. Between late August and December, we ship spring flowering (autumn planting) bulbs. It is during these shipping months that the bulbs should be planted. Between shipping seasons, new season bulbs and plants are available to preorder for the season ahead.
When you place an order for multiple items, they will all be part of either the spring or autumn range and will be shipped together at the same time. When you are placing your order, look out for the estimated shipping time provided on each product page. You will also be provided with an estimated time of dispatch on your order confirmation email which is sent once you have placed the order.
Whether you are based in the UK or in an EU country, there are no import or customs duties for customers to pay to receive their parcels from us.
Keeping you up to date on your order
Once you have placed your order, you will immediately be sent an order confirmation email, which includes your order number, a list of the items ordered, estimated dispatch time and your delivery details. If you don't receive a confirmation email, please check in your spam folder. Adding Farmer Gracy to your 'safe senders list' or moving any communications from your spam folder into your inbox will help to ensure future correspondence arrives to your inbox.
When your order has been packed and shipped, you will be sent a shipping confirmation email which includes your tracking link. Typically, orders take 3-8 working days to arrive from that point. You can click on the tracking link to follow the progress of your delivery. If you notice any delays or problems on your tracking, please contact us as soon as possible and we will get it sorted for you. While your parcel is on its way to the delivery country, it is normal for there to be a few days with no updates on the tracking.
Plant health
Our bulbs are checked regularly by the Dutch and British plant health authorities which prevents harmful pests and diseases from entering your garden. Whilst bulbs can start to naturally deteriorate (become soft, mouldy or dry out) towards the end of the season, this is extremely unlikely to be caused by pests or disease.
Occasionally, particularly towards the end of the shipping season, a variety which was in stock at time of ordering may become out of stock. We will only be happy to send bulbs which are in good condition and which will thrive, therefore our stock is subject to regular checks. If we find that remaining bulbs of a particular variety are starting to deteriorate, we will not send them to you. Instead, we refund that item and send the remaining part of the order without delay.
Storing plants and bulbs on arrival
When your order arrives, open the box as soon as possible. If you aren't planting your bulbs immediately, you should also open up the individual bulb packets and leave them open so air can circulate the bulbs. This helps prevent condensation building up and mould forming.
We recommend always planting bulbs and plants as soon as possible while still fresh. We ship at the correct time for planting, but plants can often stay fresh if stored in a cool, dry ventilated place for a few weeks until ready to plant. Packets should be left open during this storage time. All bulbs and plants should be planted by the end of the season that they are supplied in – this would be mid-December for autumn-planting bulbs and late May for spring-planting varieties. Some plant and bulb types stay fresh for longer than others, so always keep an eye on all bulbs and plants in storage and ensure they are planted before they start to dry out or deteriorate.
When you're planting, you can pre-soak bare root plants to rehydrate them. Some bulbs require a pre-soak too, we advise reading our planting instructions for each variety in our online planting instructions page.
Questions, problems and advice—we're here to help
We want to help you get the best out of your bulbs and ensure you enjoy a great display. Whether you need plant advice, there is an issue with your delivery or something isn't as expected, our team of horticulturists are happy to help with any concern. You can contact us by email or phone.
Top tips on choosing plants
— Plan ahead and order early! Getting your preorder in early means you benefit from maximum choice. Placing a preorder reserves those varieties for you. Leaving it until later means that some of the most popular varieties may have sold out.
— Bulb size: We are proud to stock the largest bulbs sizes available. The more mature a bulb is, the better it performs. Bulb measurements vary from season to season, but it is the maturity of the bulb which matters and ours are always supplied at their optimum maturity. Bulbs have been through years of growth before they are large enough to be sold as flowering bulbs. The more seasons that a bulb has been cultivated, the larger it will usually be.
— Quantity: Order the correct number of bulbs to create the impact you desire or to fill a specific space in your garden. An approximate number of bulbs required per metre square is provided on each of our product pages to help you to work out how many you'll need.
— Stretch the season: Plants and bulbs don't usually flower throughout an entire season, they will flower for part of it. Look to order bulbs and perennials that flower at different times during the season. Doing this means that you will maintain a good level of interest in your garden from the beginning to the end of the season.
— Explore new varieties – something new may feel daunting but its good to try new things. Horticulture is a constant learning curve, there are just so many plants and so much to know about each one. Learn something new as you explore different varieties. It's interesting, challenging and you may be surprised at what you can achieve!
— Don't overlook the small varieties – focus on the finer details of the garden, small bulbs can be just as exciting and showy as big plants. They look great planted in window boxes or containers that can be enjoyed at eye level. You can also use them to fill the little spaces in the garden, or to underplant larger varieties.
— Also, don't overlook the tall varieties! If you have a small garden, filling it with small plants can make it look flat, with everything at ground level. Tall plants like cannas, dahlias and alliums are tall and narrow, meaning they can fit into a small space without taking over. When tall plants are packed in together to a small space, it looks truly magical.
— Pre-mixed varieties/collections: if you struggle to choose or are unsure about how to choose bulbs that will look great together, we have put together a fantastic range of collections for you. All of our collections are put together with plant heights, colours and flowering times in mind, so you can enjoy an effortlessly harmonious display.