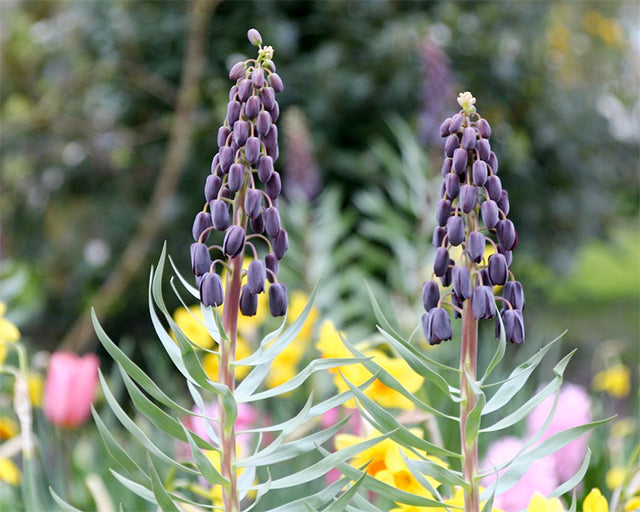 Head for the Heights – Grow Tall Flowers!
The best borders in in the world wouldn't look half as good without being jam-packed full of beautiful flowers all at different heights. Tall flowers play a very important role, towering behind lower-growing varieties and adding that much-needed extra dimension. What's more, tall-flowering bulbs for autumn planting are often quite narrow in habit, so they add that sought-after fullness without taking up too much foot room. Plus, the closer the flowers are to head-height, the more you can enjoy them!


Fritillaria persica 'Twin Towers Tribute'
You don't have to be an expert gardener to achieve a professional-looking planting scheme that's full of lushness, colour and all-round pizazz throughout the year. Simply head for the dizzy heights by planting tall varieties like alliums, eremurus and camassia and you'll find that they're actually very easy to grow. Plus, there's no need to worry too much about the tall stems beginning to flop. Super-strong Dutch bulbs produce upright and sturdy stems, which makes the show all the more effortless and rewarding!
You don't have to have a huge garden with big borders to grow tall flowers. Many varieties, with their narrow, upright habit, are just as suitable for growing in small gardens, plus there are all sorts of tall varieties that will do just fine in containers so you can enjoy them on a patio, terrace or courtyard garden too. What's so great about growing tall flowers from flower bulbs in a small space is that they bring a nice sense of seclusion which is often needed in small, overlooked or urban gardens.
The best tall-flowering bulbs
There are lots of tall plants to choose from, all providing unmissable garden interest. To help inspire you, here are some of the best, easy-to-grow bulbs for adding height to your planting schemes.


These bold beauties are just the job for bringing late-spring interest the garden – perfectly timed for filling the colour gap that's often missed between spring and summer. Depending on which variety you grow, you can expect big globe flowers generally at a height of around 50cm - 1.5m, but some varieties, like 'Summer Drummer' reach a giant height of up to 2.5m!
Other giant varieties include ever-popular 'Ambassador', 'Giganteum' and 'Mount Everest' and these grow to around 1m-1.5m tall. They look absolutely perfect planted in groups in the middle or the back of the border. You can also use these for planting in narrow beds along a sunny wall, fence or hedge.
Classic allium varieties, like 'Purple Sensation' and 'Christophii' are ideal for growing in borders or large containers, reaching a more modest height of around 60-70cm. They may be shorter, but they still pack a powerful punch of colour with their impressive globe-shaped flowerheads.
Alliums are fully hardy and very easy to grow. You simply plant the bulbs in autumn and wait. They'll sit dormant in the soil over winter and start to grow of their own accord the following spring.


These impressive flowers are almost like a firework display, producing an explosion of attractive pendulous blooms from the top of a sturdy, tall stalk. Growing to a height of around 90cm, they're best suited for growing in groups in borders behind lower-growing bulbs, or dotted around in shrubberies or with ornamental grasses where the blooms will nod gently.
These lovely flowers have a really chic look to them, blooming in incredibly tasteful shades of muted mauve and apricot on arching fresh-green stems. This fantastic plant is the ideal choice for any wildlife conscious gardener, their nectar-rich flowers providing fuel for busy bees in urban gardens or large country landscapes alike.
There's nothing tricky about growing these reliable plants. Nectaroscordum (or Allium 'Bulgaricum') are fully hardy, so you can just plant the bulbs in autumn in a sunny or partially shady border or large container and leave them to get on with it. They'll flower from mid to late spring the following year without too much fuss, and then put on a repeat show every year afterwards too!


If height is what your garden needs, see in the summer with these colossal beauties. These fabulous plants certainly don't do things by halves - Eremurus produce multiple, huge upright flower spikes up to 2m tall, providing a contrasting structure among other plants in the border as well as striking, exotic looks. Known as the Foxtail Lily, these flower spikes are densely populated with masses of blooms and does quite rightly look similar to a fox's bushy tail. Flowering from early to mid-summer, eremurus will be the perfect jump-start for your summer garden, plus the blooms are a magnet for bees and other pollinating insects.
If you like the look of eremurus but need something a little smaller, Eremurus 'Bungei' is the ideal alternative. Showing off exquisite bright yellow flower spikes during early summer, they grow to a more modest height of around 1.2m and combine really well with purple alliums.
You need a sunny, sheltered spot with free-draining soil to grow eremurus – close to a sunny wall or fence at the back of the border is perfect. They're grown from bulbous bare roots which can be planted in a sheltered, sunny location in early autumn in any free-draining soil. Plant them fairly shallowly at a depth of about 20cm with the roots spread out like a starfish in the soil and the pointed shoots facing upwards. It's best to give them a good soak in water for a few hours prior to planting, and then continue to water the soil regularly until the weather turns cooler and wetter in autumn.


Impress your friends and neighbours with tall-flowering Crown Imperial fritillarias. These majestic plants are certain to deliver the wow factor – grow a bold and brazen swathe of these vibrant jewels in your borders and they'll provide all you need in terms of a bright pop of colour at a stately height.

Fritillaria imperialis 'Rubra'
Flowering in mid to late spring with impressive, regal flowers, they're perfect for combining with other brave colour choices as well as muted tones or foliage plants. Crown Imperial Fritillaria produce a 'crown' of bell-shaped flowers, each with a funky tuft of green foliage at the top. They come in vivid shades of orange, yellow and red, but if that isn't your cup of tea, you can also get hold of more unusual tall fritillarias, such as the fabulous, dark-flowered 'Twin Towers Tribute' which has tall spikes of gorgeous plummy-purple flowers, or the fresh and cool-looking 'Ivory Bells'.
Growing well in full sun or partial shade, these tremendous plants are easy to grow and reward minimal care with a very striking spring display which will return year after year. They reach a height of up to 90cm, which makes them perfect for growing in beds and borders, but can also do very well in a large, sturdy pot. These hardy plants are grown from bulbs, which just need to be planted in the autumn and left to their own devices. The following spring they'll put on a totally unmissable show!


Also known as Sea Squill, this Mediterranean plant is ideal for coastal gardens or rocky, exposed sites – conditions where other tall plants might struggle. But you don't need extensive grounds to grow this little slice of the Med – you could grow it just as well in a sunny courtyard or any hot, dry small garden. Urginea loves a sun and thrives in poor soil, as long as it's good and free-draining. The tall flower spikes are really spectacular, growing to a height of up to 70cm, they shoot up in summer and put on a really grand display with their purple stems and densely-packed little white blooms, each with a zesty lime-green centre.
These lovely plants aren't often seen growing in the UK, but despite their more exotic background, it is pretty hardy in warmer parts of the country. It's easy to and reliable to grow, given the right conditions. Choose a sunny spot with well-drained soil and plant the bulbs with the neck exposed in autumn. Give them a good soak every day for the first few weeks, then when the weather starts to cool down you can ease up on the watering and leave them to it over winter. To be on the safe side, it's a good idea to start the bulbs off in pots in autumn and grow them on in a frost-free place, then plant them outside the following spring. Once established, they should be ok left in the ground the following winter.


This wonderful plant has long-been a gardeners' favourite for providing upright structure, colour at a height, late-spring interest and, quite simply, ravishing good looks! Traditionally in shades of blue or white, you can now get them in pink and purple too. The tall spires grow up to around 70cm and hold elegant star-like flowers. If you have a meadow area in your garden, Camassia should be an essential part of it.

Camassia leichtlinii 'Blue Donau'
They look wonderful growing through long grass and tolerate sun or partial shade. But they are just as happy in a border. Either way, to get the most out of these lovely plants you should grow them in big, impressive groups. They start to flower in late spring, so they're a great choice for coupling with other late-spring varieties like alliums and tulips.
Camassias are reliable, hardy and naturalising. Once you've planted these bulbs, the flowers will come back to delight you every year in bigger and better groups, gradually forming a lovely, naturalistic effect.