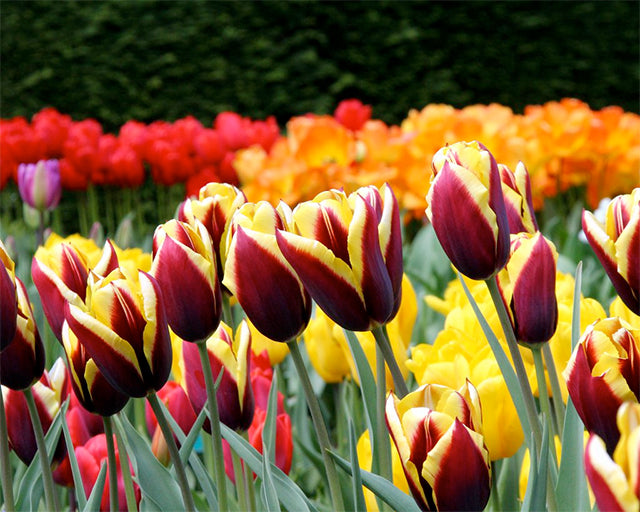 The best Tulip Bulbs come from the Netherlands – fact!
No garden should be without tulips - there's nothing more rewarding than a spectacular display of big, impressive blooms lighting up the garden in spring, particularly as they require very little in terms of care to get them looking so great. These faff-free plants pack in a powerful punch of colour in the garden that you'll enjoy for many weeks in the spring – all you have to do is get the bulbs in the ground in autumn and let them do the rest.

Grow the best tulips
If you want a fantastic choice of amazing tulip varieties, you can completely trust the Dutch to come up with the goods. The Netherlands has long been the best place to get hold of the strongest, most healthy bulbs – they certainly don't mess about when it comes to providing the biggest choice and exceptional quality. The range of colours and flower types available is totally awe-inspiring, not to mention the way these impressive plants seem to effortlessly power through spring and give a display that's worthy of the finest gardens in the world.
A trip to the flower bulb regions of Holland in spring will leave you dumbfounded when you see all the amazing varieties growing in colourful stripy fields. The best Dutch growers have been in the business of producing the biggest, top-size bulbs through generations, and they really know how it's done. To get the bulbs their high-quality, supercharged, top-size status, they need to be planted in fields in autumn and grown for two years before being harvested to sell on. This process not only involves planting the bulbs and waiting for them to grow, but also deadheading them, lifting them all out of the ground and separating and sorting them, then planting them all again and repeating this process for another year.
True, there's a lot of work involved in producing the best bulbs, but the Dutch wouldn't have it any other way. If you didn't realise there was a difference between top-size bulbs and cheaper, younger (and less healthy) bulbs which are likely sold after just their first year – you will certainly see the difference when you try them in your garden. Once you do, you won't go back!
How to grow tulips
Tulips are very easy to grow which is what makes them such a joy. Once planted, they're virtually self-sufficient. Unlike summer-flowering bulbs, tulips get to sit in cold, damp soil throughout winter which keep them hydrated and activates them in to growth as soon as the weather begins to warm up during spring – this means you don't have to worry about watering them.
The general rule with planting tulips is to plant them in a hole which is two to three times as deep as the bulb is high. Normally this equates to around 15-20cm deep, but the bigger the bulb, the deeper you plant it. You can use a trowel or a bulb planter to create holes in borders, then simply drop one bulb in each hole with the pointed end facing upwards, then cover it back over with soil. Tulips are also suitable for growing in containers, in which case you should half-fill the pot with a multi-purpose or soil-based compost, position the bulbs at a distance of around 15cm apart from each other with the pointed end facing upwards, then top-up the container with more compost on top of the bulbs.
It's best to plant tulips in large groups where their impressive looks create a bigger impact (as demonstrated in gardens like Keukenhof), but you can also dot them around the garden to create little pockets of colour and they'll look just as sweet.
Tulips are ideal for growing in beds, borders and containers, although they can also be grown through grass. With such a great range of colours, forms and sizes available, versatile tulips can do trendy or traditional and will fit in with virtually any kind of planting scheme. If you have a simple or contemporary garden with mainly architectural plants, tulips will provide easy and colourful highlights. If you have a colourful cottage-style garden, vibrant tulips will be just the thing to carry the cheery theme through spring.

Tulip 'Sylvestris' grown through grass
Once planted, you don't need to do anything else to your bulbs – simply look forward the to show the following spring. Once they've finished flowering, remove the old flowers but leave the green stalk and foliage intact so they can continue to put energy down to the bulb. This is important because the bulbs need this energy to be able to grow back the following year. Only once the foliage has faded should it be removed. If you want to keep your tulips really 'true', you can dig up the bulbs after the foliage has faded and store them in a dry place for summer before replanting in autumn.
Types of tulips
Tulips come in many shapes and sizes – whatever type of garden you have, you'll undoubtedly find one that will suit the space you have to fill. While they're all great for borders and pots, some are particularly well suited to gravel gardens or rockeries and others can naturalise. Either way, there's a huge choice of tulip types which all have their own unique qualities. To help you choose the best tulips for your garden, here's a brief rundown of the top tulip types:
Classic tulip-shaped flowers are supported on tall, upright and study stems. The blooms are large and colourful, often simple coloured or with a striking contrasting flare marking on the outer petals. These are well suited to growing in large swathes in borders or grouped together in pots and also look great growing through long grass.
One of the most exotic-looking types of tulip available. These bold blooms have ruffled petals that resemble the plumage of a tropical bird! Often they're multi-coloured, marked with a contrasting flare on the outer petals. They're generally quite tall, which makes them perfect for planting in groups in borders or large containers.
Double tulips and peony-flowered tulips
Both double-flowered tulips and peony-flowered tulips are packed with petals and open slowly, giving a long-lasting display during spring. These luxurious blooms look fantastic in the garden and are also very impressive in an indoor flower arrangement. They're often more stocky than single-flowered varieties, which makes them strong and upright in borders or containers.
These are tulips in their most natural form and are excellent for naturalising, meaning each year they will return with more and more blooms, gradually spreading to form natural drifts of colour. They're low-growing and relatively simple, yet still very colourful. Botanical tulips are the best choice for growing in smaller pots, rockeries, gravel gardens, under trees or through grass.
These graceful tulips have fluted flowers with elegant pointed petals, similar to that of a lily. They're available in a great range of vivid as well as pastel shades to suit any planting scheme, and those with bicolour or streaked petals are particularly striking. Lily-flowered tulips are a great choice for growing in large drifts in borders, grouped together in pots or through long meadow grass.
These pretty tulips create twice or even three times as much colour impact than single-flowered types, with multiple blooms on each stem. Available in a lovely range of colours, some with intricate petal markings, these are a real showpiece for pots and borders. Plant them in groups for as really impressive display!
All tulips flower without fuss when given the right conditions, but these old-reliables are known for their resilience and perennial nature, which makes them more likely to return for a repeat show every year. These classic tulips are perfect for growing in sunny beds and borders. They look particularly good in large groups but are big and bright enough to dot individually throughout borders and long grass too.
Also known as fringed tulips, these interesting blooms have a jazzy-looking fringe on each petal for added sparkly detail. They come in a great range of colours, including some rather exotic-looking shades. They're perfect if you like to grow something a bit snazzy - these will surely be the life and soul of the garden!
Viridiflora tulips come in a wide range of colours, but the one thing they all have in common is a fresh spring green flare on the outer petals. With the pretty, complimentary tones, these showy, large blooms all scream class and sophistication. Growing on tall, upright stems, they're perfect for growing in large groups in the border or containers. They make excellent cut flowers too.
If you're looking for something a little more compact, perhaps for the front of the border or for showing off in smaller pots, Greigii tulips are the perfect choice. With a stocky habit, these low-growing tulips are every bit as magnificent as a taller tulip, but without the height – perfect if you need to add interest a little lower to ground level.
A quick guide to tulips
Fully hardy - grown from bulbs

Plant in autumn, flowers from April - May

Ideal for borders and containers

Excellent as cut flowers

Thrives in full sun and partial shade

Easy to grow, perfect for beginners

Heights vary from 15cm – 60cm