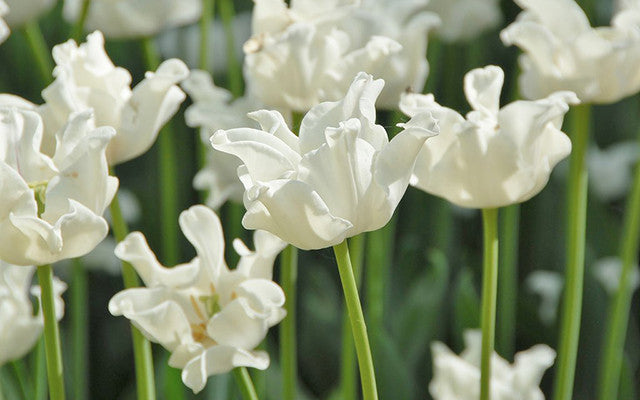 A New Look at Tulips with Exclusive Crown Tulips
Part of the fun of growing Tulips is the incredible diversity of flower colours and shapes you can choose between. We have the classic tulips with their typical "tulip-shaped" blooms, and then we have wildly un-tulipish looking shapes like the exotic-looking parrot tulips and the incredible abundance of petals we see in the peony tulips.

Now there's a beautiful range of newcomers on the scene, and they're ready to grab the crown as being among the most striking of them all! We're talking about Crown Tulips, which make up a group that's also known as the "Coronet" group.
A Genetic Surprise with an Amazing Result
When we think of mutations, we think of science fiction monsters or unfortunate deformities, but when it comes to Tulips, we seem to get nothing but pleasant surprises from genetic changes. The much-loved Triumph Tulip group surprised and delighted growers and gardeners by giving rise to the Coronet or Crown Tulips.
One glimpse at the flowers will be enough to illustrate just why this new group of Tulips is generating such a buzz. The genetic change it underwent has led to a much fancier flower shape than most people would expect from a Tulip. It's as if Tulips are now wearing designer dresses instead of simple frocks.
Some plants are strictly for lovers of the unusual, but to love Coronet Tulips, all you need is the ability to appreciate something beautiful.
A Full Range of Crown Tulips: Only from Farmer Gracy
If you've been looking around our website, you may have been amazed at the incredible range we offer. This includes not only old favourites, but also extremely unusual varieties you won't find anywhere else. How do we do it?
Farmer Gracy is the English face of a network of Dutch bulb growers who have been producing bulbs for many generations. That allows us to be first with all the best new Dutch varieties, even when they are only available in limited quantities. Our passion for plants means that we never miss a season at Keukenhof – the Dutch flower garden that showcases the best results of and the opportunity to evaluate new varieties ourselves.
That's how we came to be the first UK company that can offer an extensive range of Crown Tulips to its customers. So, if you're as impressed with these beauties as we are, you'll be among the first UK gardeners to have them!
Amazing Flower Form in a Range of Colours
The shapely blooms of Coronet or Crown Tulips is sure to get a lot of attention, but colour is important too. We've been lucky enough to secure the following varieties for you:
So, whether you like specific colours, or love planting a rainbow of shades, you'll find the Crown Tulips you want most right here.
Preparing for your Crown Tulips
The thought of welcoming aristocratic Crown Tulips into your garden is an exciting one, and of course, when you're receiving royalty, you need to be prepared. The first thing to know is that they are mid-spring-flowering Tulips This helps you if you want to make the most of the Tulip season by planting early, mid, and late-season varieties.
Like the Triumph Tulips from which they sprung, Crown tulips have sturdy flower stems supporting large blooms. As a result, they can handle a bit of bad weather and may not need the most sheltered spot in your garden. Choose a sunny spot with well-drained soil, and add compost, building up the beds for better drainage if your soil tends to hold a lot of water.
Finally, you need the perfect planting time, but you don't have to worry about setting up reminders or writing it in your diary. Farmer Gracy ships its flower bulbs as soon as the very best planting time arrives. Simply place your orders and get set for success!