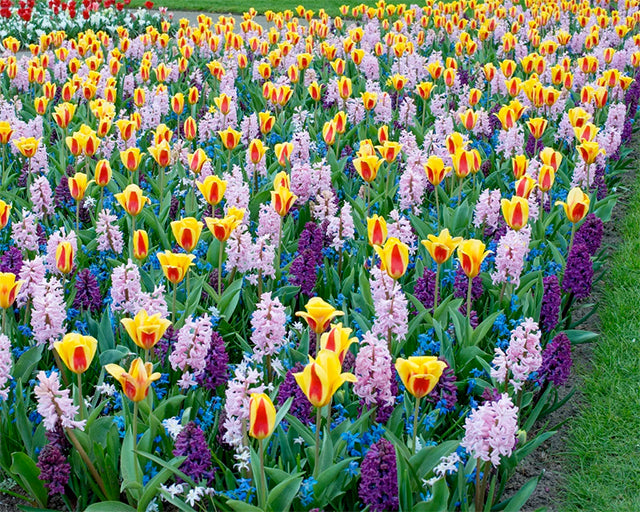 15 winning Spring Bulb planting combinations
Get set for a sparkling spring with flawless flowers and professional planting schemes! Flowers are all individually beautiful, but there's nothing better for bringing out their beauty than pairing them up with perfectly complementing partners!

Creating a really successful display requires more than just colour coordinating, it's about getting the timings right and choosing varieties with flowering heights and differing flower forms which sit together harmoniously. On top of that, it's good to consider choosing the right plants for the spot – the bulbs in your combination will look their best if they all like to grow in the same conditions.
We've put together a new range of spring bulb combinations, some specifically suited to growing in particular places like rockeries, woodland, lawn or shade areas, and others simply for their sheer combined flower power! If you're looking for inspiration for combinations in your spring garden, look no further than this fabulous 15…
Woodland planting combination

Create your own traditional woodland setting with this combination of three classic varieties, ideal for growing in dappled shade beneath trees or shrubs. Including Eranthis Hyemalis (winter aconite), Anemone blanda 'Blue Shades' (wood anemone) and Galanthus nivalis (snowdrop), this selection brings colour to the space from mid-winter onwards, with the classic snowdrops being the first to peep through in January, followed by a vibrant peppering of yellow aconites in February and then vivid blue wood anemones.
These low growing bulbs are excellent for naturalising into a woodland area. All are perennial and all will return every year, each time in bigger groups, over the years creating effortless, established drifts of colour.
This woodland planting combination includes (from left to right):
Shade planting combination

Make a shady spot sparkle with this combination of shade-loving beauties, including Erythronium 'Pagoda' (Dog's Tooth Violet), Anemone blanda 'White Splendour', Narcissus 'Pheasant's Eye' and Scilla siberica. Blooming simultaneously from March through to early May with varied heights, colours and flower shapes, an otherwise bland shaded space can become every bit as colourful as the sunnier parts of the garden!
These bulbs are reliably perennial too, meaning you can enjoy this fabulous display year after year. This combination is also suitable for mixing and matching in patio containers.
This shade planting combination includes (from left to right):
Early spring planting combination

Kick start the spring season with this colourful combination of early wonders, a well-balanced mixture which will bring a ray of sunshine to your February garden. Comprising Crocus 'Gipsy Girl', Iris histrioides 'George' and Narcissus 'February Gold', the combination of warm orange Crocuses and sunny yellow Daffodils not only provides an eye catching highlight, but they help to draw the attention in to the very dainty Iris histrioides 'George' with its exquisite details and contrasting rich mauve hue.
Grow this perennial combination in pots, borders or rockeries and enjoy an early spring treat when they pop up every year.
This early spring planting combination includes (from left to right):
Late spring planting combination

Bridge that gap between spring and summer with a combination of bulbs which will emerge fresh and vibrant between late April and early June. Tall and upright, this combination makes a big impression in a border in full sun or partial shade. Tulip 'Ballerina' emerges in late April with its dazzling orange flowers, closely followed by the jewel-like purple globes of Allium 'Purple Sensation' for contrast. Bee-friendly Nectaroscordum siculum blooms at the same time, with elegant clusters of subtle-coloured blooms.
This late spring planting combination includes (from left to right):
Rockery planting combination

Dwarf and alpine varieties are ideal for tucking in to the little nooks and crannies of a rockery, and this combination will ensure your gravel, stone or rocky planting area has those essential glimmers of colour throughout early spring. Comprising three dainty varieties, cheery Iris reticulata 'Katherine's Gold' emerges first in late winter. Soon after you get to enjoy the sunny faces of Narcissus bulbocodium 'Golden Bells' and eye-catching Tulip coerulea oculata 'Alba' – a wonderfully compatible rockery duo!
If you don't have a rockery or gravel garden, get the same effect on a small scale by planting these three in a stone planter.
This rockery planting combination includes (from left to right):
Early bee-friendly planting combination

Cater for the earliest bees with this flowering collection of nectar-rich varieties. Blooming from January and continuing in succession through to late March, the early emerging bumblebees will be delighted to find this essential food source in your garden. Comprising Galanthus nivalis (snowdrop), which establishes over the years and forms naturalistic groups of flowers in January, coupled with sunny yellow Eranthis hyemalis (winter aconite). Then gorgeous Crocus 'Orange Monarch' comes along in February to March joined by rich blue contrast of Muscari armeniacum (grape hyacinth).
Suitable for pots or borders, this colourful mix will look fantastic and have the bees buzzing to your garden – what better way to welcome the spring!
This early bee-friendly planting combination includes (from left to right):
Late bee-friendly planting combination
Provide a feast for bees and butterflies (as well as an impressive upright display) from late spring through to early summer with this combination of stately, nectar-rich characters. Including Allium sphaerocephalon, a long-lasting perennial with drumsticks of tightly-packed purple blooms which are a magnet for all pollinators, Nectarscodum siculum which forms an attractive umbrella of bell-like blooms, and ever-popular dark-flowered Fritillaria persica 'Twin Towers Tribute', another variety known to benefit bees.
Not only do these varieties with upright habits and dusky blooms look chic together, but they're a great choice for any wildlife conscious gardener too!
This late bee-friendly planting combination includes (from left to right):
Naturalising planting combination

Enjoy reliable spring colour year after year with this harmonious trio of perennial bulbs, all of which will gradually naturalise in your borders or through grass, getting better and better each time! Comprising Tulip sylvestris, a much-loved botanical tulip with delicate informal yellow blooms, Camassia 'Blue Donau' with starry blue blooms for contrast and elegant white Narcissus 'Thalia', this combination flowers from March through to May for a succession of interest suitable for borders or relaxed, informal rough grassy areas.
This naturalising planting combination includes (from left to right):
Lawn planting combination

Spruce up your spring lawn with colourful accents in complementary mauve, yellow and blue. This trio of naturalising bulbs light up the lawn from February through to March so you get to enjoy them looking their best conveniently before the grass needs its first cut of the year. Chionodoxa lucilieae and Crocus sieberi 'Tricolor' are low growing and will emerge neatly through the lawn, multiplying over the years to form gentle swathes. Narcissus 'Jetfire' provides that much-needed early-spring hit of bright orange and yellow, formed in sturdy clumps which increase in size over the years, ideal for locating around the edges of the lawn or next to trees.
This lawn planting combination includes (from left to right):
Meadow planting combination

Make a meadow or rough grass area extra special by introducing some interesting highlights, including meadow favourites Camassia 'Pale Pink', Fritillaria meleagris and Leucojum 'Gravetye Giant'. All three varieties do really well in the cool, moist soil of a long grassy area and being perennial they will happily return each year. The tall, upright stems of the Camassia and Leucojum hold the delicate flowers up above the grass, while Fritillaria meleagris nestles nicely along the edges and in the shorter areas.
If you're going for a natural look, plant these bulbs in uneven groups with scatterings of single bulbs in between. Over the years they will multiply and groups will become denser and more eye catching.
This meadow planting combination includes (from left to right):
Botanical planting combination

If you consider yourself a bit of a plant connoisseur then you'll love this combination of botanical bulbs, all with unusual looks which are individually stunning but also make a marvellous match when planted together. Tulip bakerii 'Lilac Wonder' is a low growing variety which naturalises, forming delicate groups of pale mauve blooms with yellow centres. These simple but effective tulips are great for planting under taller varieties – below the wiry red flame-like blooms of Tulip acuminata, these two make quite the peppy pair. To tone down the display, the third dimension is the dreamy dark bell flowers of Fritillaria elwesii, perfect for accenting the bright blooms of the tulips, all three varieties flowering around March and April.
Grow this combination together in a pot, border, gravel garden or rockery and look forward to a sophisticated show of botanical charm!
This botanical planting combination includes (from left to right):
Pastel planting combination

Soften your style by filling pots or border spaces with this airy combination of pastel-toned blooms. Peach, pink and apricot shades are effortlessly stylish and bring a subtle warmth to a pastel colour palette without stealing the show away from neighbouring plants. Tulip 'Apricot Beauty' alongside late-flowering Narcissus 'Cha Cha' with its shimmering white petals and apricot trumpet certainly makes a well coordinated pair. And to throw an unexpected twist into the mix which enhance the peachy-pink tones of the tulips and daffodils is a delicate contrast of pointed blue flower clusters of long-lasting Bellevalia pycnantha – this trio is a colour combo made in heaven!
All three varieties grow well in full sun and will also tolerate partial or dappled shade. Mingle them together for an evenly balanced display, or try planting them in neighbouring groups for a more defined look.
This pastel planting combination includes (from left to right):
Vibrant planting combination

Don't be afraid to clash colours, you might be surprised to find that a trio of contrasting brights can indeed sing in tune! See in spring with a riot of colour in patio pots and borders with this daring combination including some beautifully vibrant varieties which will have your garden positively humming with colour from March through to May. This well-balanced display comprising Tulip 'Orange Princess', Hyacinth 'Woodstock' and Anemone 'Sylphide' will inject a healthy splash of colour which will proudly parade itself as a centrepiece.
Best enjoyed in a moden boho style garden or as part of a traditional multicolour cottage-style planting scheme where colour flows freely - don your sunglasses and prepare for summer!
This vibrant planting combination includes (from left to right):
Exotic planting combination

Upgrade an exotic-themed planting scheme with a blast of rich tropical tones next spring. This combination includes unusual, noteworthy varieties with intense colouring, perfect for growing in borders or containers and particularly satisfying when grown amid lush leafy palms of foliage plants. Trendy trio Fritillaria imperialis 'Rubra', Tulip 'Slawa' and Muscari 'Golden Fragrance' are not only well suited for a jungle theme, they'll look every bit as brilliant in a formal setting or full mixed flower border.
To get the best effect with this combination, plant the tulips and fritillarias in groups with the lower-growing muscari in a bold drift in front or dotted around in between.
This exotic planting combination includes (from left to right):
Container planting combination

Make a pretty pot display with this combination of compact plants, including Tulip 'Pretty Princess', Chionodoxa luciliae 'Violet Beauty' and fragrant Narcissus 'Albus Plenus Odoratus'. If you like this combo, don't feel you have to confine it to your patio pots, they're all suitable for growing in borders too. Chionodoxa emerges first with its enchanting amethyst-coloured starry blooms, nestled in with the cool white-margined leaves of the tulips. Later the fragrant cream-coloured double daffodils burst into bloom closely followed by the amazing pink-flamed tulips.
With a succession of flowers starting in early March and continuing through to May, this impressive and scented planting scheme can be the highlight of the patio!
This container planting combination includes (from left to right):