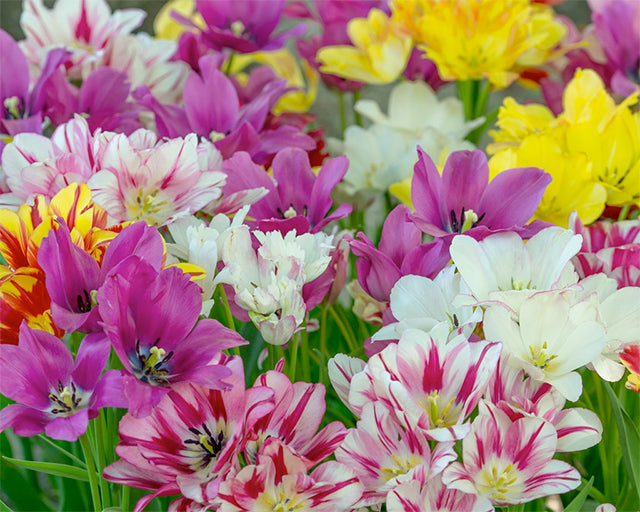 Multi-Flowering Tulips: Bouquets of Blooms
Tulips are a celebration of spring that almost every gardener loves and almost every passer-by will stop to admire. There are Tulips to suit every taste, and they're classified into 'official' groups like Parrots, Viridifloras, Triumphs, and so on. But one of the most rewarding types of Tulip is an 'unofficial' group known as the Multi-Flowering Tulips.
Officially, they belong to several groups including the Botanical Tulips, Single Late Tulips, Greigii Tulips and the Triumph Tulips. What sets them apart is their ability to produce between three and seven blooms per bulb. The flower stem rises from the bulb in the same way as other Tulips, but then it spits up into several branches, each with its bloom.
Why Aren't Multi-Flowering Tulips Officially Recognized?
Anyone who has been impressed by Multi-Flowering Tulips and their special party-trick is likely to wonder why this group isn't officially recognized in Tulip classifications. The answer, as with so many things botanical, is more straightforward than you might think.
Tulips are classified according to their flower structure and flowering time. But the Multi-Flowering Tulips cross these boundaries. Apart from the fact that they are Tulips and carry multiple blooms per stem, the Multi-Flowering varieties have little in common.
As you'd expect, gardeners adore Multi-Flowering Tulips, so to help them to spot the special ones, we highlight the fact that you can expect more blooms per bulb. But don't expect a selection of different multi-flowering Tulip varieties to have similar heights or bloom times. It's a very variable grouping!
Beauty in Diversity
The very diversity that might make a botanist frown when seeing the mention of the 'Multi-Flowering' tulip category delights gardeners. Just as there's an official Tulip category for everyone, there's also an unofficially categorised, Multi-Flowering Tulip that's bound to please you!
The only annoying thing is that you can't always find the varieties that gardening magazine writers and bloggers tell you about. But Farmer Gracy has assembled a superb collection, and you have the pleasure of knowing that you'll find the variety you're looking for – provided you place your orders early enough.
↑ Belicia Tulips are among the rarest of the Multi-Flowering Tulips, and apart from offering you a mini-bouquet on every flower stem, they also offer you colours that deepen in intensity as time goes on.
↑ Candy Club also has colour-changing magic to show you, and its as sweet as its name suggests. For pink-and-white prettiness, you can't do much better than this!
↑ Night Club and Fiery Club are sociable bloomers too. One is hot pink, the other intense red. For in-your-face colour with unstoppable impact, these two varieties are sure-fire winners.
↑ Praestans Unicum and Praestans Fusilier are among my personal favourites. They're Botanical Tulips. That means that while you won't get the same aristocratic look that you get from most hybrids, you do get very attractive plants that will do just as well next spring as they did this spring. Praestans Unicum has particularly handsome, variegated foliage to add to its Multi-Flowering charms.
↑ Toronto is a Gregii Tulip with compact flower stems that help it to tolerate rough weather better than its taller cousins. It's also possible to re-flower Toronto Tulips next year. The only difficult thing about them is knowing how to categorise the colour perfectly. "Orange-bronze" is as close as we're likely to get.
↑ Wonder Club Tulips set garden beds and flower arrangements ablaze with their red and gold flames of colour. And with so many blooms per stem, they're stunners in garden beds and flower arrangements alike.
↑ Club Mix brings several simultaneously blooming Multi-Flowering Tulip colours together in one matching mix. For its sheer diversity, this surprise package of colours is bound to enchant.
More is Better
More isn't always better, but when it comes to Tulips, we're inclined to say that more blooms equate to more impact. Multi-Flowering Tulips give you just that, and the multiple varieties you can choose between make choosing varieties for your garden almost as exciting as seeing them in bloom. Which of these garden beauties is your favourite? Try them all before you decide!