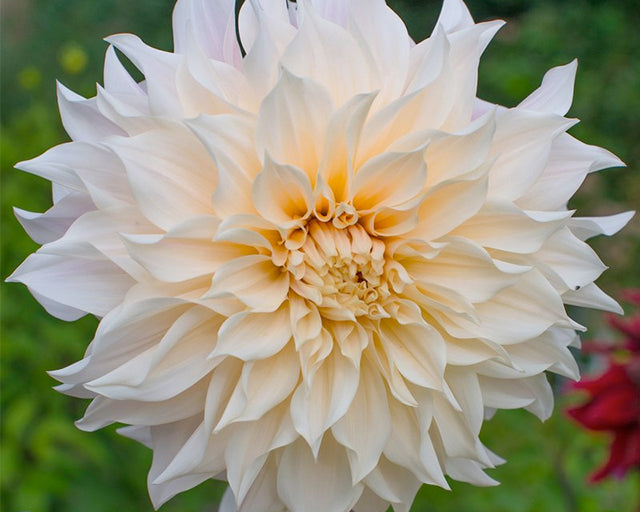 The Most Beloved Dahlia Ever: Café au Lait
Dahlia 'Café au Lait' is a wonderful dinnerplate dahlia with huge blooms that will make a striking summer centrepiece in the garden as well as providing a long season of cut flowers for the home.

Buy your Dahlia 'Café au Lait' tubers online in our webshop – click here
The pale dusky peach blooms of Dahlia 'Café au Lait' are really fashionable this season. You'll see flowers in subtle tones like this in both modern and traditional gardens, and particularly so indoor arrangements and brides' bouquets.
Dinnerplate dahlias are very popular with cut flower farmers, providing a long season of huge and luxurious blooms that will just repeat continuously from early summer right through to autumn – the more you pick, the more will grow in their place. Plus, with enormous flowers like these, all you need is a few stems make a fair-sized bouquet. Team them up with foliage or a selection of small but brighter blooms and you have a really exquisite display.
How to grow Dahlia 'Café au Lait'
Dahlias are easy to grow, the main thing to remember is that they're tender so they need to be planted outside after risk of frost has passed. They like a sunny spot and are generally happy in a border or large container, and they should be watered regularly while the weather is hot. The flowers on this variety are large and quite heavy, so it's best to support their weight by tying the stems to canes.
Café au Lait dahlias are supplied as tubers which will arrive at just the right time to pot them up in spring. Choose enough large containers (2-3 litres) to plant one tuber in each pot.
Mix multipurpose compost with a handful of fertiliser granules and half-fill the pot. Position the Dahlia 'Café au Lait' tuber on the surface of the compost, then top the pot up with more of the compost and fertiliser mix.
Water each pot well after planting and leave them in a bright, frost-free place to grow on until risk of frost has passed (normally around late May) – a greenhouse or conservatory is perfect.
As the shoots begin to emerge from the compost, continue to water the pots whenever they start to look dry. When the time is right to plant them outside, choose a sunny location in a border or large patio container. By this time the plants should have formed a strong root network. Remove the entire rootball from the pot and plant in a hole that is the same depth and width. Water well after planting and continue to water regularly throughout the growing season. For best results, feed your dahlias on a fortnightly basis with a liquid feed.
Pick the flowers regularly to encourage repeat blooms. Any that are left on the plant should be deadheaded as they begin the fade.
Dahlia 'Café au Lait' in brief
Grown from tubers, plant in spring

Flowers during summer and autumn

Excellent as cut flowers

Suitable for borders and large containers

Height 90cm Spread 60cm

Grows in any free-draining soil

Thrives in full sun

Frost tender, store indoors for winter

Attracts bees and butterflies
Buy your Dahlia 'Café au Lait' tubers online in our webshop – click here