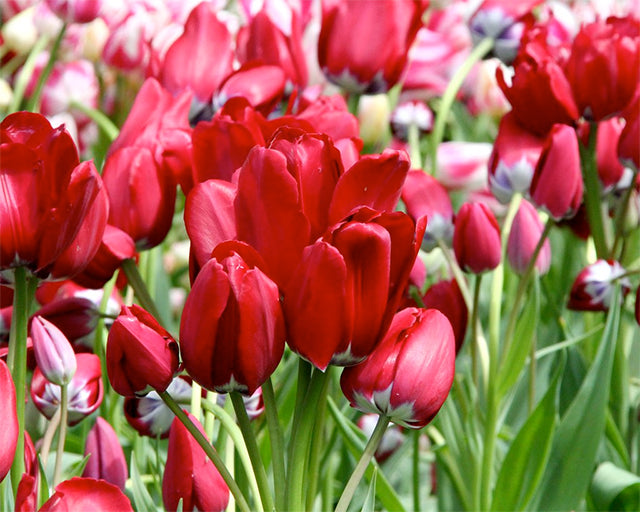 Light up your garden with Tulip 'Fiery Club'
There's nothing quite like spectacular Tulip 'Fiery Club' for turning up the colour volume in the spring garden. Producing several rich crimson blooms from each bulb, plant them in groups and you'll get a hugely rewarding, powerful, flower-packed display which brings vibrancy and warmth to any border or patio pot planting scheme.

Tiptoeing on the pinkish side of red, these bright flowers are just the ticket if you're looking for something to heat-up your colour schemes without being garish. They also have good height – growing to around 40cm tall, they easily create impressive drifts when planted through borders and really pack a colour punch in a large container. With so many stems produced from each bulb, you certainly won't be short of cutting material either, so if you enjoy snipping flowers from the garden to display indoors, this one provides excellent value for money!
One of the best things about growing tulips is their ability to put on a really fabulous, showy display with zero intervention! Grown from bulbs, they simply need to be planted into the ground in autumn where they will sit dormant over the winter months before emerging to produce a spectacular floral display the following spring. You can use this variety to add bright dots of colour to mixed planting schemes among other flowers, or make a big impact by planting them in big groups or swathes. Follow these simple steps to achieving a wonderful display of Tulip 'Fiery Club' in your garden:
Choose a suitable location for your tulips in a sunny or partially shady border. If growing in a container, choose a deep pot which is at least 30cm in diameter and use a good-quality multi-purpose compost.
Tulip bulbs have a pointed side and a rounded side. They should be planted around 20cm deep with the pointed side facing upwards.
If planting in borders, plant one bulb per hole and allow around 10-15cm between bulbs.
For container planting, partially fill the pot with compost leaving around 20-25cm from the top. It's recommended to then add a 3cm layer of horticultural grit to aid drainage. Position the bulbs, pointy-side up, on the surface around 10cm apart from each other and then fill the pot to the top with more compost.
Water the bulbs after planting if no rain is forecast and then allow them to sit dormant through the winter months. The foliage will begin to emerge from around March, followed by flowering stems from around mid-April.
After flowering, snip off the old blooms but allow the leaves to die back fully.
Tulip 'Fiery Club' in brief
Multi-flowering
Grown from bulbs, plant in autumn
Flowers during spring
Ideal for borders and containers
Excellent as cut flowers
Thrives in full sun and partial shade
Fully hardy
Easy to grow, perfect for beginners
Grows to 45-50cm tall
What to plant with Tulip 'Fiery Club'

With intense pinkish-red blooms, Tulip 'Fiery Club' is perfect wherever a bright shock of colour is needed. You can make a truly dazzling display with these alone, or create a real spectacle by combining them with contrasting blooms. The key to achieving a successful planting combination is the consideration of flowering times, heights, preferable planting conditions, flower form as well as colour – get all of those factors lined up and you'll be on to a winner! Here are a few of our favourite planting partners for Tulip 'Fiery Club' for inspiration:
For a really eye-popping and fragrant combination, plant bright blue Hyacinth 'Blue Star' and Tulip 'Fiery Club' together, either with the slightly low-growing hyacinths in front of the tulips or intermingled so that they hyacinths form a carpet of blue from which the tulips can emerge above. This combination is ideal for a sunny bed or large patio container.
Bot flowering simultaneously, this perfectly contrasting pair of tulips are the perfect choice for growing in drifts through borders or for grouping together in a patio pot. Tulip 'Evergreen' is a subtle beauty and goes well with everything, especially pinks and reds. The muted spring-green flowers are neat in form and structure, and reaching a height of 30-40cm, they're perfect for interplanting with slightly taller 'Fiery Club'.
Fritillaria acmopetala gets going slightly earlier than Tulip 'Fiery Club', but the blooms last for several weeks which means these two can make a really wonderful and long-lasting display when planted together. The contrasting flower shapes of this pair really makes for an eye-catching and unusual combination, perfect for pots and borders and thriving in full sun or partial shade.