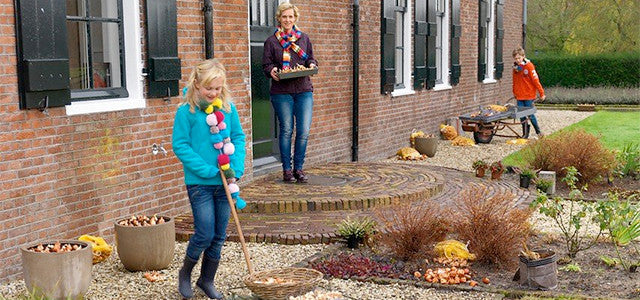 Planting flower bulbs with children: their unforgettable moments of sheer magic
Children love gardening, and it's not just the fact that they're allowed to get dirty. They become intrigued with the process by which plants grow. They learn about nature, and the ways in which birds and insects interact with plants. They wear off some of their excess energy and fall asleep dreaming of fantasy flowers growing from 'their' flower bulbs.
There's just one problem. Set them up for a gardening failure, and that may be the last time they venture out to plant flowers. The effect can be devastating. I speak from personal experience!
Set them up for success
Although kids adore gardening, they aren't exactly reliable about caring for plants. Have you ever told one of your children they can have a pet provided they care for it? Who ended up feeding Fluffy? When you remonstrate with them, they are conscience-stricken. They didn't forget on purpose, they just got distracted.
As a result, it's best to give children very forgiving plants and flower bulbs to grow. Very few children are focused enough to be meticulous about caring for their plants. They'll get around to it when they remember. "Oh! There's a butterfly! Now, what was I about to do?"
Growing bulbs is child's-play
The most difficult thing about growing flower bulbs is remembering to put them in the ground at the right time of year. Really. It's the absolute truth. That's one reminder to give your children and little more, unless you have a dry spell and need to remind them to water their plants.
At planting time, explain that there's a perfect, embryonic flower hiding away inside each bulb. Yes, the flower bulb doesn't look pretty right now, but just wait… It's like the fairy tale of the frog prince or the one about the ugly duckling. Give them a chance to work magic and make a fairy tale come true! Show them a picture of what their "ugly" bulb is going to turn into. Is it magic? No, it's only nature at work, but perhaps there's a little magic in that.
Watch their delight in springtime
As the flower bulbs they planted with their own little hands begin to flower, children discover a world full of wonder. They'll want to show their friends, pluck blooms for their teachers and generally enjoy their achievement. It's all so much fun, it's hard to believe they learned anything in the process, but they did!
Farmer Gracy knows
At Farmer Gracy, we often work with schools creating flower bulb planting projects for kids. We've seen children enjoying the wonderful results of their gardening efforts, and the teachers look pretty pleased too. After all, the school gardens look amazing! Children adore all kinds of flower bulbs, but in general we recommend Tulips, Narcissus, Hyacinths, Snowdrops, Bluebells, Grape Hyacinths and Irises because the children won't have long to wait before they see the flowers they grew in all their glory.
Why not try it at home? Your kids just need a little help digging in compost. Afterwards, show them which side of the bulb goes uppermost, and a stick or piece of cardboard marked with the right planting depth. Buy your flower bulbs now!