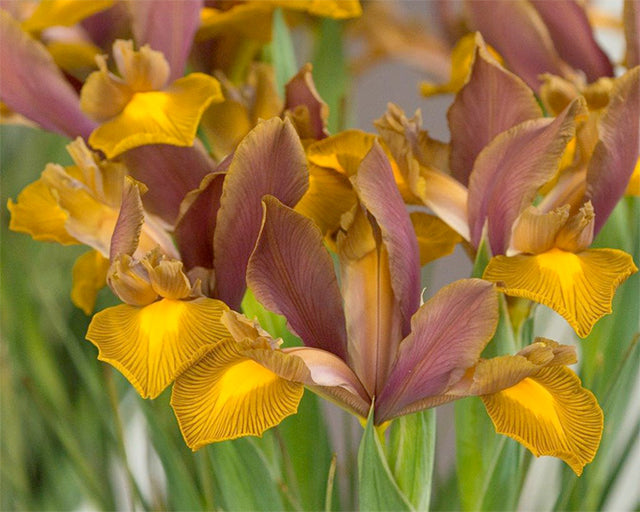 Dutch Iris: Our New Hybrids are Awesome!
There's something about Dutch Irises – both from a practical and aesthetic perspective that really get to us. In the practical sense, it's super that the flower in the otherwise rather colourless interval when spring bulbs have given their last gasp and summer blooms aren't yet in full swing!

They're also really easy to grow – and no matter how much of a master-gardener you may be, you'll always be happy to find plants that thank you profusely for minimal attention. The looks are great too. They're tall enough to command attention, and the flower form with its bird-like wing petals is always a charmer. As the cherry on the top, they're fabulous as cut flowers either on their own or combined with other blooms.
But if you thought Dutch Irises haven't changed since father was a boy, think again! These days, we have access to superb hybrids that give us plenty of variation on the classic theme. We take a look at the top choices Farmer Gracy has selected for this summer. Hold onto your gardening hats! It's going to be quite a ride.
There's no mistaking this variety for anything other than something special. It's not just the royal purple wing petals that give it distinction. There are bronze, gold, and superb patterns and markings that make its long-lasting blooms a must as a flower-arranging focal point.
This Pink Panther may be predominantly lilac rather than pink, but it's still a surprising variation on the theme. It's perfect for those who prefer softer colours and a tranquil palette, but it will also look good when planted with its bolder sisters.
If we're to talk about bold colours, Golden Beauty takes the cake and the rest of the buffet too. It's hugely popular with cut flower growers, and it's easy to see why. Its flower form is as beautiful as the name suggests. As for the colour, I'm sure you can guess what that is!
At a quick glance, you might think this hybrid similar to 'Red Ember', but there's greater contrast between the base colour of the petals and the darker veins that give it its exquisite pattern. The wing petals are also bluer. Which do I prefer? I'll be growing both this summer to see for myself, but I suspect it's going to be a toss-up between two winners.
White blooms are a standby that no garden should be without. Apart from flashes of gold, the blooms are pure white, and that somehow throws the elegant form of the blooms into prominence. Alaska has me reaching for my flower-arranging paraphernalia. Just imagine it in an elegant arrangement with nothing but greenery to give it a suitable background. Or, should I combine it with intense blue or even the bright gold of Golden Beauty?
Before I make my final selection, I still have to consider Iris Valentine. And yes, corny as it may sound, I'm in love! There's an electric blue flash around the gold, and it explodes into the purple-blue that only Irises seem able to achieve.
Last, but not least, Farmer Gracy has given us a new Dutch Iris to discover, and 'Discovery' is quite a find. It's bluer than blue with all the bells and whistles in terms of detail. It looks superb with 'Alaska', so that's one colour combo I'm going for without fail before I return to deliberations and coin-tossing to decide which of the rest of these beauties I'm going to grace my flower garden with.
Dutch Irises Have Come a Long Way, And I'm Going With!
There's only one annoying thing about the new Dutch Irises: I only have so much space in which to plant them. So, woe is me! I have to choose and choosing is going to be tough. Opting for a mix is cheating, and besides, I like designing with colours. So, wish me luck – and do get in touch with your ideas and Dutch Iris successes!