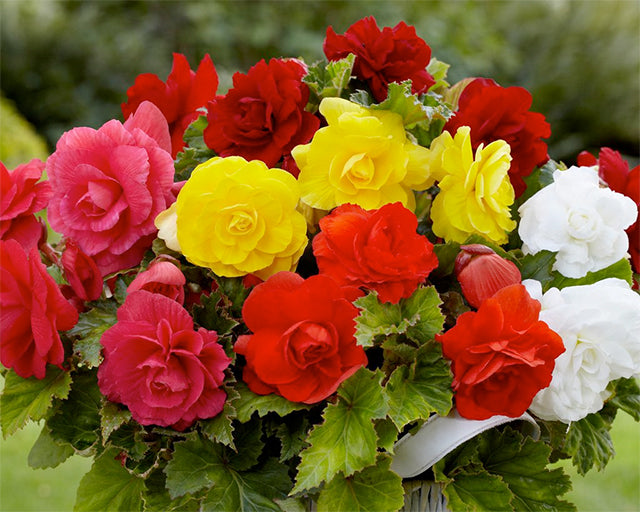 Double the Beauty with Double Begonias
By Naomi Jones
Double-flowered begonias are fantastic container plants that will bring a real zing of colour to your garden whether it's big or small. Our top size (6cm/+) double begonias are selling fast, so please order early to avoid disappointment!
Begonias are grown from tubers and now is the best time to start them so that they have time to establish before summer really kicks off. Once in full swing, they'll flower repeatedly for months, still going strong well into autumn.
Providing twice the flower power of a single variety, the big, bold blooms of double begonias are one of the absolute 'must-haves' in any summer container display. Long-flowering and very reliable, they provide high-impact colour that will reward you for months with very little fuss.
Gone are the days when bedding plant begonias were considered old fashioned – depending on what you plant them with and what sort of container you use, they can be modern and contemporary too. Plain-coloured varieties can sit well in a contemporary garden, grown in simple pots among lush foliage plants or tropical-looking lilies. Alternatively, you could plant a variety of different coloured begonias in bright, miss-matched or retro containers for a vibrant, boho look. If you like to keep it traditional, they'll easily fit in among cottage-style in stone or terracotta pots.
Begonia 'Double White'
Begonia 'Double White' is a great example of a versatile variety that would look good in both modern or traditional planting schemes, not to mention ever-popular white gardens. With beautiful, fresh looks, both the flowers and foliage will light up the patio in full sun or shade. This variety will also grow well in a hanging basket, providing interest at eye level.
How to grow Double Begonias

You'll see begonias in full flower in the garden centre during summer, but the best-value way to grow them is to buy them as tubers and start them off yourself. It's very easy to do and well worth it when you get to see them growing into strong, healthy plants from the very start of the summer.
Your top-size (6cm/+) double begonia tubers will arrive at just the right time to pot up. Give them a good soak in water for a few hours before planting to rehydrate them and help kick-start them into growth.
You can either plant them directly into patio containers, or start them off in temporary pots, planting them outside once they've established. Begonias are frost tender, so you'll need to keep them under cover out of the cold until the weather warms up. A conservatory or greenhouse will provide the ideal conditions while they grow on.
Add a handful of slow-release fertiliser to good-quality multipurpose compost to make your potting mix – this will help nourish your plants throughout the season. Fill your containers almost to the top with your potting mix and give it a tap to remove any air pockets. Position your tubers, concave side upwards, in shallow indents (approximately 2cm deep) on top of the compost. Top-up the pot with more compost, shallowly covering the tubers, then give them a good watering.
Regularly keep an eye on the containers while your begonias are growing and water them whenever the soil starts to look dry. Once risk of frost has passed (usually around late May), position your containers outside in a sheltered spot in full sun or partial shade. If you've grown them in temporary pots, this is also the right time to plant them outside into their final positions.
Double Begonias in brief
Grown from tubers, plant in spring

Flowers during summer and autumn

Suitable for pots and hanging baskets

Height 40cm Spread 40cm

Grows in any free-draining soil or compost

Thrives in full sun or partial shade

Frost tender, store indoors for winter

Attracts bees and butterflies
Try these planting partners for Double Begonias

One of the best ways to show off your double begonias is by surrounding them with other varieties of varying heights and growing habits. Here are some inspiring ideas for plants that will grow well in containers alongside double begonias.
Begonia 'Double Yellow' + Dahlia 'Bishop of York'
This warm colour scheme will add a touch of sunshine to your patio even on dull days! Position a container full of Begonia 'Double Yellow' in front of a container filled with slightly taller growing Dahlia 'Bishop of York' for an attractive gradient of height. This dahlia has dark foliage which will provide a lovely contrast.
Begonia 'Double White' + Astilbe 'Fanal'
This contrasting pair of plants will look really striking in neighbouring containers. The astilbe has bushy, upright flower spikes that provide texture, structure and vivid colour, and grows to a height of around 80cm. The crisp white begonias have a rounded habit along with rounded flowers and lower growth height, providing a stark contrast which is ideal for an informal, relaxed garden.
Begonia 'Double Mixed Colours' + Calla Lily 'Captain Prado'
This riot of colour will add a tropical feel to your patio, whether it's in sun or shade. The fresh green foliage of the contemporary calla lily is dappled with cream flecks, extending the season of interest and providing a contrasting shape. Plant the begonias and calla lilies in separate pots and position them next to each other. Make these two a centrepiece by surrounding them with foliage plants of pot-grown shrubs.

"Double the Beauty with Double Begonias"
is a guest blog written by:

Naomi Jones
Author of Garden Nomey blog