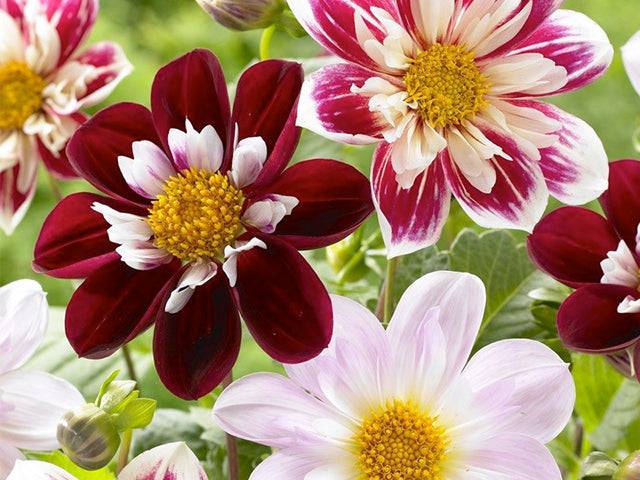 Collarette Dahlias – Impressively Collared Blooms
By Naomi Jones
Collarette dahlias produce big, impressive blooms with a central ruffled collar, surrounded by large contrasting petals. Growing to a compact height of around 60cm, they're a great choice if you have a small garden or just containers on a patio or balcony. With their striking blooms, they put on a great show of colour all on their own and will be a great highlight in any display.
Dahlias provide a continuous colour hit from mid-summer right through to autumn. There's a lovely choice of Collarette types to choose from in an array of pink, burgundy and fresh white shades. These versatile plants look fantastic in traditional or cottage-style planting schemes nestled among other flowering plants, or use them to add vibrant colour among exotic or leafy plants in modern or contemporary planting schemes.
Not only are dahlias spectacular to look at in the garden, but they're well-known for being outstanding as cut flowers too. Producing large, long-lasting blooms on strong stems throughout summer, you only need few to make a stunning mixed posy. Their repeat-flowering nature means that when you pick them, more grow in their place, so you can enjoy a constant, fresh display in your home.
How to grow Collarette dahlias
Dahlia tubers are best planted in spring. First of all, soak them in a bucket of water for up to 12 hours to rehydrate them ready for planting.
Source enough large pots (two or three litre pots are ideal) to pot up your tubers individually.

Half fill the pot with compost and position the tuber on the surface before topping up the pot with more compost. It's a good idea to mix in some slow-release fertiliser granules into the compost, which will help to feed the plants throughout the season and encourage maximum flowering.
Water the pots thoroughly after planting, and leave them to grow on in a bright, frost-free place – a conservatory or greenhouse is ideal. The foliage should start to emerge after a few weeks, after which you should water the pots whenever the compost looks dry.

After risk of frost has passed (normally around mid to late May), remove the plants along with the entire rootball and plant them into their final positions, either in beds or patio containers.
If you don't have space to grow them on indoors, you can plant dahlias straight outside in late spring when the worst frosts are over and protect them with a good layer of mulch, along with the addition of a cloche or horticultural fleece on cold nights.

Pinch out the growing tips of the main stems as they grow to encourage them to branch out, this will help them to maintain a neat and bushy shape with more flowering stems.

Whilst in full growth, water your dahlias regularly, especially those in containers which may dry out daily on hot days. Feed fortnightly with a liquid feed to encourage continuous flowering.
Collarette dahlias are quite compact and generally self supporting, but it's good to secure them to bamboo canes if they begin to lean.
Flowers are repeatedly produced so it's a good idea to harvest some of them regularly to display in the home. Those that are left to flower on the plant should be deadheaded once they're over so that energy can be used to produce more flowers rather than seedheads.
Collarette dahlias in brief:
Grown from tubers

Plant in spring, flowers in summer

Height 60cm Spread 50cm

Grows in any free-draining soil

Suitable for containers and borders

Thrives in full sun or partial shade

Frost tender, move indoors for winter

Suitable for cutting

Attracts bees and butterflies
Three beautiful Collarette dahlias
Collarette Dahlias seem to be serving a central flower on a flat platter of large, slightly involute petals. The inner flower is made up of a collar of short petals that curl upwards to form a ruff around the bloom's centre. Here are three of the best Collarette dahlias to create impressive displays:
Dahlia 'Night Butterfly'
Velvety deep-red flowers with contrasting white central collar are produced continuously for months during summer and into autumn. Try planting them with blue agapanthus for a vivid, harmonious colour scheme.
Dahlia 'Fashion Monger'
The exceptionally striking pink and white blooms of Dahlia 'Fashion Monger' are stunning and intricate. They look great planted among leafy shrubs or foliage plants, or on their own, where their flowers will provide a great splash of colour that can really be appreciated.
Dahlia 'Twyning's White Chocolate'
This versatile variety is looks just as fitting in a cottage-garden scheme as it does in any contemporary or white garden. The completely white blooms with fresh yellow centres are individually stunning and will add a cool, zesty look during summer.
Buy Dahlia Twyning's White Chocolate →

"Collarette Dahlias – Impressively Collared Blooms"
is a guest blog written by:

Naomi Jones
Author of Garden Nomey blog