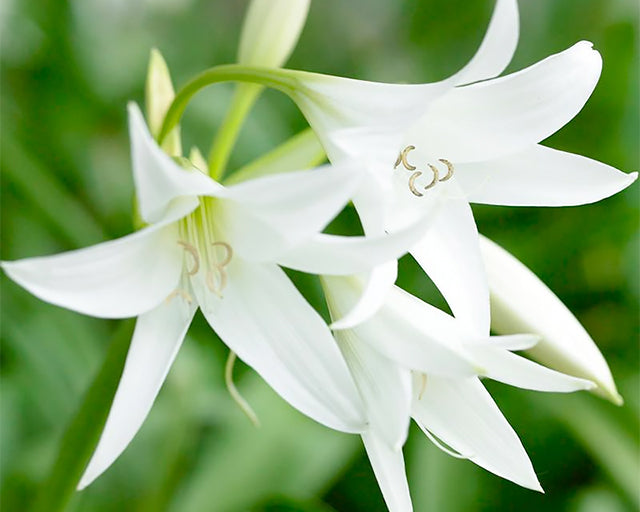 Impressive & Statuesque: All about growing Crinums!
By Naomi Jones
There's nothing quite like crinums for creating a big impact in the garden in late summer. If you're looking to grow something a bit different, or have a gap you'd like to fill with something impressive and statuesque, give crinums a try!

Flowering in late summer with giant lily-like blooms, they're just what any garden needs to pick up the slack when the summer displays are slowing down. Not only do the blooms look magnificent, but their fragrance is absolutely heavenly. Each flower is held up high by a tall, sturdy stem (reaching up to 1.5m in height) and they look great towering gracefully in mixed borders or shrubberies, particularly when planted close to a pond.
Crinums, also known as swamp lilies, are bulbous perennials and come from sub-tropical areas including South America and South Africa. As their common name suggests, in the wild they're found growing in boggy, marshy or swampy areas. That said, they don't like to sit in wet soil all the time. A sunny border with deep, rich, free-draining soil is perfect for them. They love warm moist soil, and a typical UK summer provides just the right amount of both warm and wet conditions for them to thrive. Despite their more exotic origins, they're quite hardy – they tolerate frost and can cope with a mild winter in sheltered gardens. To be on the safe side, they can easily be lifted and stored in a frost-free place over winter.
Alternatively, crinums can also be grown indoors. If you have a conservatory or ornamental greenhouse, they make a superb addition to your indoor displays and the smell truly delight the senses.
Crinums are easy to grow and relatively fuss free - considering the remarkable display they produce, they really do provide excellent value. They're grown from very large bulbs which should be planted in spring for a late-summer display the same year.
As they're fairly hardy, crinums can be planted straight outside in the spring in containers or borders. They need a rich, deep soil to thrive, so it's a good idea to enrich your soil by digging a mulch into it first. If planting in containers, a good multipurpose compost will be fine, however you can also incorporate a bit of mulch into the compost to give it a bit of extra body.
Plant the bulbs, pointed end upwards, into the soil with the top of the bulbs slightly exposed. Water in well after planting and continue to water regularly throughout the season.
Crinums often start to flower around August and last well into autumn. As the flowers fade, remove each one to encourage further flowering from new buds. After flowering, remove the old stems entirely. If you're leaving them in the ground for winter, add a layer of mulch around the bulb, which will offer a bit of extra protection from freezing temperatures. Alternatively, cut back all the foliage and lift the bulbs out of the ground, then store them in a light, frost-free place. The bulbs can then be replanted the following spring.
Crinums in brief
Grown from bulbs, plant in spring

Flowers during late summer and autumn

Highly fragrant

Height 1.5m. Spread 50cm

Grows in rich, free-draining soil

Suitable for containers

Thrives in full sun

Hardy in a mild winter or sheltered position
Great planting combinations with Crinums

Create an extra special late-summer display by pairing your crinums with other late-season varieties. Here are some lovely combinations for inspiration:
Nerine 'bowdenii' + Crinum x powellii 'Album'
Nerines and crinums are a classic combo, both flowering in unison during late summer and autumn. The pale pink Nerine bowdenii and the pure white Crinum powellii are truly harmonious together, flowering on tall stately stems but with contrasting flower shapes.
Crinum x powellii +
Acidanthera 'murielae'
The delicate flowers of acidanthera sit on slender, swaying stems, providing the perfect contrast against the large, bold crinum flowers. Plus, both varieties have long leaves which provide structure and interest over a long season. Plant this tall pair in groups in a large border or in neighbouring containers and enjoy the show from August onwards.
Crocosmia 'Lucifer' + Crinum x powellii 'Album'
Crocosmia 'Lucifer' is a tall, clump-forming variety with delicate, arching red flowers. It combines particularly well with crinums, both flowering at the same time, at roughly the same height and above mounds of upright, architectural foliage.

"Impressive & Statuesque: All about Crinums!"
is a guest blog written by:

Naomi Jones
Author of Garden Nomey blog