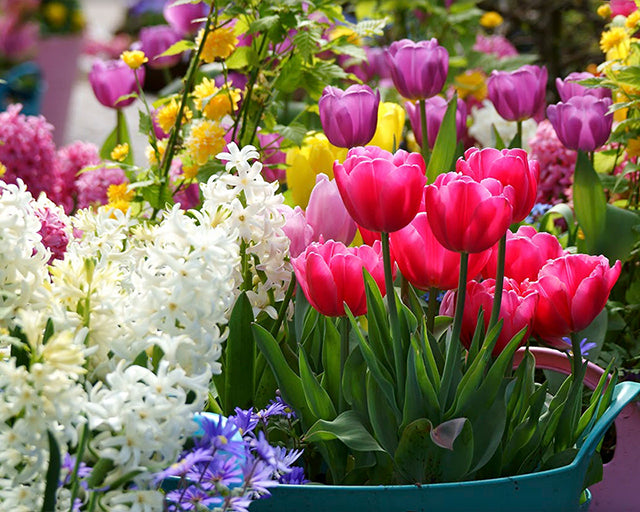 The 10 Best Spring Flowering Bulbs
Planting spring bulbs is the easiest way to fill your garden with bold and beautiful colour, and by choosing a mixture of different types, you can enjoy dazzling illuminations in beds, borders and pots for months on end during the spring season.

Size matters when it comes to bulbs! The most reliable way to achieve professional-looking planting schemes is to choose the highest quality, top-size spring bulbs. Not only will you get bigger, better and stronger plants, but the blooms will go above and beyond all your expectations in terms of colour and longevity!
Working with top growers in the Netherlands, we're proud to be able to provide the highest quality Dutch bulbs fresh and direct to you, so all you have to do is plant them in autumn and look forward to a top-notch display next spring! Spring-flowering bulbs are very easy to grow and most varieties are hardy. Here's our pick of the 10 best bulb types:
1. Tulips
When Tulips (Tulipa) flowers you'll know that summer is just around the corner. They look their best between April and May and are among the most versatile of all the spring flowers. Tulip bulbs come in possibly the most exotic array of colours, along with varying flowering heights and flower forms. Whatever your style, there'll always be a variety of tulip that will suit your planting schemes, whether you have a modern, contemporary or minimalist garden, or a full-blown cottage-garden mix. What's more, a bunch of freshly-pick tulips from the garden looks a real treat in the home.
2. Narcissus (Daffodils)
Narcissus, commonly known as Daffodils, are a completely fool-hardy plant, thriving just about anywhere and putting on a cheery, reliable and strong display from early to mid-spring. These perennial naturalisers are so rewarding. Plant the Narcissus bulbs in autumn and enjoy watching their fabulous blooms unfurl in the garden every spring, forming bigger and bolder groups every time. You can grow daffodils in borders, pots, rockeries, under trees or through grass and they will shine without fuss, whatever the weather. Not only this, but most varieties of daffodil have a gorgeous, sweet fragrance too and are lovely for displaying indoors.
3. Crocus
Crocuses are a wholesome classic, perfect for naturalising under trees, through grass or putting on a sweet display in pots of borders. Their distinctive goblet-shaped blooms come in an array of glamourous colours, and are among the first to peep through in early spring. Crocuses are a brilliant choice for wildlife gardens, providing valuable nectar for the first big bumblebees to wake up on those crisp, short February and March days. Crocus blooms are individually beautiful, but their petite nature means that they're best planted in drifts, swathes or groups so that they make a big impact. Once these resilient and brave little Crocus bulbs are in the ground, they'll pop up every year for a repeat show!
4. Hyacinths
When it comes to scented spring bulbs, it's hard to beat the intoxicating fragrance of Hyacinths (Hyacinthus). These powerfully-perfumed blooms emit such excellent scent that you can smell them from across the garden! These weighty performers are bold and beautiful, producing fat drumsticks of blooms in all the colours of the rainbow. Choose top-size hyacinth bulbs and you'll enjoy plants with a strong, upright habit and blooms that last for several weeks. Hyacinths are hardy and easy to grow, thriving perfectly happily in pots or borders. If you enjoy displaying flowers in your home, sweetly-scented hyacinths are a must and can easily be grown in indoor containers. They'll look fabulous and also fill their air with perfume far superior to any air freshener!
5. Alliums (Ornamental Onions)
Alliums are really useful flowers for injecting fresh colour into the garden from late spring through to mid-summer. This is particularly useful timing for carrying the season of colour seamlessly through into summer, taking over from earlier flowering spring bulbs as they begin to fade and avoiding the post-spring colour anti-climax! What's more, they do it with a mighty punch too. With strong, architectural looks, these vibrant balls of colour bring structure and contrast to any planting scheme. They look really fabulous when planted in large groups all together, but you can create a different look entirely by dotting them around borders where they can bob gently above neighbouring varieties. Allium bulbs are full hardy and very easy to grow, plus they're available in a range of heights varying from 30cm all the way up to the gutsy giants which can reach around 1.5-2m tall. There's no doubt that these gorgeous flowers for on a fantastic performance in the garden, and they make incredible cut flowers too!
6. Iris
The two best types of spring flowering Iris to grow are dwarf Irises and Dutch Irises, and by planting both types you'll get to enjoy their glamorous, exotic-looking blooms at different times in the season. Dwarf Irises (Iris reticulata) are among the earliest flowers to bloom in spring, poking their heads above the soil from February to March each year. These dainty little wonders are petite in size, but big on impact, with intricate blooms marked with the finest of details. These little gems are perfect for planting in patio pots, borders or rockeries. Dutch Irises are much taller, flowering on tall upright stems which reach up to 50cm in height, and they flower during late spring through to early summer. Flashy blooms in an array of sumptuous colour tones flower easily and perennially every year, forming larger and more impressive clumps each time. Dutch Iris bulbs without doubt put on a fantastic show in the garden, and they're also prized by florists for their long vase life and elaborate flower form.
7. Snowdrops (Galanthus)
Snowdrops (Galanthus) will bravely emerge through the soil during the earliest spring months, illuminating your outside space from as early as January each year. These tough and hardy little characters are easy to grow and thrive in most planting locations, whether you have borders to fill, patio pots, rockeries or trees and shrubberies to underplant, and they'll tolerate full sun or partial shade. All sorts of fancy varieties of snowdrops bulbs are available, but it's the classic Galanthus nivalis which is the traditional woodland classic that's seen out in the wild, under trees and growing through unmanaged grassland.
8. Bluebells (Hyacinthoides)
There are many types of bluebell around, but it's the traditional English Bluebells (Hyacinthoides non-scripta) which are our beloved native type. These gorgeous blue flowers are seen carpeting woodland floors in the UK during April, and they couldn't be more highly treasured if they tried. Bluebells bulbs sometimes take a few years to establish, but once they do you'll be in for a real treat. The distinctive, slender arching stems of English Bluebells each bear elegant, nodding, bell like blooms which are totally pleasing on the eye, but also a useful and popular source of nectar for spring bumblebees and other pollinators too. These hardy bulbs naturalise freely once established, so over the years you can enjoy your very own blanket of blue in beds, borders, under trees or shrubs!
9. Anemones
From traditional woodland anemones (Anemone blanda) to more ornate types like our Elite Italian varieties, anemones provide a bright pop of spring colour to beds, borders or pots from mid to late spring every year. Woodland anemones come in a range of pretty pastel shades and are perfect for underplanting trees or shrubs or for growing in bold drifts through borders. The larger, hybrid varieties are better suited to growing in sunny borders and patio containers or through through grass. These simply beautiful flowers are grown from corms (although some people just call it Anemone bulbs) and are very easy to plant. The nugget-like bulbs can be planted in clusters and simply left to it, which makes them the perfect reliable choice for a beginner or anyone who just needs low-maintenance colour!
10. Grape Hyacinths (Muscari)
Muscari, also known as Grape Hyacinths, are the perfect low-growing spring bulbs for creating a dense mat of colour in beds and borders. These unfussy little grape hyacinth bulbs are so easy to grow and incredibly efficient, flowering during mid-spring each year and very quickly naturalising to form a lovely carpet of colour. These intricate little flowers are ideal for a cottage-style or wildlife garden, with naturally pretty looks and nectar-rich blooms which will attract bees and other beneficial pollinators. Muscaris are predominantly blue, but you can now get pale pink and white varieties too!
How to grow spring flowering bulbs
Spring-flowering bulbs are all planted in generally the same way and require similar care. These simple rules apply to each of the types listed above
Plant spring-flowering bulbs in autumn from September to late November.
Most spring-flowering bulb varieties will thrive in full sun or partial shade.
Plant in a hole which is twice as deep as the bulb is high.
If the bulb has a pointed side, position with the point facing upwards. Corms like anemones can be planted any way up.
Position one bulb in each hole, unless the bulbs are for small varieties, such as muscari, crocus or dwarf iris, in which case you can plant a few bulbs in each planting hole.
Cover bulbs back over with soil and leave over winter. The soil is usually cool and moist enough during autumn to mean that the bulbs don't require watering in, although if it's particularly dry you can water them just once to begin with to help get them started.
After flowering, the blooms and foliage should be allowed to die back fully before being removed. This helps the bulbs to gather energy for the next year's display.