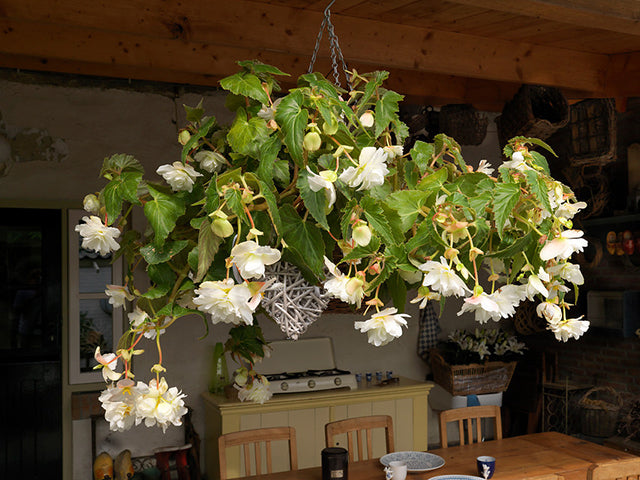 The Best Trailing Begonias for Hanging Baskets
By Naomi Jones
If you want impressively big basket displays, trailing begonias are the way forward. Whether you prefer the big blowsy blooms of double-flowered varieties, or the elegant single-ones, they provide masses of colourful flowers that cascade wonderfully from any container, be it a basket, patio pot or window box.
Hang trailing begonias in baskets either side of your front door for a colourful welcome home, or dot them around the patio to provide a lush colour pop. They provide an excellent display in full sun or partial shade, flowering profusely throughout summer.
How to grow Trailing Begonias
Spring is the best time to buy begonias - you'll have the biggest selection to choose from and you'll get much better value for money than if you wait until the summer and buy ready-grown ones. They're supplied as tubers during spring, ready for you to grow on from home. They're very easy to grow from tubers, so it's well worth planning ahead and ordering early.
Begonias are tender, so they need to be started off in a frost-free place, a conservatory or greenhouse is ideal.

When you order begonia tubers online, they'll be sent out at just the right time to pot them up ( around March or April). Here are some simple steps for starting them off:
Fill a seed tray to about 8cm with compost.

Make shallow indents in the compost (approx. 3cm deep) and position your tubers in the indents, concave side up. Allow a 2cm spacing between the tubers.

Give the tubers a thorough but gentle watering, and leave them in a bright, frost-free place to grow.
Once leaves have emerged, move the tubers and plant them into pots, window boxes or hanging baskets, but keep them in their frost-free position until risk of frost has passed.

You can 'harden off' the begonias throughout late April and May by leaving them outside during the day and moving them indoors or covering them with horticultural fleece at night, or you can just keep them indoors until late May.

Containers can dry out quickly on hot days, so it's important to water them every morning or evening in the middle of summer.
To enjoy the biggest, most colourful displays, feed them on a weekly basis with a high-potassium fertiliser, such as tomato fertiliser.

Begonias often flower right up until the first frosts. To save your begonias for next year, remove them from their container before the frost catches them, shake off the soil and store them in a dry, well-ventilated and frost-free place. You can then repeat the process again the following year.
Trailing Begonias in brief:
Grown from tubers

Height 30cm-40cm

Spread 30cm-60cm

Plant in spring, flowers during summer

Grows in full sun or partial shade

Attractive to bees

Perfect for pots and hanging baskets

Frost tender
Five of the best Trailing Begonias
Why keep your garden colour at ground level? Lift your flower display higher to add a whole different feeling and perspective to your garden. Here are five of the best trailing begonias to create impressive hanging baskets:
Begonia 'Cascade Pink'
Striking, large pink double blooms provide plenty of 'wow' factor, cascading from containers from early summer right through to autumn. This bright variety brings tropical tones to both modern and traditional gardens.
Begonia 'Pendula White'
This elegant variety provide months of interest, with pendulous pink-tinged white blooms that are continuously produced throughout summer and into autumn. Ideal for a white-themed garden, or for adding highlights to colourful schemes.
Begonia 'Cascade Red'
This brilliant red variety with large double blooms provides high-impact colour and will trail beautifully from containers throughout summer. It looks great planted on its own or in mixed schemes with contrasting dark foliage.
Begonia 'Cascade White'
This cool white variety will light up your garden in the height of summer. The large double blooms are produced repeatedly and will tumble nicely from containers for months.
Begonia 'Bertini'
Grow something different this summer with this spectacular new variety. Begonia 'Bertini' is a vigorous, large variety and puts on a very grand display throughout summer. The single pendulous blooms hang elegantly above the equally attractive, lush green foliage.

"The Best Trailing Begonias for Hanging Baskets"
is a guest blog written by:

Naomi Jones
Author of Garden Nomey blog