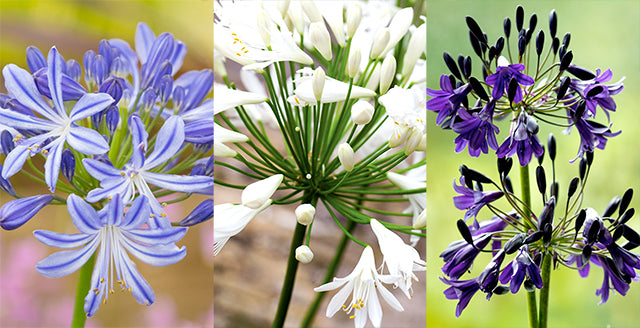 Plant Agapanthus for Summer Colour and Structure
Agapanthus is a truly impressive, sun-loving summer bulb which will grace containers or borders with their firework flowers in vivid, yet serene shades from mid-summer onwards every year.

There's no mistaking the eye-popping pigment and explosive habit of wonderful blue Agapanthus umbellatus flowers. But this range also includes the very luxurious Gracy's Elite Agapanthus 'Black Buddhist', as well as a popular contrasting white variety 'Albiflora'.
Agapanthus don't mind having restricted roots and are also very tolerant to drought. Plus their narrow, upright habit makes them ideal for growing in containers or narrow borders. They do best in a sunny, sheltered location, so they're perfect for growing on a sunny patio or in front of a sunny wall. They're very easy to grow, too – simply plant the roots in spring and leave them to it. Before long, the lush linear foliage will begin to emerge and the flowers will follow from August onwards.
Another added bonus of growing Agapanthus is their showy flowers on long, straight stalks make effortlessly impressive cut flower displays. A tall, glass vase will show them off beautifully, or snip the stem short and display them in simple single-stem vases.
How to grow Agapanthus

Agapanthus (or African Lilies) can be planted straight outside in spring once the weather is reasonably mild during the day on most days. For best results, it's recommended to plant them in containers and start them off in a warm position to give them a kick-start. A greenhouse or conservatory is ideal, or a sunny, sheltered corner of the garden would also help give them the warmth they need to boost them into growth for their first season.
If planting directly into beds, choose a sunny and preferably sheltered location - next to a wall, hedge or pathway is perfect. Cultivate the soil with a fork to loosen any compacted areas, then plant each root approximately 5cm below the soil surface, spaced at approximately 30cm apart. Cover the roots back over with soil and water in thoroughly. Optionally, you can add a good layer of mulch to the border to add an extra layer of insulation and protection against any late frosts.
To plant in containers, choose a pot that's at least 30cm in diameter and fill it almost to the top with a heavy compost, such as a soil-based compost or a mixture of garden soil and multipurpose compost. Position the roots on the soil surface at a spacing of around 20cm, then cover them with another 5cm of the soil and compost mix. Firm down the soil with your hands and thoroughly water the pot.
The foliage will start to emerge within a few weeks. Keep an eye on moisture levels in containers. Water them whenever the soil in the pot looks dry and allow the water to drain out from the pot, as they don't like to sit in wet soil for a long time.
Throughout summer, and once your agapanthus are in full growth, water any that are planted in pots regularly whenever they look dry. To maximise plant health and boost flowering, give them a fortnightly feed with a liquid feed. After flowering, allow the foliage to die down naturally so that they can continue to transfer energy to the bulb to encourage a healthy display next year. For winter, either move the agapanthus container indoors, or cover the pot with horticultural fleece or a thick layer of mulch for a bit of added insulation.
Agapanthus in brief
Grown from bare roots
Plant in spring, flowers in summer
Height 1m. Spread 50cm
Grows in any free-draining soil
Suitable for containers and borders
Thrives in full sun
Half hardy
Suitable for cutting
Attracts bees and butterflies