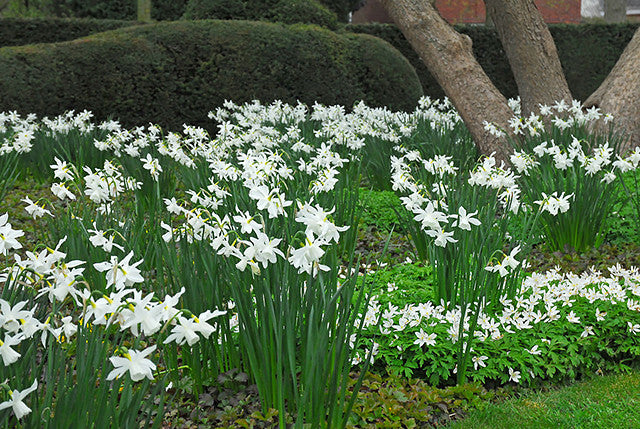 Narcissus Thalia: Snow White Queen of the Spring
England loves its gardens, and Narcissus Thalia is loved by the gardeners who create them. Famed for its showy, pristine white blooms and delicate but unmistakable fragrance as well as its elegant but not overbearing height, it graces gardens and vases without requiring a great deal of pampering or special know-how.

Moderate watering requirements and adaptability that allows it to thrive in full sun or light shade are among the traits that allow even gardening neophytes to enjoy success with Thalia.
Country gardeners who struggle with deer and rabbit incursions will be glad to know that they don't like Narcissi, and even if they do damage them, recovery is almost certain. Likewise, Narcissus Thalia is not a favourite of insect pests. Snails can cause damage, so if you spot eaten leaves, that's very likely to be the cause.
Growing Easy-Going Narcissus Thalia
Although Thalia is a tough cookie, you still need to meet a few basic requirements to get your fabulous white dafs growing. Once you've cracked these basics, Thalia will deliver the goods year after year.
Thalia planting design tips are easy to master. More is very often better, and since the white blooms, borne two to three to a stem go perfectly with other spring flowering plants, Thalia makes a great foil for other spring bulbs. Alternatively, drifts of white Thalia amongst green foliage or planted to create a natural look under trees are also very effective.
Site selection is important, not only to meet light requirements but also to meet the plant's needs for a freely draining soil. Those with heavy, damp soils or poor subsoil drainage will still be able to grow Thalia Narcissi, but they will need to compost the soil well and possibly build up the beds to improve drainage around the bulb. Soggy soil is the one thing that narcissi won't stand.
Look towards the sun before making your final site decision. Daffodils are among the blooms that face towards the sun, so a wrong site selection could leave you with flowers that resolutely turn their backs on you!
Plant your bulbs in autumn (of course) and follow the instructions on the pack because planting depth depends on bulb size. Of course, Farmer Gracy will give you top-sized Thalia bulbs, so you ought to check the planting depth just in case your earlier experience is based on lower quality flower bulbs.
Spacing is up to you. You can plant your Thalia daf bulbs close together to create an instant clump of blooms that looks like it has been established for years, or you can space them further apart and allow them to form their own clumps over the course of a few seasons. If you choose the latter course, you can't expect the magnificent display of a mature planting. If you choose the former, you may have to divide the clumps a little sooner.
Let Thalia go gently to sleep after blooming. She needs her summer rest, but going dormant is a process of nature we shouldn't interfere with. As the nutrients are moved from the leaves to the flower bulb, they will turn yellow. Allow this process to take place before cutting off the leaves.
Divide and conquer. After a few years, you may notice that mature clumps of Narcissus Thalia stop producing the number or quality of blooms you have come to expect. When this happens, you know that your clumps have to be divided. When the plants are dormant, lift the mass of bulbs and split them up before replanting.
Naturalizing Narcissus Thalia: A Low-Maintenance Perennial Pleasure
Whether you're already something of a gardening guru or are starting your first garden and fear your thumbs aren't green enough to get anything growing, Thalia will never disappoint. Set yourself up for success and enjoy the rewards of lovely blooms and that soft scent that tells you spring is really here. It's no wonder that Narcissus Thalia is an English garden favourite: Discover its pleasures for yourself.