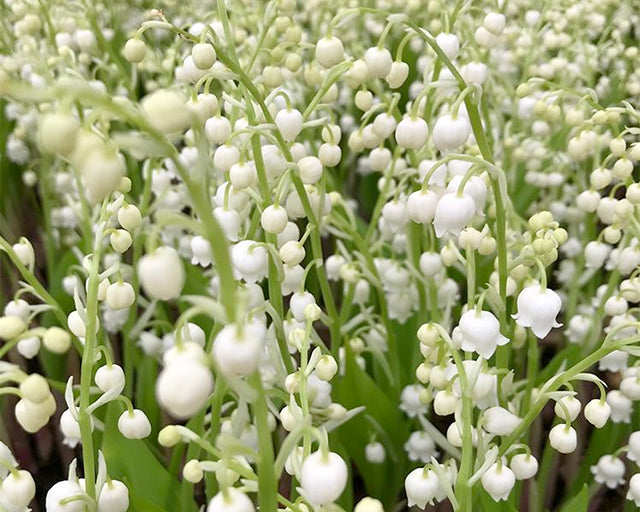 Lily of the Valley: Fragrant Shade Garden Favourite
Farmer Gracy's plant of the week this week is Lily of the Valley, botanically known as Convallaria majalis. This shade-loving ground cover is the perfect solution for areas that receive very little sunlight. It forms a dense mat of lush foliage, which in spring is topped with wonderfully fragrant nodding flowers on delicate upright stems. What's more, Lily of the Valley is a fully hardy perennial that will grow back and spread, rewarding you with more and more flowers every year. This well-known plant has long been a shade garden favourite, and its reliable garden performance has won it a prestigious RHS Award of Garden Merit.

Not only are these strong-growing, low-maintenance plants brilliant for brightening up a dull, damp or shady space, but Lily of the Valley flowers are fantastic for cutting too. With multiple flowering stems per plant, you can snip a handful and bunch them together into a simple posy that will fill your home with fragrance.
There are two lovely varieties to choose from, including the traditional white flowered and the more unusual Pink Lily of the Valley (Convallaria majalis var. rosea) which has beautiful pale rose-pink flowers. Both are very easy to grow and have wonderful spring scent.
How to grow Lily of the Valley
Lily of the Valley are very easy to grow and produce a great display in any moist soil with very little bother. The best value way to buy them is in bare-root form and to plant them straight outside in spring. When you receive your roots (also known as 'pips'), give them a soak in a bucket of water for a few hours to help activate them into growth once they're planted.
Select a position with a good amount of space for your lily of the valley to spread out over time. Soil type doesn't matter, as long as it is fairly moist and in full or partial shade.
Dig a shallow hole in the soil and lay your roots across it, cover back over and water well. Once they start to grow, continue to water regularly during their first season until their roots are well anchored. Once they're established, providing they're positioned in full or partial shade and the soil is generally fairly moist, they shouldn't require regular watering and can be left to their own devices.
After a few years, your plants may have started to spread and formed a dense mat. Once they reach this stage, in autumn you can divide them by digging up clumps, cutting them into smaller chunks with a spade and replanting them wherever you want them.
Lily of the Valley in brief:
Grown from bare-roots/pips
Plant in spring, flowers in late spring and early summer
Hardy perennial
Height 15cm, Spread 15cm
Grows in any moist but free-draining soil
Suitable for containers and borders
Thrives in full or partial shade
Attracts bees
Great as cut flowers
Easy to grow, suitable for beginners