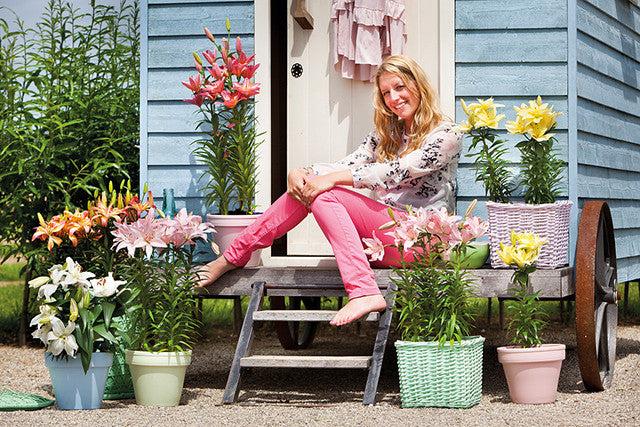 Gracious as Sunshine: All About Lily Bulbs
Love, birth, death: the many reasons we give and receive Lilies; a flower that has starred in both history and legend. A vase full of fragrant lilies has the power to transport us to exotic climes, warm beaches and tropical rainforests.
Lilies have long-enjoyed a heady relationship with both gardeners and florists alike and are high on the wish list for brides' bouquets whilst globally being one of the most popular flowers to have in our homes. But how many of us have tried to grow these beauties ourselves?
Readily available as Lily bulbs from growers such as a Farmer Gracy, Lilies are easy to grow, whether we have acres of garden or the smallest of balconies. With lilies available for both containers and the garden, with some simple ground preparation we can all have lilies for every occasion.
To be or not to be a Lily?
The term 'lily' can be confusing as the name is given to a number of different plants: daylily, water lily, peace lily and lily of the valley are in fact not lilies at all! The 'true' lily ('Lilium' from the family Liliaceae) includes the popular Asiatic Lilies, Trumpet Lilies and Oriental Lily forms.
Growing tips
Lilies are best planted in Autumn but can be grown right through till Spring. There are colours and shapes to suit every taste, from pure white to deepest black; big and blowsy to small and dainty. The taller varieties are perfect for cut flowers or for height in a border but may need staking so check the heights before making your choice.
Plant bulbs with some good rich, multi-purpose compost, water well and regularly. Some types like a slightly acidic soil. It's a good idea to mark where you've planted them too, especially if you're as prone as I am to forgetting their location and sticking a fork prong straight through them before they emerge!
Keep them contained
Lilies are particularly well suited to growing in containers. They create a real showstopper planted en masse, and can be used as a focal point or even a gap-filler when other plants have died down. They look stunning in large terracotta pots and can then be placed right outside your front door or along a path, where you can enjoy their fragrance as you pass. Ideally position them where they get lots of morning sun but don't overheat later in the day as it warms up. Shorter varieties of Asiatic lily seem to thrive best in a pot but both types can be used.
Place some crocks in the base of the pot to aid drainage and fill with a good, fertile compost. Allow 5cm between bulbs and plant as many as will fill your pot. The depths for planting vary according to the type of bulb so again check the instructions.
Plant with friends
Lilies are perfect for combining with other perennials, grasses or shrubs. They like to have cool, nourished roots whilst their heads reach for the sun but choose shallow-rooting plants to prevent them sulking at the competition for both nutrients and moisture.
The tall fleshy stems often need staking as the plants grow bigger but you can also use companion plants to help hold them aloft. Perennials such as Eupatorium, Peonies and Salvia's all look fabulous with Lilies or try with well-behaved grasses such as some of the the shorter Miscanthus, or the tawny tones of Anemanthele Lessoniana but be careful not to overcrowd them; they need to have space to shine and hate to be smothered. Later in the year try using them with Asters and Echinacea. These will discreetly hide the foliage as it deteriorates.
One of my favourite combinations is planting lilies with roses; they just seem to sit so well together and the rose branches can help provide support. Lilies are perfect for a scented garden and for a cutting garden so they really are a plant for all places!
The dreaded red beetle!
There's no getting away from him - the little beastie that is the red lily beetle [Lilioceris lilii] has a relentless homing beacon for the delicious lily foliage, quickly decimating your prize plants. The only real cure is a good forage amongst the foliage every day where they are perhaps not so clever in their disguise skills, being a vivid scarlet red, so easily spotted. They do have a tendency to react quickly to being disturbed though, so be prepared to catch them as they drop for freedom. You should also look out for the eggs on the undersides of the leaves and the munching grubs…
Which to chose
With so many colours and forms to chose from, choice will always be a question of personal taste but the wonderful thing is you can have them flowering from early summer right through to autumn.
The season starts with the Asiatic lily and in fact they are the easiest to grow. In all shades from pure white and pinks, to vivid yellows, oranges and reds they also vary in height from one to six feet. So read the label carefully!
The scent of a lily is often a major point of contention; a 'Love it or Loathe it' affair. If you're a loather then luckily for you intense breeding has removed much of the Asiatics' fragrance so that's the lily for you!
At the other end of the scent-scale is the Oriental lily, with an intoxicating blast of fragrance that can fill a room for days. These flower from mid-to late summer so are perfect for gap filling in a border or to bring out when the pots of Asiatic Lilies have faded past their best. Again they range in height and colour so take your pick of the best. Here are my top three:
Lily Regale ↑
Lily Regale (a Trumpet Lily) is the purest; the quintessential lily in my opinion.
Lily Stargazer ↑
Lily Stargazer (an Oriental Lily) draws you in with its landing-pad stripes of deep rose pink, quite a stunner!
Lily Double Orange Twins ↑
Being a mother of twins I had to chose Lily Double Orange Twins (an Asiatic Lily)! A vivid blast of orange to dazzle the senses. I think this would look gorgeous planted amongst blues and purples in a border or container.

"Gracious as Sunshine: All About Lily Bulbs"
is a guest blog written by:

Natalie Ashbee
Television Horticultural Researcher & Garden Consultant
Ash & Bee Garden Consultancy