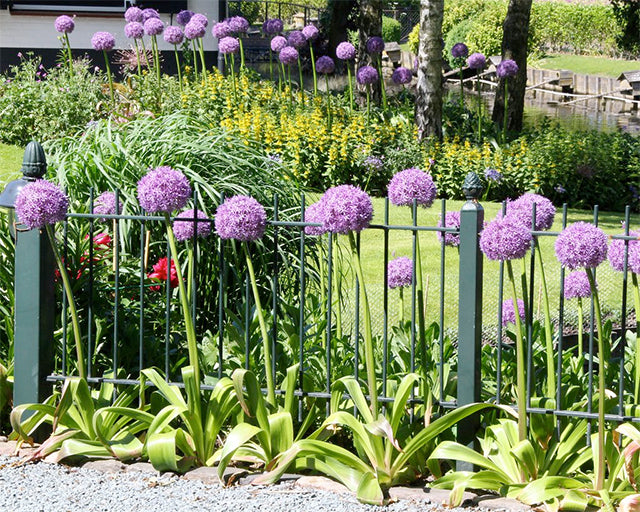 The four most impressive Giant Alliums for your Garden
By Naomi Jones
When you're planning year-round planting schemes, it's essential to include something that will fill that awkward gap which so often occurs between spring and summer. Following the excitement and colour explosion from bulbs like tulips and daffodils during spring, the last thing you want is to be left feeling deflated by a distinct lack of interest during May and June. The good news is, you can easily bridge this colour gap with alliums. Not only do they flower in late spring and early summer, but they're just so fantastic looking.

If the words 'striking' and 'impressive' appeal to you, you'll definitely want to get your hands on some giant alliums – they're simply enormous! Either dot them throughout your borders or plant them in bold groups – any style of planting will provide a fabulous effect which will make the colour in your garden seamlessly flow from spring into summer, with true wow factor.
If you like to cut flowers from your garden to display in your home, alliums are an absolute must. They have a great vase life and are so easy to display - some of these giant varieties are so big, just one in a single-stem vase can make quite a feature! Alternatively, you can make a magnificent contemporary arrangement in tall vase or make one the centrepiece in a relaxed mixed bouquet.
As an extra plus, not only will these stand-out alliums look fantastic in your garden, but they'll be a magnet for bees and butterflies too. With massive flower heads comprised of masses of tiny beautiful purple flowers, they'll be a generous source of nectar for all your garden pollinators.
Fully hardy and virtually fuss free, alliums make the most fantastic asset to any style of garden. The best way to achieve success with alliums is to grow them from bulbs, which you plant in autumn. A little bit of forward planning is needed, but once planted you can forget about them and wait for their fantastically easy display! Here's how to grow them:
Your bulbs will be sent to you in autumn at the correct time for planting. They're fully hardy and can be planted straight into borders.

Dig a deep hole, 2-3 times the depth of the bulb, for each bulb. Position the bulb with the pointed end facing upwards at the bottom of the hole and cover over with soil.

For best results, plant the bulbs in groups spaced at around 30-50cm apart from each other.

Give the planted area a thorough watering – the moist, warm soil will start the growing process before winter sets in.

After watering in, you can leave your alliums to their own devices. They'll become dormant during the winter months and begin to grow the following spring.
Four of the best giant alliums to grow

With round pompon flower globes which sit on the top of tall, straight stalks, they're possibly the most striking and impressive of all the spring bulbs and will effortlessly blend spring into summer each year without any fuss at all.

Growing to a stately height of up to 1.5m, and with large, dense globe-shaped flower heads, these fantastic purple alliums are a real winner. They'll produce a great effect when planted in groups amongst mixed borders or dotted around in shrubberies. They're very strong, reliable and healthy, too, supporting themselves on sturdy stems and with vibrant colour that lasts for ages.
The ultra-violet flower globes of this spectacular allium certainly won't go amiss in any border. Sitting at the top of tall, straight stems (which often reach well over 1m in height) their glowing blooms will steal the show with their giant beauty. Full hardy and so easy to grow, simply plant them in groups or swathes in the border in autumn and wait to be truly awe-struck the following spring!
If you want to wow your friends and neighbours (and yourself!) with a real show-off plant, this is the one for you. Growing up to a whopping 2.5m in height, this amazing allium has got to be the king of all giants! Providing long-lasting interest, the huge round globes change appearance as they develop, opening from mauve-pink buds and becoming more white with age. This supersize allium is ideal for planting in groups at the back of the border or for adding bright pops of colour in shrubberies.
This allium is a strong-growing classic and well known for its reliable garden performance. The large globe-shaped flower heads are made up of thousands of star-like blooms and can reach up to 20cm in diameter, so they're as spectacular close up as they are from afar! The stems easily reach a height of over 1m so they're ideal for growing either in groups in the middle of the border, or for running throughout a mixed planting scheme where the flowers will bob elegantly above everything else.
Giant alliums in brief
Grown from bulbs
Plant in autumn, flowers in late spring
Height up to 2.5m
Grows in any free-draining soil
Suitable for borders
Thrives in full sun and partial shade
Fully hardy
Suitable for cutting
Attracts bees and butterflies

"The four most impressive giant alliums for your garden"
is a guest blog written by:

Naomi Jones
Author of Garden Nomey blog