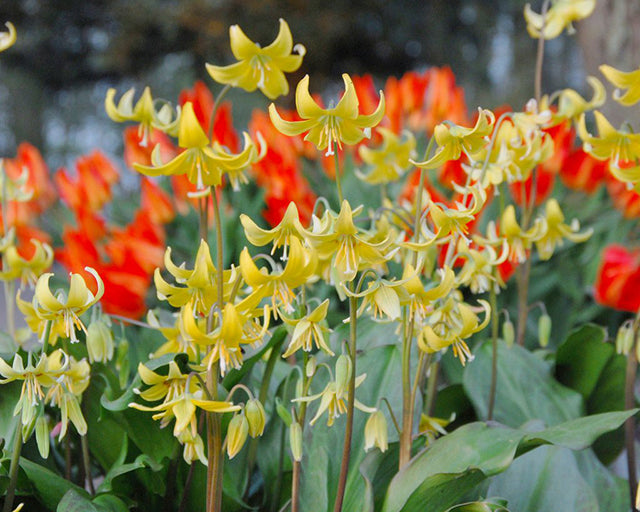 Erythroniums! All about Erythronium Bulbs
With the right choice of plants, shady areas can be just as colourful and beautiful as the sunnier parts of the garden. It's all down to selecting plants which will thrive in the lower light levels and bloom at different times of the year to provide a non-stop colour flow which just keeps on giving. For reliable spring colour, no shady border should be without Erythronium, also known as Dog's Tooth Violet!

Tucked in below trees, within shrubberies or in a meadow area, they look most at home and natural. But these tough cookies aren't fussy and are happy with any shady spot, even if your planting space is limited or you have a small garden or a light-poor urban outside space, you can introduce some of these easy-going superstars to help transform it into a lush little hideaway.
Erythronium are wonderfully elegant with their slender, upright stems which each carry multiple blooms with exotic-looking reflexed petals. But their long lasting and pretty flowers aren't their only asset. They also have attractive foliage too, some with striking mottled markings to add to their charm and extend the season of interest and ground cover right through to summer.

Erythronium bulbs (image by Sevenoaks Native Nursery)
The bulb of Erythronium is long, pointed and white. This is the part that resembles a dog's tooth and is how this plant gets its common name. Over the years these hardy perennial bulbs multiply and increase in size, producing a bigger and more established group which appears with more and more flower stems and a bigger patch of lovely glossy foliage each time.
How to grow Erythroniums
Erythronium like to chill out in cool, damp conditions and do best when planted in soil which stays fairly moist. This makes them the ideal candidate for brightening up a dull spot, whether that's in a north-facing garden, a small shady courtyard or within a woodland or meadow area.
They're easy to grow and very reliable given the right conditions. Follow these simple steps to planting and you'll be in for a lovely springtime treat!
Plant your Erythronium bulbs in autumn, either in pots or straight into borders with a rich, moist but well-drained soil;
Best grown in a shady or partially shady position;
Plant the bulbs about 10-15cm deep with the pointed end facing upwards;
Position the bulbs around 5-10cm apart from each other in small, naturalistic groups for best effect;
After planting, the bulbs can be left to their own devices for winter. When the weather warms up in spring they will produce foliage, followed by elegant flower stems from around April through to May.
Erythronium aftercare:
Part of the joy of growing these beauties is that they require very little in terms of maintenance, if at all. Once they're soundly established in the soil, they will produce a neat clump of fresh foliage which will eventually die back of its own accord later on in the year. The flower stems don't require any support, and the plant doesn't need feeding either. This is simply a plant to have and enjoy!
Over the years the Erythronium clump will establish and grow, gradually spreading. If you decide to divide them, they can be lifted in late spring, after flowering, separated into smaller groups and re-planted wherever needed.
Erythronium in brief:
Grown from bulbs
Thrives in full shade or partial shade
Prefers soil which stays moist throughout the year
Hardy perennials, flowers every year
Plant in autumn, flowers in spring
Height up to 40cm. Spread 25cm
Suitable for borders, meadows and pots
Long-lasting flowers
The best Erythroniums to grow
From the traditional 'wild' Dog's Tooth Violets to the more extravagant modern types, all are just as easy and reliable to grow as one another so you can simply choose which colour best suits your style. In a variety of different colours, some with attractive leaf markings and others with lush emerald green glossy foliage, you'll be spoilt for choice!
But you don't have to just stick to one variety, they look amazing planted in mixed groups too – so why not go for a selection? Be inspired by our top three Erythronium varieties…
This dainty gem will blow you away with its effortless beauty. Incredibly slender but strong and upright stems carry elegant nodding lemon-yellow blooms with recurved petals during mid-spring. The foliage is broad, glossy and has subtle maroon mottled markings.
Nodding flowers with elegant recurved petals and a sophisticated and subtle creamy-white colouring look great as a feature on their own, but also combine beautifully with spring flowers of virtually any other colour. This jaw-droppingly stylish variety with subtly mottled foliage brings a welcome highlight to any shady planting scheme.
There's no mistaking this classic Dog's Tooth Violet with its traditional colouring. A more compact variety, ideal for use as ground cover as it slowly establishes over the years and providing a long season of interested with its pretty patterned foliage. Cyclamen-like mauve-pink blooms with upright petals and contrasting yellow stamens make an eye-catching detail in a shady border.
Planting combinations for Erythronium

When selecting plants to create a successful planting scheme, it's essential to choose plants which will thrive in the same conditions as well as their flowering times and height. In a shady planting scheme, a mixture of colours really lifts the space out of the dark and can look very natural. For a more formal look, choose a combination of just two colours for a long-lasting, harmonious display.
Here are some of our favourite Erythronium planting partners:
Flowering slightly earlier than Erythronium, Chionodoxa is a great one for bringing the season forward, providing colour throughout March which then makes way for the Erythronium flowers with a short overlap in the middle. While the Dog's Tooth Violet prefers a shady area, Chionodoxa will grow well in either sun or shade, making a wonderfully compatible and unfussy partner.
If you have a meadow, rough grass or informal wildlife area, both Fritillaria meleagris and Erythronium would love to dwell in it together! They flower simultaneously too so you get to enjoy a pretty contrast of colour and flower shape, both on airy slender upright stems. This perfect pair also work well in a woodland style planting scheme.
It's hard to beat Muscari for reliability and unfussy nature - it will happily grow well in most soils and aspects. If you're planting up a partially shady bed, a carpet of these delicate little flowers running through it will make a wonderful colour contrast below the Erythronium, which bloom at the same time.