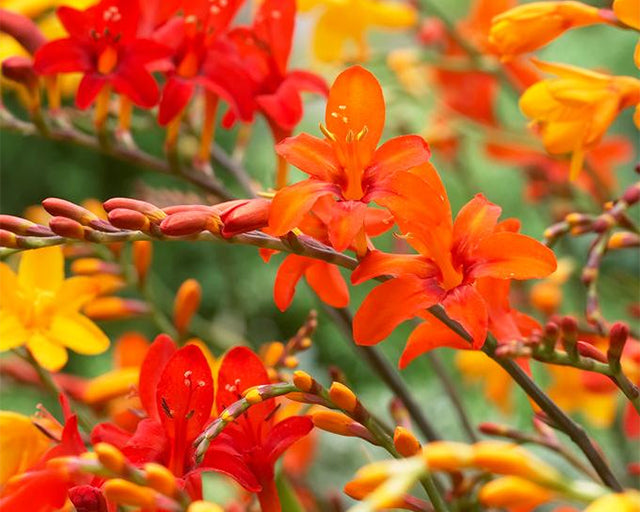 Crocosmias add Warm Colour to your Summer Border
This week's Plant of the Week is Crocosmia – an easy-to-grow and versatile plant with bright, exotic flowers that provide warm late-summer colour to borders or containers.

With vivid, red, orange or yellow flowers on slender, arching stems, crocosmias not only pack a colourful punch, but they provide gentle movement to planting schemes too. An excellent choice for plugging the a late-summer colour gap, they begin to flower from mid-summer and last well into autumn.
Crocosmias are low-maintenance and reliable. They're fully hardy, so once planted you can leave them virtually to their own devices and they'll reward you with a repeat display year after year, gradually forming a larger, more impressive clump each time. Plant them in sun or partial shade among other flowering plants for a traditional, cottage-garden effect, or with bold foliage plants to create a tropical or contemporary look.
How to grow Crocosmias

Different crocosmia varieties reach different heights, so first of all choose a variety that suitable for the growing space you have. Tall varieties, such as Lucifer can reach over 1m in height and look fantastic in a large border, and there are shorter varieties like Emily McKenzie and Mistral which are much more compact and can be grown in either borders or containers.
Crocosmias are grown from corms but are often treated like perennials as they're hardy and flower each year. The best time to plant crocosmia corms is in the spring. You can plant them straight outside or start them off under glass in pots if you want to give them an extra boost into growth.
If either directly into borders or in containers at a depth of about 15cm, and about 15cm apart from each other. When planting in borders, it's best to group them together so that they form a defined clump. Water them well after planting, then leave them to grow. They may require regular watering in their first year, but once they're established they'll not need very much attention at all.
Foliage should emerge from late spring and then the Crocosmia flowers will begin to show from midsummer onwards. After flowering, the leaves will begin to die back. If they're in a sheltered location you can remove the brown foliage, but if the conditions are exposed it's a good idea to leave the foliage intact - this will provide a little extra protection from a harsh winter which may be necessary, particularly in their first year. You can then cut back the foliage when the worst of the weather is over the following spring.
Crocosmias in brief
Grown from corms, plant in spring

Flowers during summer and autumn

Good as cut flowers

Suitable for borders and large containers

Height up to 120cm

Spread up to 120cm

Grows in any free-draining soil

Thrives in full sun or partial shade

Fully hardy

Attracts bees and butterflies