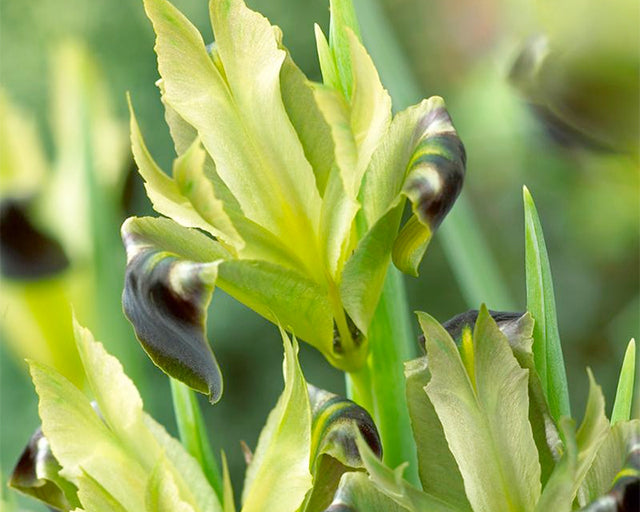 All about Hermodactylus tuberosus (or Iris tuberosa)
Hermodactylus tuberosus, also known as Iris tuberosa or 'Snake's Head Iris', is an absolute must-have for any iris connoisseur. Subtle in colour but huge in terms of flower form right down to the most minute detail. With reptilian green upper petals (standards) forked at the top like a snake's tongue and silky black reflexed falls, it's easy to see how this intriguing Snake's Head Iris got its name. Order our top size Hermodactylus tuberosus tubers here.

Plant this hardy beauty in autumn and it will provide interest to the garden in late winter or early spring. Hermodactylus tuberosus (Iris tuberosa) is a tuberous perennial. After planting in autumn, it will begin to establish in throughout the first year. Then, after a good year in the ground, it will have all the energy it needs to put on a full display of flowers the following winter, and as they naturalise they form gutsy clumps which just get bigger and better every year afterwards.
Hermodactyuls is a fantastic early-season asset to any sunny planting area and looks particularly at home in a rockery or close to a stone wall. If your planting spaces are limited, it's also a great choice for displaying in a patio container, especially so as the flowers can be appreciated up close.
How to grow Hermodactylus tuberosus
Despite its unusual looks, Hermodactylus tuberosus (Iris tuberosa) is fully hardy, resilient and very easy to grow. As long as you have a good sunny spot in a container or border with free-draining soil, it'll thrive without any problems.
Hermodactylus tuberosus (Iris tuberosa) should be planted in autumn in a sunny position, either in a container or border with free-draining soil. If planting in a container, use a good-quality multipurpose compost.
Plant the tubers around 10cm deep, positioning the tuber lengthways in the soil, and then cover back over with soil.
For best results, plant them at a spacing of around 10-15cm apart from each other in groups.
Give the planted area a good soak with water after planting to activate the tubers into growth. They will not require regular watering throughout autumn and winter because the soil will be damp and cool enough without additional water.
Your irises will grow foliage in the first year and may produce flowers too, although it's from their second year onwards where they really start to put on a good show of blooms.
After flowering, leave all foliage and blooms intact to die down naturally, which will help to ensure the bulbs gather plenty of energy for a good show the following year.
Hermodactylus tuberosus (Iris tuberosa) in brief
Grown from tubers
Plant in autumn, flowers during late winter/early spring
Fully hardy perennial
Perfect for naturalising
Suitable for borders and containers
Grow in full sun in free-draining soil
Height 20-25cm
What to plant with Hermodactylus tuberosus
When choosing planting partners for Hermodactylus tuberosus (Iris tuberosa), it's important to consider their flowering time and heights as well as conditions. This variety flowers during late winter and early spring and enjoys a sunny spot, so the perfect companion would be something with similar preferences. Here are some suggestions of plants which look great when paired with this beautiful and unusual variety:
Iris 'George' – This fabulous Iris reticulata thrives in the same conditions as Hermodactylus tuberosus and looks equally as good in a rockery or containers. With exquisite deep purple blooms, it will add colour and vibrancy to the planting scheme. Flowering at a height that's just a little lower that Snake's Head Iris, it will add height variation which will make the display look really full.
Crocus 'Orange Monarch' – If you want to make a bright and exotic-looking display, try combining your Hermodactylus with a vibrant Crocus, such as 'Orange Monarch'. Both flowering in early spring, these two make a colourful pair to wake up the garden to spring.
Galanthus nivalis (Snowdrop) – This classic woodland variety is happy in sun or shade and will do just fine in a sunny planting space combined with Snake's Head Iris. The pure white nodding flowers of the snowdrop provide contrast when planted next to the upright green blooms or Hermodactylus, making a pretty and unusual combination for late winter and early spring borders or pots.