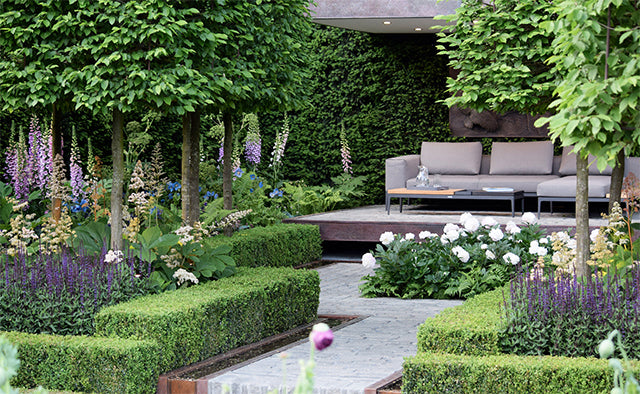 How to Create 'The Chelsea Look' in Your Own Garden
By Naomi Jones
It's not long until the biggest and most prestigious flower show of the year! Of course, it's the RHS Chelsea Flower Show 2018, which runs from 22nd to 26th May, and as always there'll be bold designs, up-to-the minute trends and beautiful planting ideas to take inspiration from. If you're not planning on visiting the show, you can still enjoy all the best highlights on TV during that week.
Creating a Chelsea-style planting scheme in your own garden is easier than you might think. The key is to choose early-summer flowering varieties and plant them close together in beds and borders, and (most importantly) to start them off now rather than wait until later in the season.
There's plenty that you can get on with now to prepare your garden for a summer of colour that starts to unfurl right from the beginning of the season. In this post, discover some of the best summer bulbs and plants to choose to create a Chelsea look, plus some top tips on what maintenance jobs you can do to prepare your garden this spring.
Best Plants for a 'Chelsea Flower Show Look'
You can create a little piece of the RHS Chelsea Flower Show in your own garden by choosing the right bulbs and plants. Below are some wonderful varieties which are regularly seen in the Show Gardens and Grand Pavilion – plant them now and they'll be flowering right on cue!
Calla Lilies
Giving a modern and contemporary look, calla lilies are continuously popular and come in a rainbow of colours that suit any scheme. These exotic-looking plants with upright funnel flowers are simple but really effective – they look best when planted in large groups, and particularly so around modern, angular features. What's very useful about them is that they can tolerate shade, so they're perfect for small, urban or enclosed gardens.
Peonies
Naturally flowering from late May onwards, there are always masses of peonies on display at Chelsea, in the show gardens as well as the grand pavilion – the show wouldn't be the same without them! Nestle them in densely-packed floral plantings for a soft, natural look, or position them close to shrubs where their flowers will stand out as a feature.
Liatris
Applying lots of upright streaks of purple which run through the border is very Chelsea-esque, and liatris is a great variety to do the job. You can also grow them in containers, so even if you're just planting a Chelsea-inspired pot, these are a great option. Liatris is pretty tough and resilient too, with the added bonus that it attracts bees and butterflies to the garden.
Cannas
Foliage plants are used frequently at Chelsea to add contrast and structure. Before the striking flowers appear in mid-summer, the large, streaked leaves of the tropical-looking canna lilies provide all the interest, right from the beginning of summer. They're architectural, upright and look fantastic in a tropical-style planting or contemporary garden.
Bearded Irises
Flowering with flamboyant, impressive blooms in early summer, bearded irises are a Chelsea classic and are often featured in many of the show gardens. They're fantastic for informal mixed plantings and look great when dotted through a border amongst other flowering plants or neatly-clipped evergreen shrubs.
Five Top Tips for Preparing your Summer Garden this Spring:
Plant summer-flowering bulbs and perennials
This is the best time to plant summer-flowering bulbs and perennials. Doing so will give them time to settle in and establish while the weather's cool. By early summer, just when you'll want to be spending more time enjoying the garden, they'll already be well on their way to giving a fantastic summer display.
Cultivate your beds and borders
It's time to take a hoe to the beds and borders and whip out those unwanted weeds while they're still small. Push the end of the hoe just under the weeds to disanchor the roots, hoe all the way around the spaces in your border then pick off or rake away the lifted weeds. At this time of year when rain is likely, it's important not to leave them on the soil surface because they can sometimes re-root themselves.
Clear away autumn / winter debris
Paths, patios and garden furniture can take quite a bettering during winter and may need a scrub and a clean. It's amazing what a difference it makes to the overall appearance of your garden to have neatly-swept surfaces and gleaming furniture.
The mowing season is late to begin this year, but it's about time for that first cut. Not allowing your lawn to become too long between cuts gives you a much more even finish and helps keep the lawn neat and healthy.
Divide perennials and flowering bulbs
April is really the latest that this job can be done. Both perennials and hardy flowering bulbs can become over-crowded, or it could be that the clump is now larger than it needs to be. Take this last opportunity to lift them, divide them and plant them back again with new spacings. Most perennials can be divided with a spade (by cutting through the roots), whereas bulbs require careful separation by hand. In both cases, they should be replanted immediately and watered well afterwards.

"How to Create 'The Chelsea Look' in Your Own Garden"
is a guest blog written by:

Naomi Jones
Author of Garden Nomey blog