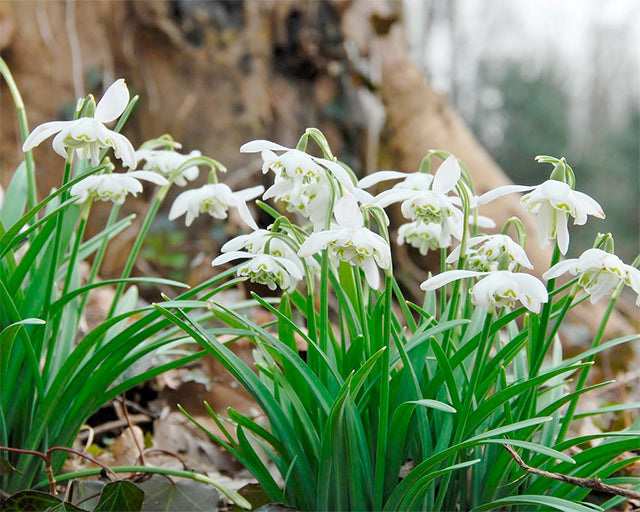 Gorgeous Snowdrops (Galanthus) to Fall in Love With
I've always loved Snowdrops, but I recently came across a word I'd never seen before: "Galanthophile". That's a lover of snowdrops, of course, and although I know there are enthusiasts for just about every flower under the sun, I never realized that there were people who would class themselves as Galanthophiles!

A little more digging turned up news stories about record prices being paid for Galanthus bulbs, Galanthus events, and more. Now, I've always admired Snowdrops, and I thought I was pretty clued up about what's hip and happening, but I didn't expect quite this much enthusiasm for the simple Snowdrop.
Let's Suppose You Just Like Snowdrops, Shall We?
If you're a true-blue Galanthophile, you gave up on me after reading the first two paragraphs. So, I'm going to suppose that, like me, you're far from being a Galanthophobe (yes, I invented that word) but aren't an all-out collector. What's not to love about Snowdrops? They're as tough as nails, and they flower at a time when you think the winter's never going to end.
They're also reasonably-priced, at least, the varieties that Farmer Gracy offers are. You don't need to be a proper Galanthus nut to enjoy spring Snowdrops in your home garden. I'm definitely not paying £60 or more for a single flower bulb, and nor need you!
New to Galanthus?
After reading about Galanthus collectors, I'll admit to feeling like a bit of a newbie myself, but I have been enjoying simple Snowdrops ever since I first started pottering around the garden with my granny. What's so great about them?
They have the sweetest flowers, and there's lots of detail to enjoy when you take a closer look.
They bloom early – it's officially still winter when they flower, but they certainly get you in the mood for spring.
Some of them are scented, and it's a pleasantly subtle scent that, like the blooms, isn't in the least overpowering.
They're easy-peasy to grow. Just time your bulb planting right: great for beginner gardeners looking to make a splash.
They come back every year. I don't mind lifting and storing bulbs, but I am a fan of low-maintenance plants that still look great without me having to beg them to grow.
They're lovely in the vase and they last well. I like them best in very simplistic, casual arrangements (think a bunch popped into a vase and left to arrange themselves).
What do You Need to Know to Grow Galanthus/Snowdrops
There isn't much of an art to growing Galanthus, but a little know-how goes a long way. You do want well-drained soil, and if yours tends to be soggy, you should add lots of compost and raise the beds a little above the surrounding soil.
Galanthus elwesii will prefer full sun to light shade while the other varieties like light shade. Once you have your spot and your soil prepared, it's just a matter of getting the bulbs planted. Remember to keep the pointy side up and stick to the planting depth guideline. There's no need to be exact, so don't panic if you think you may be a couple of millimetres out!
Recommended Galanthus
Top Snowdrop success comes when you choose Farmer Gracy's handpicked varieties:
Galanthus elwesii has blooms way bigger than the norm:

Galanthus nivalis is a classic choice with a soft scent to enjoy:

Galanthus woronowii has big blooms on compact stems:

Galanthus 'Flore Pleno' is for those who want Galanthus with a difference – double blooms:

Plant and enjoy!