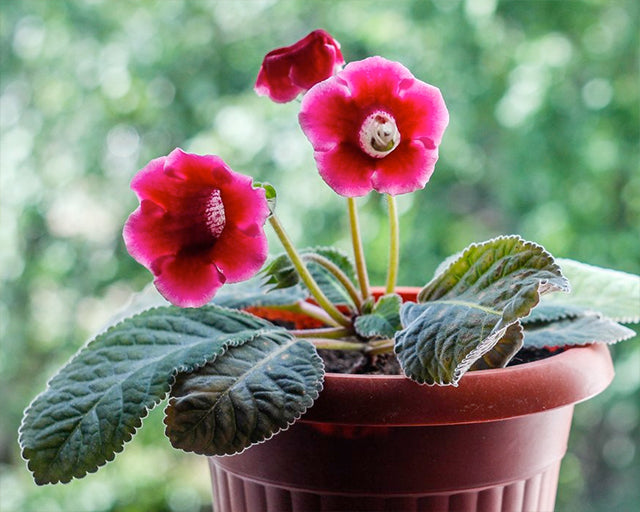 Gloxinias! All about Gloxinia Tubers
Gloxinias are compact and easy to grow as indoor potted plants, making them useful for popping on the windowsill or livening up a drab space. Producing a bold show of brightly coloured blooms throughout summer above a round of textured foliage, these neat little plants make an impressively big impact. Simply pot them up and dot them around the house as table centrepieces, on windowsills or in trendy macramé plant hangers and enjoy their effortless charm!

Indoor plants are the perfect way to add the finishing touches to your home interior, adding a little splash of living, natural colour wherever its needed. Not only are they useful for brightening up your home and acting as a pretty feature, but their textured leaves or colourful flowers have a relaxing, calming effect as well as helping to purify the air.
With indoor gardening becoming in an increasingly big deal, either for those who don't have an outside space of their own or for anyone who just loves to be surrounded living greenery in their home, choosing reliable and low-maintenance house plants makes all the difference to this rewarding past time.
How to grow Gloxinias

The bigger the bulb, the stronger the plants and the better the bloom! Our top-size Gloxinia tubers are healthy and fast growing, ready to burst into growth as soon as they're planted, given a little water and positioned in a warm spot. The best thing about starting off indoor plants yourself at home is that they acclimatise to your home conditions from the very beginning. This way, they don't get stunted by the shock of moving from nursery conditions to a home interior where the light levels and air circulation may be different. Whether you're a seasoned expert or new to indoor gardening, you can achieve great results with these reliable superstars and enjoy the rewards of establishing plants from scratch in your own home!
Gloxinias grow from tubers which look like a bit like begonia tubers. They are rounded, brown in colour and have a concave side and a convex side. The concave side is the upper side, so this is the side which should be facing upwards when. It isn't always possible to tell which side is the upper side, so in these instances it's perfectly fine to plant the tuber on its side and it will correct itself as it starts to grow.
Here are some simple steps to help you get started:
On arrival, remove the tubers from the packaging and give them a soak in water for 2-3 hours. Doing this will rehydrate them and wake them up;
While your tubers are soaking, prepare your pots. Pots which are around 12cm in diameter across the top are just right for one tuber. You can position more tubers in larger pots if you prefer, at a spacing of around 10-15cm between the tubers;
Choose a good quality multipurpose compost or house-plant compost and half fill your pots;
Position the tuber on the surface of the compost with the concave side facing upwards, or on its side if it's difficult to tell the top from the bottom;
Fill the remaining space in each pot with more compost and gently firm down, leaving a 1cm 'lip' at the top of the pot;
Water your tubers in after planting. Gloxinias don't like to sit in soggy soil, so do let the excess water drain out of the bottom before putting the pot on a tray or in a water-tight outer container;
Position your planted pots in a space which receives plenty of daylight, but out of direct sunlight (they can get too hot on a windowsill which is in full sun all day);
Water them lightly whenever the soil is dry.
Spring-planted Gloxinias will produce foliage within the first month or so and are normally in bloom by the summer.
Four gorgeous Gloxinias to grow

Brighten your home with the best Gloxinias. Here are four of our favourites:
This extra-vibrant Gloxinia is sure to add a splash of colour to your home, flowering throughout summer with vivid pink petals and an intense red throat for a gorgeously two-tone display.
Bring extra pizzazz to your indoor garden with this vibrant bicolour beauty! Amazing rounded petals have a deep edge of white which contrasts spectacularly with deep mauve-blue centre.
A bold display of eye-popping red blooms with a crisp white edge make a striking feature in the home. These bicolour flowers are ideal for interiors of a more minimalist style, acting as a bright feature.
For anyone who admires the simple beauty of white flowers, you'll love this outstanding, unfussy variety. It's just the job for anyone who likes to keep the colour tones subtle and muted, or for use as a contrast if you already have plenty of colour features in your home!
Gloxinias in brief:

Grown from tubers
Tender indoor plants, can be positioned outside in summer
Plant in spring, flowers in summer
Height 30cm. Spread 30cm
Grows best in multipurpose or house plant compost
Suitable for indoor containers
Thrives in any space with plenty of natural daylight