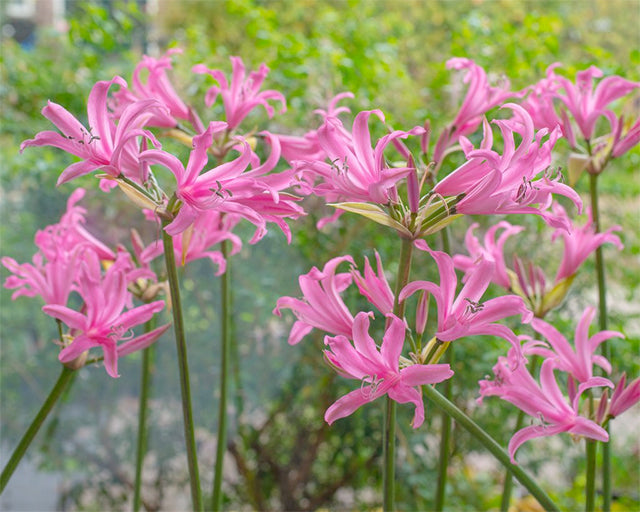 Amarines! All about Amarine Bulbs
Have you heard of Amarines? They're a remarkable group of flowering bulbs that might just make the autumn flowering season famous in its own right. But where did this surprising plant spring from? It all begins with a capricious beauty who was inclined to sulk more spectacularly than she flowered.


↑ Mixed Amarines at RHS Garden Wisley
The Nerines are members of a unique genus from South Africa that, until now, has presented a problem for flower growers: how were they to get them to bloom uniformly? But, clever plant breeders were able to cross the elusive Nerine with the showy Amaryllis. The result? Uniform flowering, bigger booms that last and last - and a new star for your autumn-flowering garden: Amarine!

Choose the Winners

Having created a new genus from Amaryllis and Nerine, the name 'Amarine' seems like an obvious choice. But we can see just how excited the folks who got the privilege of naming these flowers were when we look at the second name. Belladiva says it all – Amarines are the beautiful divas of autumn – and nothing seems likely to compete with them anytime soon.
But now our autumn divas begin to strut their stuff and we see that there are several variations on the theme. Who is the greatest of the divas? Perhaps you should let them perform for you before you decide. We chose these three winners:
The richest pink you could imagine from a Nerine – or even an Amarine – graces this pretty cultivar. Notice the beautifully recurved petals typical of Nerine as well as the beautiful markings on the petals.
The petals of Amarine 'Aphrodite' are just that shade lighter than 'Anastasia', but the markings at the heart of the flower and centre of each petal are the same colour as that of 'Aphrodite's darker cousin. Now that's a lovely contrast.
You love Amarine flowers for their form, and the way they remind you of fairy wings. What could be better than this softest angel-down pink Amarine cultivar? It's absolutely romantic, and the long-lasting blooms, like those of other Amarines, will be a joy in the vase.
Grow your Amarines the Easy Way

We have tracked down superb-quality Amarine bulbs for you to try – and the best cultivars this new hybrid group has to offer. Plant them in full sun and leave them in place if you can. The bulbs tolerate temperatures as low as -10C, so they're quite capable of naturalizing in many gardens.
The foliage grows in summer, and its handsome enough to make it a feature in your plantings until the blooms arrive. Then, there's no doubt about who is queen of flower bed! Those tall flower-stems hold the blooms aloft where their wavy, fairy's-wing petals cannot possibly be ignored.
Amarines are quite tolerant of poor soil and even of drought – but the one thing they won't tolerate is wet feet. If your garden tends to be soggy, keep your Amarines for the rockeries or raised beds, or at least build beds up with compost so that the bulbs' substrate rises above the constant wet.
Farmer Gracy's Rating: Top Choices for Autumn Bloom

We don't just pick plant varieties from catalogues. A team of experts observes real-life field and garden trials to look for the vigour, superb performance, and lasting blooms that give you the best the flowering season has to offer.
Our selection of Amarines has passed the test. Approved by our team of top horticulturist and plant breeders, these Amarine varieties offer all the best characteristics of both Nerine and Amaryllis. Order now to get high-quality Amarine bulbs delivered to you at planting time. We're betting you'll never look back!