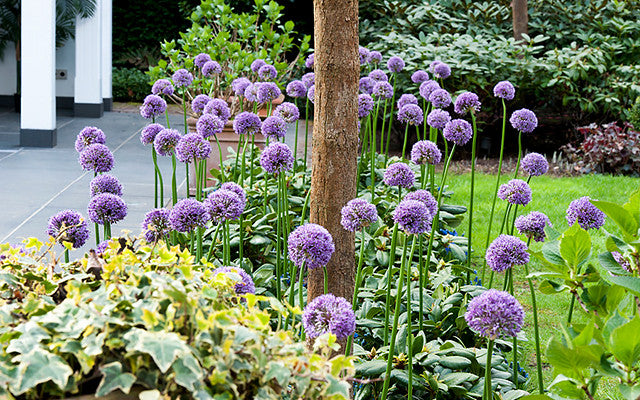 Allium Purple Sensation: A New Gardening Trend
Just about anywhere you look, you'll find horticulturists saying that Alliums are under-appreciated. But that seems to be changing. Allium Purple Sensation is becoming one of our most popular flower bulbs as UK gardeners jostle to get these sensational plants for their gardens. Let's take a closer look at this stunner of a plant to see why modern gardening enthusiasts are becoming such big fans.

Dutch Garlic? Persian Onion?
What's in a name? In botany, a plant's name gives us lots of information, but can also lead us astray. Anyone with a smattering of botanical knowledge will know that "Allium" is the Latin name for onions and garlic. And since the Dutch are such big players in the flower bulb industry, the lovely Purple Sensation has also been rather uninspiringly dubbed "Dutch Garlic".
Just to confuse gardeners even more, it's also known as the "Persian Onion", and since the species it represents comes from that part of the world, the name is somewhat more apt, though uninspiring.
Could this be why ornamental Alliums were once such a garden rarity? After all, who'd even think of planting onions or garlic as ornamentals? However, once you've seen Allium Purple Sensation in bloom in your garden, you'll never think of it as an onion again!
Purple Sensation: A Far Cry from Onions and Garlic
Just as the hot summer's days creep in, Purple Sensation does its magic. Large, perfectly spherical heads of flowers open in a burst of cool purple. When this happens, you know one thing for certain: no onion ever did anything this striking.
The butterflies will agree. They adore Purple Sensation, and since each flower head has 100 or more florets for them to visit, they'll be enjoying a feast of nectar while you feast your eyes.
The long-lasting, sweetly scented blooms last well in the vase, and even the spent flowers look striking with their structured flower stems precisely arranged in their spherical pattern. All in all, it's a gorgeous plant, with a sculptural yet airy appearance, and it's pleasant to see it finally winning gardener's hearts as it deserves to.
Causing a Sensation Has Never Been Easier
With such beautiful blooms, gardeners would be more than willing to spend a little extra effort on their plants, but it's simply not necessary to do so. The primary requirement is well-drained soil, and that's simple enough to achieve through site selection and with the help of a little compost.
These must be some of the most unfussy plants ever to grace a garden. Purple Sensation Alliums don't easily pick up diseases, and most insects leave them alone. Thrips may occasionally cause a little damage, but on the whole, Alliums are trouble-free. There's no need to keep them on a spraying program, they tolerate relatively poor soils with good grace, and they're relatively drought tolerant into the bargain.
Best of all, you don't have to go to the trouble of lifting the bulbs and replanting them every autumn if you've chosen a sufficiently well-drained spot. Just treat them like ordinary low-maintenance perennials and enjoy their blooms every year.
Garden Design Tips for Alliums
Their perfect symmetry of the flowers and the bold, geometric statement they make is one of the best things about these plants. It works equally well in old-fashioned cottage-style gardens or in sleek, modern settings where the emphasis is on minimalism and sculptural form. To make the most effective impact with your Allium bulbs, plant them in groups.
Even if your garden is quite small and relatively full, it's easy enough to find space for Alliums. The plants don't take up a great deal of space. Simply find a place for them in a sunny bed between plants that flower at a different time, and your flower beds and borders will have a succession of colourful flowers.
The Story of Alliums
People have been growing edible Alliums throughout history, but in the late nineteenth century, people began to recognize the ornamental potential of certain members of this genus. The Russians were among the first to start collecting the most striking of the Central Asian species, and the Imperial Botanical Garden of St Petersburg sported magnificent plantings that inspired gardeners from around the world.
Next, the British began to contribute to the gene pool with their own collection of attractive species types, and the stage was set for plant breeders to begin their patient work of trying different crosses to get even more stunning results than nature ever did.
However, Allium hollandicum, a species that, despite its name, is not native to Holland needed little improvement to become the Purple Sensation that we know today. When you see it in bloom, you'll agree that trying to improve on its perfection would be a complete waste of time.
Be sure to Try Them This Autumn
Autumn is Allium Purple Sensation planting time, but chances are, you'll still struggle to find bulbs at retail outlets. As a result, mail order bulbs will be your easiest solution. Choose Farmer Gracy; we'll live up to our reputation of sending you only the best quality, Dutch-grown bulbs, fresh from the farm and bursting with health and vigour.
Remember to order your Alliums in summer, or place your order right now for delivery in September. That way, you can be sure you won't miss out on these truly special plants. When they arrive, it will be planting time – no need for any other reminder.