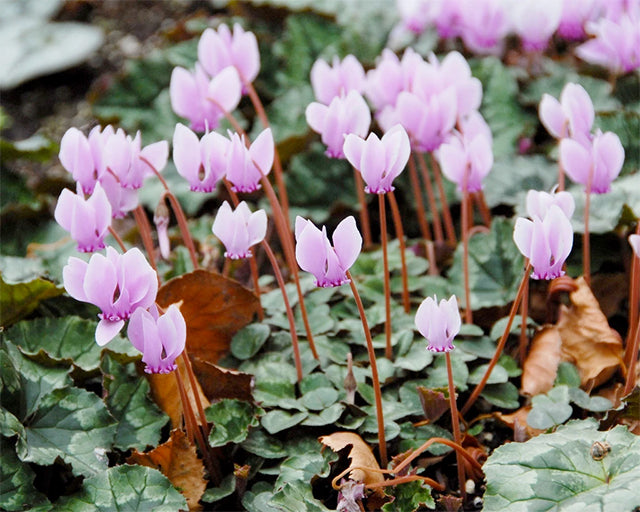 All about Cyclamen hederifolium
There's a suitable plant for every spot in the garden – even the overlooked or tricky areas can be filled with stunning seasonal details. If you have an area of bare soil beneath a tree, below shrubs or in a ferny corner, you can give it satisfyingly rewarding and refreshing little lift by planting low maintenance Cyclamen hederifolium.

A woodland classic ideal for growing in dappled shade, elegant Cyclamen hederifolium (ivy-leaved cyclamen) will bring a much-needed fresh splash of colour to brighten up the space in autumn. Producing multiple flowering stems each topped with a sweet pink nodding flower, above a neat clump of silver-marbled leaves. Not only is this a real natural beauty, but this hardy perennial bulb will treat you to a repeat show, effortlessly every year.
Shade-loving Cyclamen are compact plants, so even if the space you have available is limited you can still tuck a few into small gaps or even use them to fill a beautiful autumn container. If you have a large woodland area to fill, enjoy the natural charm of these autumn beauties each year with the minimum of effort by planting them in stylish drifts, groups or swathes. Read on to find out more about getting the most out of these cheery woodland bulbs…
When it comes to growing hardy cyclamen, once established they really are a piece of cake. They're not fussy about soil type (as long as it isn't boggy) and can even tolerate quite a dry soil. Being fully hardy, they're perfectly happy to stay planted all year round. Here's how to get them started:
Cyclamen tubers are best planted in early autumn. Top-size tubers produce foliage and some flowers in their first year, often just weeks after planting.
Choose a suitable spot for your tubers, ideally in a cool, partially shaded spot with a free-draining soil.
Dig a hole wide enough to fit the tuber and around 5-10cm deep. Position the tuber into the hole with the top side facing upwards.
Cover the tuber back over with soil and water it thoroughly afterwards.
Water occasionally in the first autumn, particularly if in a dry spot under a tree or during warm spells.
The flowers will die back in winter. After the first winter once the tuber has established, there will be no need for watering. The bulb will become dormant for summer before producing new growth of its own accord the following autumn.
Cyclamen hederifolium in brief
Grown from tubers
Thrives in partial or dappled shade
Prefers a well-drained soil which doesn't become waterlogged
Hardy perennials, flowers in autumn every year
Plant top-size tubers in autumn, flowers in the first year
Height up to 10-15cm. Spread 20cm
Suitable for borders, containers and below trees and shrubs
Long-lasting flowers
Plant combinations for Cyclamen hederifolium

With many summer flowers which are still in bloom until the first frosts - dahlias to begonias to name just two – there's no reason why your garden shouldn't be full of colour and life all through the late season. Other than late-flowering summer varieties, there are also some bulbs, like cyclamen, which are just coming to life in autumn to inject a fresh bit of colour into the garden and will thrive in the same partially shaded conditions.
Cyclamen hederifolium are effortlessly beautiful and will happily take centre stage as the main autumn colour feature. But if you would like to introduce a bit more variety or contrast to the space then why not try one of these stunning combinations:
With sunny, yellow upright goblet-shaped blooms, Sternbergia provide the perfect contrast to the delicate pink cyclamen. Flowering around the same time, a peppering of Sternbergia in small groups around your cyclamen will create a dazzling display which will light up any partially shaded, woodland or shrubbery space. Don't worry about the colours being so different, in autumn the golden sunlight and coppery fallen leaves gives everything an air of magic – all colours are welcome!
White flowers are great at acting as highlights help to draw attention to delicate flowers sitting in shade. Autumn flowering Colchicum autumnale 'Album' is ideal for the job of drawing your eye in from afar towards a planting of cyclamen. Blooming in autumn with its large, white attention-grabbing flowers, plant these perennial bulbs in informal groups close by to your cyclamen and they will work harmoniously together to bring a vibrant lift to the space.
Nerines flower at the same time as Cyclamen but the bulbs are normally planted in spring, rather than autumn. Although they enjoy a sunny spot best, classic Nerine bowdenii will do just fine in a partially or dappled shade area too. Their extravagant flowers come to life around September each year, also with a pretty pink hue which will perfectly complement your Cyclamen. Try planting Cyclamen and Nerines in neighbouring autumn patio containers, or position a few small groups of Nerines in the sunnier parts of your woodland area to give it a really special autumn glow.