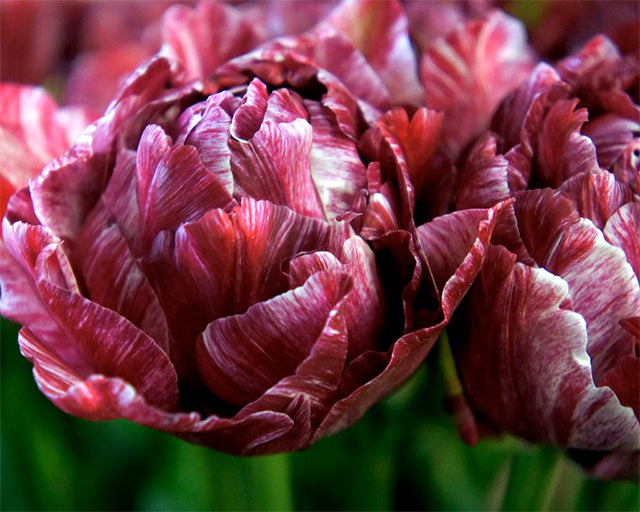 All about Tulip 'Nachtwacht' (Night Watch)
Just like Rembrandt's famous painting, Tulip 'Nachtwacht' (Night Watch) is bold and breathtaking with an air of mystery, drama and darkness about it. The impressive blooms of this luxurious and unique peony-flowered tulip are formed of densely-packed layers of rich-coloured blooms, each petal patterned with brushstroke-like coppery highlights.

But the outstanding appearance of this astonishing tulip is not its only virtue. This variety is low-maintenance, too, standing up on sturdy, straight stems and with strong petals which hang on firmly to the bloom, whatever the weather. As the closed flower buds slowly unravel from mid-spring, you can enjoy a long-lasting and lavish display which lasts right through to late May. It's fair to say that this variety is as close to perfection as the painting it's named after and shows off an amazing level of detail. There's no doubt that this remarkable spring-flowering bulb is an absolute masterpiece!
How to grow Tulip 'Nachtwacht' (Night Watch)

Tulips need to be planted in autumn for flowers the following spring. Plant the bulbs anytime between October and late November.
Tulip bulbs have a pointed end and a rounded end. The rounded end is the part that grows roots, and this should be positioned downwards, and the pointed end facing upwards.
Dig a hole, approximately 15-20cm deep, and position one bulb at the bottom of the hole, then cover it back over with soil.
For best results, plant these tulips in groups so that they can put on a really eye-catching display. Plant the bulbs approximately 15-20cm apart from each other in groups or swathes in a sunny border or in patio containers.
Leave the bulbs to overwinter in their planted positions and they will begin to emerge with lush green foliage from around March, followed by flowers from mid to late-April.
The flowers are excellent for use in cut-flower bouquets as well as to be enjoyed out in the garden. Once blooming has ended, remove the flower stems down to the base and leave foliage intact to die back naturally.
Tulip 'Nachtwacht' in brief
Grown from bulbs, plant in autumn
Flowers during spring
Ideal for borders and containers
Excellent as cut flowers
Thrives in full sun and partial shade
Fully hardy
Easy to grow, perfect for beginners
Grows to 55-60cm tall
Extravagant varieties like Tulip 'Nachtwacht' provide a dazzling display on their own, but you can help to accent them even more by combining them with other varieties. When considering what to plant with your tulips, it's important to choose varieties which will flower simultaneously, as well as their flowering heights and colour. Here are a few ideas for inspiration:
The strong, upright spikes of Fritillaria 'Ivory Bells' flower at a height of up to 90cm, providing a contrasting structure to that of Tulip 'Nachtwacht'. The beautiful simplicity of these stunning tall plants make them the perfect complement, with fresh spring green bell-like flowers which aren't too overpowering for displaying amongst such an intricate tulip. Dot these evenly among your tulips for a varied, full and professional-looking show.
This extraordinary tulip flowers with vibrant crimson flowers which light up in the spring sunshine. Flowering at the same time as Tulip 'Nachtwacht' but at a slightly lower height, these glowing pink blooms form a vibrant backdrop which complements and highlights the dark, double blooms of 'Nachtwacht'. These two unbelievably good tulip varieties are excellent partners, both in the garden or as cut flowers in a vase.
The beautifully subtle, pendulous blooms of Nectaroscordum siculum will provide the perfect contrast to Tulip 'Nachtwacht', with hints of deep crimson which echo that of the tulip. The two stunning varieties will flower at the same time and at similar heights, but with completely different flower forms. Not only do they look great together in the border, but they're both excellent cut flowers. As the name suggests, Nectaroscordum is nectar-rich and also attracts bees.