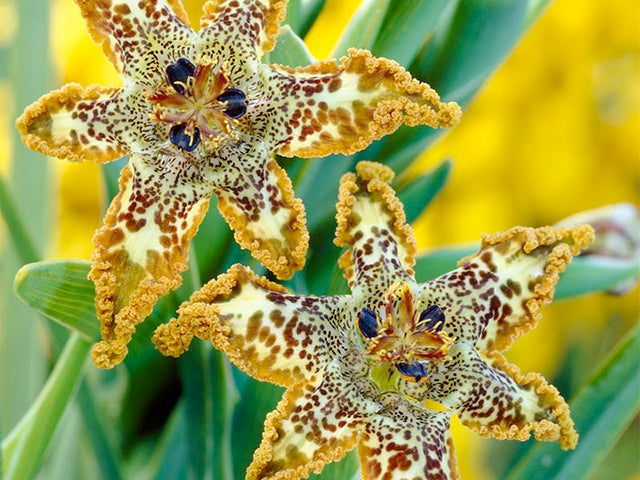 15 Tropical Plants to grow in your UK garden
Big, bold architectural foliage and zinging bright blooms are without doubt a trendy and popular look in the UK. Not only do tropical bulbs & plants bring a lively splash of colour and structure to the garden, but their unique and ravishing looks make quite the talking point!

Growing tropical plants in the UK

Creating your own little slice of paradise with lush, leafy and vibrant tropical plants is easier than you might think. Although exotic plants are native to warmer climates, many can do very well in a typical UK garden and put on a fantastic summer show with very little fuss!
The key to growing successful tropical plants is to give them a head start in the spring by growing them on indoors to start with. Plenty of hydration and warmth is what they need to activate them into growth. Those varieties which aren't hardy can be planted outside after risk of frost has passed, which is usually around late May. Whereas some which are surprisingly hardy can be grown outside from the get-go. Growing instructions for each variety are on our website so you'll know what to do! Why not give something new and exotic a try this year and you'll find out that it's entirely possible to turn your outside space into a lush little oasis, full of tropical beauty.
Tropical bulbs & plants to try in your garden

Whether the look you're going for in your garden is a full-blown jungle theme, or you just enjoy hints of tropical charm to spice up a traditional floral or minimalist planting scheme, we're pleased to be able to offer a fantastic range of new and unusual treasures which will fit the bill perfectly. If you're looking for inspiration to help jazz-up your outside space this summer, you've come to the right place! Discover 15 of our favourite tropical treasures here:
Growing Hedychium, also known as Ginger Lily, is the next big thing in the UK. These tropical plants boast everything you could possibly want to add to a jungle-like planting scheme, including large architectural banana-like leaves and big, showy flowers. With a narrow footing, these impressively tall plants make a huge impact without taking up too much space, so whether your garden is large or small, you can pack these lovely leafy plants in for a really fabulous show. What's made them increasingly popular in recent years is their ability to withstand a typical UK winter, meaning they can be left in the ground and will grow back again the following year.
Ferraria crispa ↑
Buy now!
Also known as the Starfish Lily, these truly exotic looking beauties are a real gem for a sunny spot. Producing an upright stem with a profusion of intricately dotted and crinkly-edged star-shaped flowers, when they burst into bloom in mid-summer, you're in for a real treat! Despite their exquisite and delicate looks, they're easy to grow and actually fairly hardy. In warmer parts of the UK you can grow these outdoors in the sunniest part of the garden and enjoy a repeat display from them every year without having to worry about lifting them.
Gloriosa ↑
Buy now!
Climbers make such a big impact in a garden, scrambling up trellis, pergolas or garden arches and create a colourful and beautiful living screen. Gloriosa is a fast-growing annual climber with the most spectacular, exotic-looking and flamboyant blooms. Producing these elegant blooms repeatedly all summer long, you can look forward to a long-lasting and effortless display of punchy colour which will add that extra level of lushness to any exotic planting scheme. Gloriosa are perfect for growing in a sunny spot. Being an annual climber, they don't need a lot of space either. So, if you need a climber which will happily grow in a pot – on a balcony or terrace, for example – this is a super choice!
Habenaria radiata ↑
Buy now!

With truly astonishing flowers which resemble a bird of paradise, this compact White Egret Orchid is a lovely plant to add the finishing details into any tropical planting scheme. Its dainty size makes it the ideal choice for growing as a patio centrepiece where its intriguing looks can be admired up close. This rare beauty is easy to grow given the right conditions, preferring being under the shelter of dappled shade. It's half hardy so it will need to be started off inside and positioned outside from late spring.
Bessera elegans ↑
Buy now!

Zingy coral red is a true colour of the tropics, and what better way to bring big splash of summer vibrancy than with this elegant and sophisticated goddess-among-plants, Bessera elegans, lovingly known as Coral Drops. With this beautiful variety, you get to enjoy a stunning profusion of bright vermilion pendulous blooms during summer, each with a canopy of outward petals and detailed by a contrasting purple stamen. Flowering on tall, upright stems, Bessera elegans has a delicate airy appeal and creates a relaxing movement among stockier plants. They look particularly good next to leafy cannas.
Canna ↑
Buy now!

These are a must have for any jungle-style planting scheme. Cannas are fast-growing leafy plants, producing a strong, upright stem packed with large, broad leaves in a variety of dramatic colours. There's a canna for every type of garden, big or small. While some varieties can grow up to 2.5m tall and look fabulous grouped together in large border, you can also get dwarf forms which reach a more compact size of around 90cm and can be grown on the patio. The foliage is often the main event with cannas, bringing a trendy architectural look to the garden from early summer right through to autumn. But to top it all off, each plant also produces a big bright flower from late August onwards for that extra blast of late-summer colour.
Lycoris ↑
Buy now!

These ravishingly beautiful tropical plants are a member of the Amaryllis family and can be grown in a similar way to the old favourite. They're the perfect conservatory or windowsill plant, but you can also incorporate them into your outdoor planting schemes from late spring onwards. It's best to give them a head start by starting them off indoors in spring, but it's possible to plant them from late spring straight outside in a sunny position and they will burst into action fairly quickly for a summer show.
Chasmanthe ↑
Buy now!

Upright prongs of vibrant banner-like blooms make this a real stand out centrepiece for a sunny border. Chasmanthe is rarely seen in the UK – it's similar to a crocosmia but with added oomph and tropical vibrancy! Not only do they provide a grand display of colourful flowers in the summer, but they also have gorgeous sword-like leaves which provide a long season of interest almost like ornamental grass. If you have a hot, sunny spot or an exposed coastal garden, this South African charmer will be very comfortable and bring a very long season of interest. Try planting them with broad-leaved tropical plants like cannas or Hedychium for a power-packed display.
Tritonia laxifolia ↑
Buy now!

Tritonia laxifolia is a beautiful freesia-like plant native to Tanzania. These majestic plants flower during late summer with sumptuous dusky orange blooms to bring that touch of extra magic and fresh injection of colour at the end of the season. Forming a neat clump of grassy foliage, it provides a contrasting texture within mixed sunny borders, before bursting into bloom from its multiple flowerheads from late August onwards. Plant some of these beauties in your garden suntrap with other late-summer flowers, like dahlias or freesias, and you'll be in for a real colour explosion!
Calla ↑
Buy now!

It's hard to beat Calla Lilies for reliable and low-maintenance colour! These fabulous plants (also known as Zantedeschia) are just the job for making any garden area look a whole lot more exotic, whilst requiring very little in terms of fuss. Compact in size and very easy to grow, their lovely funnel-shaped blooms come in a full spectrum of vibrant colours and make a wonderful addition to any garden space, large or small. Tuck them into spaces at the front of the border or plant them in pots. They'll do well in sun or shade, not only producing alluring flowers which last almost all summer long, but also with wonderful lush foliage. Calla bulbs have proved to be quite hardy in some parts of the UK, popping up year after year when left in the ground. Although it's safer to lift them out of the ground and store them for next year.
Dracunculus vulgaris ↑
Buy now!

No jungle planting scheme would be complete with a few shady characters, and Dracunculus vulgaris fills the role perfectly! This gothic looking Dragon Arum sits happily at the foot of leafy canopies, shooting up impressive fronds of unusual splayed foliage. During summer, large deep purple spathes unfurl revealing a long pointed 'finger'. This unusual beauty always causes a stir in the garden, and it's just perfect for tucking into forefront gaps in the border. They're mostly hardy too – a good covering with compost of dry mulch is enough to protect them from the winter weather and they'll come back for another fearless performance the following year.
Colocasia ↑
Buy now!
Let Colocasia bring a show-stopping foliage display to your garden. Not only do these enormous heart-shaped Elephant Ears leaves look fantastic in their own right, but they make the perfect backdrop for bright flowered plants too. If you combine these with Dahlias, Canna, Chasmanth or Bessera, for example, you'll be well on your way to achieving your own little tropical oasis, full of light, dark, colour and structural contrast. Colocasia are tender tropical plants which are best started off indoors where they'll double up as a striking houseplant. They can be planted outside during the summer months to pad out your planting schemes or to make a fetching patio or balcony plant.
Sauromatum venosum ↑
Buy now!

The Sauromatum venosum or Voodoo Lily has that undeniable exotic look. Put a few of these in the shaded pockets of the garden and enjoy the delightfully dotted display from their brightly patterned spathes and stems. Each hooded flower unveils a distinctive deep-purple spadix as it opens and lasts for ages. Just as impressive are the tall stems with a round of long, large green leaves. Give these hardy plants a sheltered spot surrounded by shrubs or other large foliage varieties and they'll be quite at home, putting on an easy and long-lasting display year after year.
Scadoxus multiflorus ↑
Buy now!

Enjoy a tufty floral explosion with these curious pompom plants, Scaxodus multiflorus. These bright scarlet wonders are most unusual and very rarely seen, so here's a great opportunity to grow something very unique indeed. Also known as the Blood Lily or Shaving Brush Plant for both its colour and bristly look, this fiery bulb is grown in a similar way to Amaryllis. They're perfect for growing in pots in the windowsill and will fit right in to a tropical-themed conservatory. Alternatively, pot it up outside in early summer and flaunt this rare gem on the patio table.
Anomatheca laxa ↑
Buy now!

No tropical garden would be complete without a bit of rich salmon pink colouring, and gorgeous Anomathica laxa will splash it in by the bucketload. It's related to the Freesia, but quite differently, it flowers during early summer - perfect if you love the vibrant freesia look and wish to kick-start the season early. Rarely seen in the UK, you can be one of the first to grow this pretty plant, and you'll find out how easy and vigorous it is too! Just give it the hottest, sunniest spot in the garden. Either plant it straight outside in mid-May or start it off indoors earlier in spring to plant out once established. It's hardy down to about -5C, so it will even tolerate a mild winter in a sheltered location!