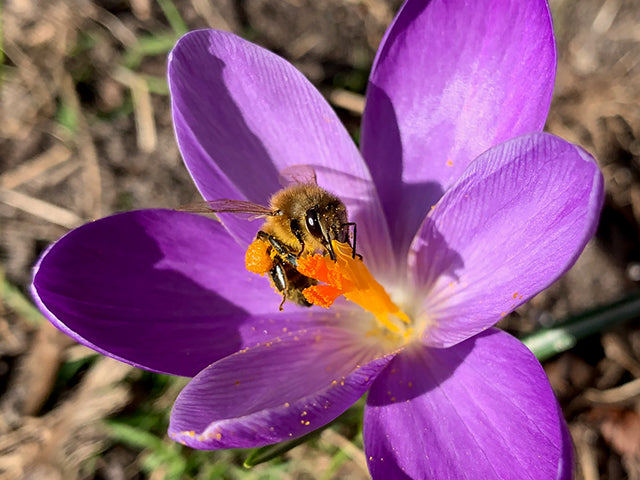 Top 10 Bee-friendly Flower Bulbs
Bring your garden to life with a banquet of blooms for bees. Let's do our bit to help the bee population—we know how important pollinators like bees are, we rely on them to pollinate our flowers and food crops, and to do this important job they rely on our gardens to provide the valuable source of nectar they need to keep going!

Packing your garden full of flowers so that pollinators like bees and butterflies never have far to travel to get to their next meal is a fantastic way to help. Not only will this benefit them, but your garden will look fabulous at the same time and they will in turn pollinate your plants to keep your garden healthy and productive.
Whether your garden is big or small, you live in a built-up area or out in the countryside, planting as many flowers as you can squeeze in turns it into the perfect stop-off and refuel point for a busy bee. If you live in the city, even a window box or container on a balcony can be a lifeline for bees.
There's nothing better and more rewarding than a beautiful garden which is filled with colour and buzzing with life. Focusing on autumn-planting varieties, we've come up with a selection of bulbs which provide a fantastic source of nectar from late winter when the bees first emerge, right through to early summer.
Do your bit to help boost the bee population by choosing from our Top 10 bee-friendly bulbs for planting in autumn:
1. Nectaroscordum ('Sicilian Honey Garlic')
You can't go wrong with a variety which has 'nectar' in its name – Nectaroscordum silicum, also known as Allium silicum or 'Sicilian Honey Garlic', is not only a great plant for bringing bees to the garden, but is incredibly beautiful too. Flowering during early summer, they're the perfect plant for keeping interest in the garden after the spring flowers have faded and while summer plants are still establishing.
2. Allium 'Globemaster'
All Alliums attract pollinators and are a favourite with bumblebees, honeybees and butterflies. Allium 'Globemaster' is an excellent example, blooming in early summer with giant flowerheads formed of masses of nectar-rich purple flowers. Each giant flowerhead is a real feast for a bee, they also get to maintain their energy levels as there is no need to tire themselves out by flying from flower to flower.
3. Eranthis hyemalis ('Winter Aconite')
Flowering from around February to March at the same time as the first bumblebees are beginning to wake up, Eranthis hyemalis (Winter Aconite) are an essential source of nectar. A naturalising variety, their beautiful golden-yellow blooms form a cheery blanket of colour, returning in bigger and more impressive natural dirfts year after year.
4. Galanthus nivalis ('Snowdrops')
The common snowdrop is the best snowdrop variety for attracting bees. Plus, it flowers from January onwards so it's great for any pollinators which are waking up early. Snowdrops notoriously take a while to establish but over the years they form beautiful, natural drifts which create a wonderful effect in borders or woodland areas.
5. Crocus
Beautiful, chunky upright goblet flowers which come back every year and available in an array of colours are always a welcome sight in spring. Crocuses are a real delight in any early spring garden and the bees just love them. Not only are they nectar-rich, but queen bumblebees even use their flowers, which close at night, to sleep in!
6. Muscari armeniacum ('Grape Hyacinth')
This classic ground cover is a nectar feast for bees. Over the years these strong naturalisers form magnificent swathes of blue, perfect for filling a bare space with tricky growing conditions or to underlay any spring planting scheme. All Muscari (more commonly known as Grape Hyacinths) are beneficial to bees, but it is the traditional Muscari armeniacum which they love the most.
7. Fritillaria meleagris ('Snake's Head Fritillary')
Perfect for growing in a cool, grassy area, these elegant and natural Snake's Head Fritillaries provide a great source of nectar for bees in mid-spring. If you're re-wilding a part of your garden or you have a meadow area, these are really fitting. They'll also do well in borders, flowering each year with their pretty lantern-like flowers which pop up in either white or maroon.
8. Allium 'Mount Everest'

The large-flowered Allium 'Mount Everest' provides plenty of blooms all in one convenient flowerhead. Like all Alliums, they're a magnet for bees and butterflies. This white form is great for combining with mauve-flowered varieties to make an eye catching contrast that looks bold and impressive in the late-spring garden.
9. Colchicum and Sternbergia
Plant top-size Colchicum and Sternbergia bulbs in early autumn and they will flower just a couple of months later in the same year! These beautiful autumn crocus naturalise too, so each year they will return for a repeat show. These big blooms provide a much-needed injection of colour to the garden as well as essential fuel for bees during the late season. Bumblebees visiting Colchicum and Sternbergia flowers are stocking up ready for a long winter hibernation.
10. Camassia
Bees can't resist the nectar-rich flowers of Camassia, and this makes them a great asset for a wild area of the garden, meadow or a mixed cottage-style border. These moisture-loving bulbs are happiest the cool dampness of a meadow area where their upright stems will hold their clusters of beautiful starry flowers at just the right height to shine above long meadow grass. Camassias are perennial bulbs and will naturalise over the years, forming bigger groups and more flowers each time they return in late spring.
Growing spring-flowering bulbs couldn't be easier! All of the above are fully hardy and simply require planting directly outside in the autumn. There is no need to water in after planting or to water your bulbs through the winter months. When planting in containers, a good-quality peat-free multipurpose or a compost mixed with loam is ideal.
When planting directly into borders, choose a space which benefits from full sun or partial shade with preferably a free-draining soil. In areas with heavy clay soil, it is a good idea to add a small amount of grit when planting your bulbs to help loosen the structure of the soil slightly. Fritillaria meleagris and Camassia grow happily through grass as well as borders and prefer a cool, moist soil.
Bulbs come in various forms and sizes and require different planting techniques so it is best to check the individual instructions on each of our product pages for best results. As a general rule, flower bulbs should be planted at 2-3 times of the size of the bulb deep. If the bulb has a pointed side, this should be facing upwards.
Some bulbs or corms are naturally small and may be more nugget like without a pointed side, in which case it doesn't matter which way up they are planted as they will find their own way and turn as they start to grow.
Get the most from your Bee-friendly Bulbs
Our Top 10 bee-friendly spring bulb varieties listed above are all perennial and will flower year after year. That's great news for the bees which have made their habitat in your garden! Enjoy them to the full during their flowering months, and then when the blooms start to fade allow them to die down naturally. They can be deadheaded, but the stem and leaves while green will still be using sunlight to transfer energy to the bulb which it needs to flower again the following year. Once the foliage has turned yellow it can be cut down to the base. There is no need to lift or store the bulbs listed above, just simply let them stay in place and naturalise in your garden!