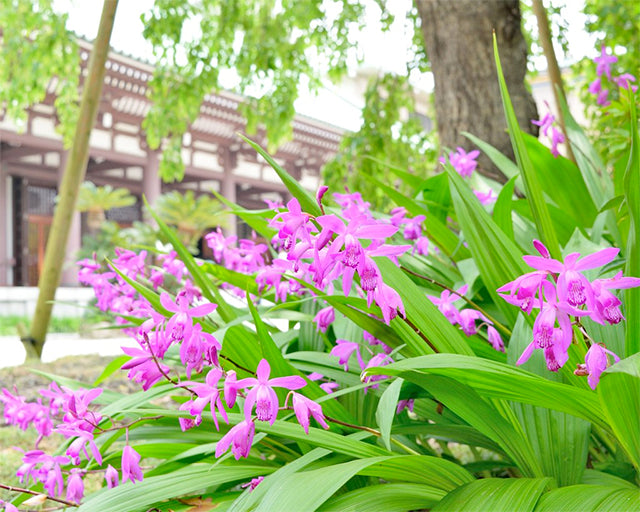 Plants to create your own Japanese garden
Japanese gardens are designed to be tranquil, serene and relaxing spaces using a combination of flowering plants, simple ornamental features, water and clear spaces. With a neat and tidy look, the Japanese plants style is a popular choice for people with busy lives who need their outside space to be low maintenance, but also pleasingly beautiful and with plenty of summer interest to soak in on warm, sunny days!

If space is limited in your garden, or you have a courtyard space, a Japanese planting scheme works really well. Often defined by paved, gravel areas or mossy areas, traditional Japanese flowering plants can be neatly spaced out in containers or small beds among decorative water features or structures.
Ornamental trees and shrubs are classic features in Japanese gardens, but bold splashes of colour from flowering plants are equally important. The best way to plant them is in small groups of individual varieties, either in pots of small beds, dotted around in well-spaced positions.
Get the Japanese look and create a bit of Zen in your own garden by introducing some of these gorgeous flowering plants:
Lycoris ↑
Buy now!

Both Lycoris radiata and Lycoris aurea (also known as 'Spider Lilies') are traditional Japanese plants and are often given pride of place in Japan's most spectacular gardens. They erupt in summer with impressive, bright blooms and create a stand-out show of colour which mingles well among ornamental trees and shrubs. Lycoris love a hot, sheltered and sunny spot in the garden, so they're ideal for planting in a garden sun-trap. Doing well in gravel or stone areas as well as within large patio containers, their spectacular, wispy lily-like blooms with elegant long tendril stamens are a real highlight for both colour and detail!
Habenaria radiata ↑
Buy now!

A few delicate details are a great addition to a Japanese garden, and what better way to introduce them than with an incredibly intricate 'Egret Orchid'. Resembling a bird of paradise in flight, the spectacular small blooms of this dainty white orchid flutter gently in the breeze from early to mid-summer. This half-hardy orchid is happy to be grown outdoors throughout the year, given a little winter protection, and is perfect for those lightly dappled shade areas. Plant them in free-draining soil or in mossy spaces among stones, or simply plant them in a pot to enjoy as a rather special patio centrepiece!
Roscoea ↑
Buy now!
Growing in neat clumps with grassy upright foliage, these fully hardy and easy to grow beauties thrive in shade so are perfect for growing in an enclosed space, rockery, among ornamental trees or shrubs as well as in patio pots. With stunning orchid-like blooms, Roscoea cautlyoides and Roscoea purpurea sit perfectly comfortably within a Japanese style setting, providing an eye-catching flurry of colour throughout summer and into autumn. Producing multiple flowering stems per plant, each year these fantastic, low-maintenance Roscoea plants return for a repeat performance!
Bletilla ↑
Buy now!

Bletilla, also known as the 'Urn Orchid' or 'Hardy Orchid', is a native plant of Japan and ideally suited to growing in the secluded dappled areas parts of the garden, where their exquisite orchid blooms will provide an elegant show of colour during spring and early summer. Despite its delicate looks, it's very hardy and tolerates temperatures down to -10°C, so there's no need to worry about lifting it during the winter months, allowing you to just enjoy its beautiful perennial flowers year after year. Growing in tidy clumps with upright sword-like foliage, they bring an architectural leafy appeal throughout the season as well as a stunning show of classic orchid flowers which are formed on slender racemes. Plant them in borders, pots, rockeries or mossy areas and enjoy their wonderful serene charm!