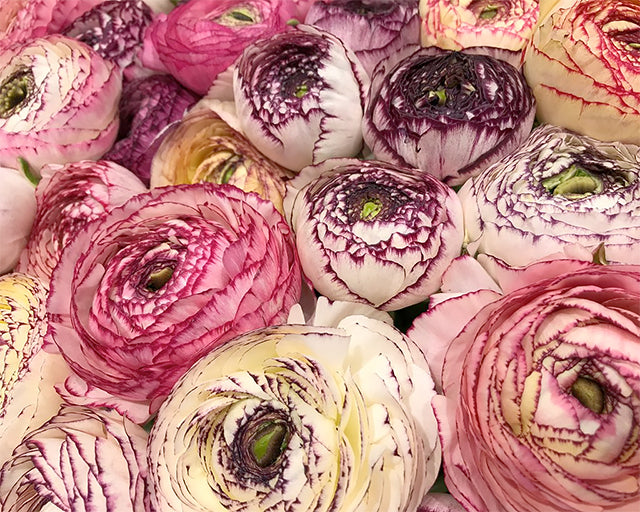 Mysteriously Elegant: Italian Elegance® Ranunculus
Farmer Gracy's plant of the week this week is Italian Elegance® Ranunculus. They're easy to grow and great for containers as well as borders. Plant them now and you can look forward to a brilliant display in a few months' time.
These stunning new Italian Elegance® Ranunculus are particularly special and this is a unique opportunity to get hold of them in the UK. Bred with precision to provide a long-lasting and full display of elegant, densely-petalled blooms on strong, healthy plants, each flower is an individual work of art.
Ranunculus (or ranunculi) not only provide excellent garden performance, but they're a well-known florists' favourite as well, with long stems and an outstanding vase life. Each plant repeatedly produces multiple blooms, so you can cut enough for a bouquet without having to compromise the display outside.
How to grow Ranunculus
Ranunculus are grown from tubers which ideally need to be planted in early spring. They're not fully hardy, so they should be started off in a frost-free place – a conservatory or greenhouse is ideal. They can then be moved outside towards the end of April, once the risk of a deep freeze has passed (they can tolerate a light frost).
When your tubers arrive, hydrate them by soaking them in a bucket of water for up to 12 hours.
Prepare your containers by adding broken crockery or gravel to the bottom to aid drainage, before three-quarters filling with multipurpose compost. It's a good idea to mix in some organic fertiliser or slow-release fertiliser granules, which will feed the plants throughout the season and help them provide a maximum amount of blooms.
Position the pre-soaked tubers on the surface with the eyes/buds facing upwards, then cover over with about 10cm more compost. Gently but thoroughly water them in after planting, and leave them in a light, frost-free place to grow. Once the weather warms in spring, they can be moved outside.
When the plants are in full growth, water the soil in the pot whenever it looks dry and feed weekly with a liquid feed.
When your ranunculus have finished flowering, remove any old flower stalks but leave any green foliage intact. In autumn, move the pots back into a frost-free place for winter.
Ranunculus in brief:
Grown from tubers
Plant in early spring, flowers in early summer
Frost tender
Height 30cm, Spread 30cm
Grows in free-draining soil
Suitable for containers and borders
Excellent as cut flowers
Thrives in full sun or partial shade
Easy to grow, suitable for beginners