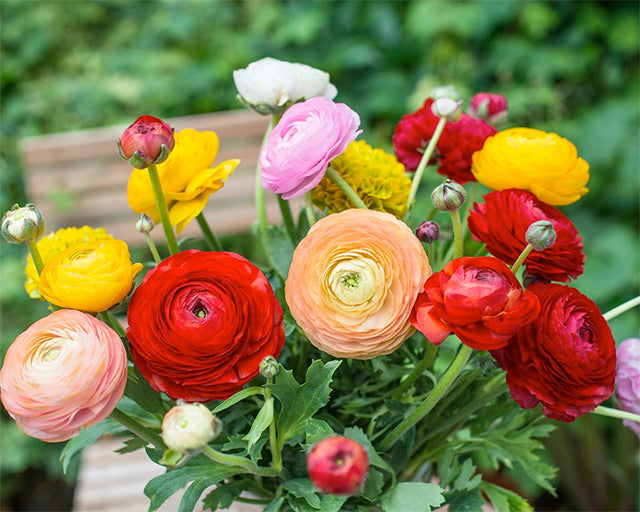 Ranunculi! All About Growing Ranunculus Bulbs
The first plants I ever grew in the lead-up to my horticultural career were Ranunculi. I was just a child then, but I'll never forget the thrill I experienced when the first flowers began to open that spring. It comes back to me every time I see Ranunculi in bloom, but these plants have taken a fresh twist, and these days, you can get colours I never dreamed of back when I was a kid.
Growing Ranunuculi is literally child's-play. So, if you're hoping to set your garden up for success but aren't sure if you have the (mythical) "green fingers," they're a great plant to get you started.
What You Need to Grow Ranunculi
Sunshine

Bulbs

Water

Relatively well-drained soil (add compost and build your beds up a bit if your garden tends to be soggy)
How easy is that? If you'd like to try them in pots, go ahead, but remember to choose a pot with good drainage holes and a good potting soil. Garden soil hardly ever works well in pots.

If you live in a place with very chilly winters, I suggest you plant your bulbs in pots and grow them in a greenhouse or cold frame, but that only applies if winter temperatures are likely to fall well below -6 Celsius once the bulbs are up and growing. Another way to get around icy temperatures is to plant your bulbs just before the final frosts of the winter.
My childhood Ranunculus planting was done in pure cowboy style. I put them in the ground and gave them some water. Then I made a wish. However, that's probably not the best way to do it!
Composting to improve soil texture is nearly always helpful to plants, so start here. As a rule of thumb, one spade of compost to three spades of soil is usually enough.
A lot of gardeners say you should soak your Ranunculus bulbs before you plant, but it's not absolutely necessary. They'll absorb water from the soil after planting. They just sprout a bit faster if you put them in water first. If you do decide to soak your bulbs to kick-start growth, leave them in water for a few hours. If you forget about them, they'll begin to rot.
Plant your bulbs about 3-5cm deep and space them around 6-10cm apart. You'll see that the bulbs have an eye at the top, and downward facing "claws." Keep the claws facing downwards when you plant.
Settle your bulbs into the soil by watering well after planting.
Caring for Ranunculus Bulbs
The great thing about bulbs is that they have almost everything they need to give you a fabulous crop of flowers already. Feeding isn't a necessity. Just keep an eye on things when the weather is dry and give them a bit of extra water to keep them growing.
If you want to cut a posy of colourful Ranunculus flowers when they start blooming, go ahead. You'll be surprised when you see how well they last in the vase, and cutting blooms just encourages the plant to produce even more flowers. If you want to try re-flowering your bulbs next year, cut off any dead flowers to prevent your plants from pouring energy into trying to set seeds, but leave the foliage to feed the bulb.
When the leaves have died down, decide whether you want to lift the bulbs for storage or leave them where they are. They do want to be fairly dry during summer dormancy, and you might accidentally damage them if you forget where they are, so lifting is probably the safest bet. Cut off the dead leaves and leave them spread out to dry for a couple of days.
Store your dormant Ranunculus bulbs in a cool, dry, well-ventilated place. My granny used to keep her bulbs in the pantry cupboard, but a shelf in the garage or garden shed will do just as well. Choose a cloth or paper bag or an open tray to store them in. Plastic will sweat and encourage rot. A little dry sphagnum moss will absorb any excess moisture but isn't always necessary.
Ranunculus Options
I'll admit it: I always thought you could only get Ranunculus bulbs in mixed colours – but what colours they are! It's as if the lustrous hues of the world's richest gems have been scattered across the petals. But times have changed, and plant breeders in Italy have achieved the most amazing single-colour selections you'll ever see.
Italian Ranunculus are so incredible that I didn't believe my eyes when I first saw them. I think I gasped and let out an involuntary "Oooooooh!" and that's me, the blasé horticulturist speaking! Farmer Gracy has selected the best of the best of these exquisite Ranunculus varieties – and you won't be able to get them anywhere else.
The Italian Elegance® Ranunculus range sports a velvety midnight purple variety, soft pink and tequila sunrise varieties with contrasting colours at the edges of the petals, and an immensely feminine soft pink that oozes romance and makes me think of summer weddings.
These Italian Ranunculus varieties would definitely be my top choices for high-profile spots and bountifully blooming containers on the patio. And although I love my flowers for themselves, there's something immensely satisfying about seeing a gardening buddy gasp and hearing them ask: "Where on earth did you get that?"
It's Not Rocket Science – or Even Particularly Tricky Horticulture!
There are plants that I'm willing to beg to grow, and if Ranunculi were among them, I'd be all over them with tender care and every trick of the trade I can beg, borrow or steal. But the fact is that these vibrant beauties are incredibly easy to grow.
These days, I'm a bit more thorough than I was as a little girl who just jammed Ranunculus bulbs into the ground, added water, and made a wish, and I think my bloom quality benefits from it. All the same, the flowers continue to surprise me. It's a little miracle. That clawed bulb is so dry and dull-looking, yet the flowers are so striking – it's hard to believe the transformation.
Try it yourself. Planting and growing Ranunculi is hugely rewarding, and you (yes, you!) can make little miracles happen right in your home garden!