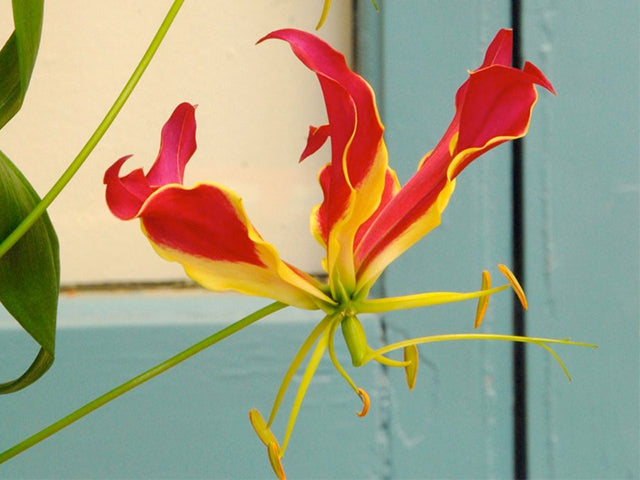 Gloriosa – Gloriously Coloured Exotic Climber
Farmer Gracy's plant of the week this week is Gloriosa superba Rothschildiana, also known as Glory Lily. Get this fantastic, exotic climber started off in a frost-free place this spring and it will reward you with glorious colour throughout summer.
Gloriosa is a tender climber that thrives in a sunny position. It's easy to grow and wonderful as a patio climber, quickly covering trellis, pergolas or arches in long, self-supporting stems with pretty clinging tendrils.
The unusual flowers provide a tropical look, with yellow and red reflexed petals which sit among the lush, glossy green foliage.
How to grow Gloriosa
The best value way to buy gloriosa is as tubers and by starting them off yourself. You'll need a light, frost free (and preferably warm) place to do this – a greenhouse or conservatory is ideal.
In early spring, plant the tubers approximately 10cm deep in a fairly large pot filled with soil-based compost and added grit. Water them in after planting. Ensure you have a climbing support next to the pot with canes leading to it for the first stems to cling to.
Once in full growth, water the soil in the pot whenever it looks dry. Pots can dry out quickly, so you may need to water them every day in the height of summer.
After flowering, you can cut back the bushy top growth, leaving a few feet of the main stems intact, then move the pot to a frost-free place for winter. Alternatively, you can lift the bulbs and store them in a dry, frost-free place over winter and plant them again the following spring.
Gloriosa also makes a fantastic conservatory plant. It needs a large pot and a growing support in a permanent position. The leaves will drop from this deciduous climber in autumn and the plant will become dormant. At this point, remove the bushy top growth and tie in the main stems, which will produce new growth the following spring.
Gloriosa in brief:
Grown from tubers
Plant in early spring, flowers in summer
Frost tender
Height 2m, Spread 1m
Grows in free-draining soil
Suitable for containers and borders
Thrives in full sun
Attracts bees and butterflies
Easy to grow, suitable for beginners
Planting idea
Try growing Gloriosa superba 'Rothschildiana' next to Agapanthus 'Black Buddhist'. The pair will create a bold, exotic display of colour in summer, and both are ideal for growing in containers on a sunny patio: