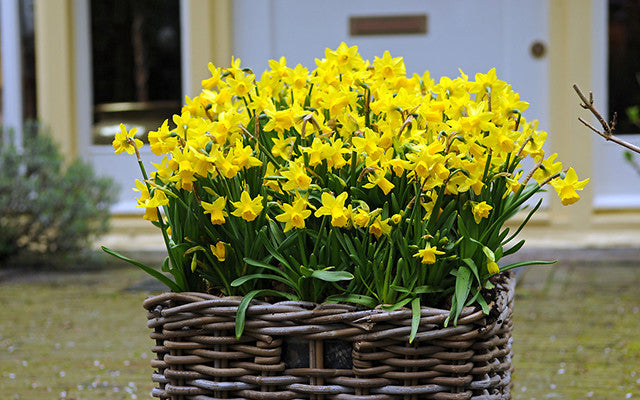 Narcissus Tête à Tête: Versatile Perfection
Spring just wouldn't be the same without Narcissi in flower. When you see them beginning to bloom, you know that the spring really has arrived at last. And when you catch a whiff of that sweet, fresh scent, it really gives your spirits a lift. There are so many gorgeous Narcissus cultivars that choosing between them can be a difficult, though enjoyable task. But, if there is one Narcissus you shouldn't overlook, it's the classic Narcissus Tête à Tête.

Get Flower Power With Loads of Blooms
The charming habit of forming two to three blooms per stem is one of the reasons why Narcissus Tête à Tête has remained so popular over the years. Add to that its vigorous growth and the fact that it easily forms dense clumps if left to itself for a few years, and you're looking at a veritable explosion of flowers. A "tête-à-tête" is an intimate conversation, and when these lovely Narcissi are in full flower, the blooms on each stem seem to be having a chat, agreeing with each other as their heads nod in the wind.
Double the Beauty with Tête Bouclé
For those who like this floriferous habit but would like something a little more unusual, there's a many-petalled version known as Tête Deluxe or Tête Bouclé. It's well worth looking out for, and it's now available in our online store. Check it out!
A Plant With Many Uses
While some plants might only be suitable for pots, and others would only look good as either features or mass plantings, cheerful Narcissus Tête à Tête looks fabulous in just about any of these settings.
So, whether you're just looking to plant a few pots, have a large area you want to convert into a spring flower meadow, or hope to dot them around as a pleasant addition to a mixed border, Narcissus Tête à Tête fits the bill beautifully. Choose between planting them on their own or combine them with other plants, they're happy in just about any combo.
There's one final advantage that can't be overlooked: you don't have to lift the bulbs while they are dormant unless you are planning a lot of additional summer watering. All these little beauties need is well-drained soil, and they'll settle down or "naturalize" in your garden or containers. That makes Tête à Tête dafs a good choice for a beautiful, yet low-maintenance gardening experience.
Getting Started With Narcissus Tête à Tête
Getting your Tête à Tête's started is easy peasy. It's just a matter of remembering to plant the bulbs in autumn. At Farmer Gracy, we help gardeners to do this by allowing advance purchases (when you're actually thinking about planting narcissi) followed by shipment at the ideal planting time when you get best results.
Next up, you choose the right spot I your garden or prepare a container. This should be sunny or only lightly shaded. Bear in mind that Narcissi turn their faces to the sun when there's shade nearby and make sure they won't be turning their backs to you when they're flowering. If you choose containers, just make sure that they have adequate drainage holes at the bottom and choose a well-drained potting soil.
Best practice is to add compost to garden soil for extra drainage, but in many soils, this isn't even a hundred percent necessary. Still, a bit of soil prep is always going to give you better results.
To get instant effect, consider planting your Tête à Tête narcissi in clumps of seven or so, especially if you're dotting them around instead of creating a mass. You can always lift the clumps and divide them later if you notice they're getting too crowded. The clearest symptom of this is a decrease in the number of flowers.
Tête à Tête Maintenance
Narcissis are really low maintenance. They tolerate poor soils, so extra feeding isn't a must, and as we've mentioned, lifting and storing during dormancy isn't usually necessary. Of course, you can do so if you'd like to plant something else in the same spot until autumn planting comes around again.
If you do decide to lift your bulbs, wait until the leaves have yellowed before doing so. This allows the bulb to draw all the nutrients out of the leaves to fuel its next performance. You should also not pack them too densely or store them in airtight containers. Let them breathe a bit during storage to prevent rotting.
Finally, for better blooms, remember to divide your clumps of Tête à Tête daffodils every few years if you're letting them naturalize. If you have too many bulbs afterwards, you can always share the love by giving them to friends.
Even a Beginner Can Have Gorgeous Narcissi!
Many people think they need "green fingers" to grow plants. That's not really true. Although some plants can be quite demanding, Narcissi aren't, and among Narcissi, Tête à Tête are among the most rewarding and easy to grow.
Expert gardeners are also fans of Narcissus Tête à Tête because they know they're going to get great resuls with this variety, so whether you're an aficionado or just starting your first garden, consider Tête à Tête or Tête Bouclé. They're sure to make you smile next spring.