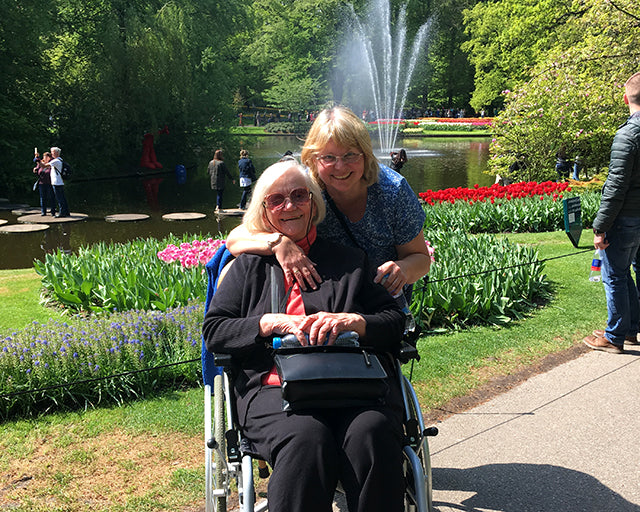 Keukenhof competition — our winner's trip!
Last year we ran a competition on social media offering entrants the opportunity to win the prize of two tickets to Keukenhof on a two-day trip, including a tour of the famous gardens and bulb fields. Selected at random, our lucky winner was Margaret Noble who the team at Farmer Gracy had the pleasure of welcoming to The Netherlands in April 2019 for this special trip, along with her daughter Joanne.
Green-fingered Margaret is a keen and talented gardener and enjoys filling her own garden with colour through the seasons with flower bulbs. Having worked in horticulture in the past, teaching young people and adults with disabilities and special educational needs this rewarding and therapeutic subject, it's fair to say that Margaret certainly knows her onions and has done a great thing in sharing her knowledge and influencing many people to get involved in the industry. Having not been to Keukenhof before but long been on the wish-list, winning this trip was a great surprise for Margaret and proved to be the perfect day out!
Throughout April, Keukenhof displays are a successive spectacular of Hyacinths, Muscari, Daffodils and Tulips in an entire spectrum of colours and eye-popping planting combinations. Visiting the gardens in late April, Margaret was able to experience the Tulips at Keukenhof in full bloom, surrounded by the vibrant backdrop of flowering Azaleas and Rhododendrons.
This year's Keukenhof theme was Flower Power, inspired by the funky colours, hippies, peace and music of the early 1970's. The gardens dotted with brightly decorated VW Campervans was a cheery sight and also a nice surprise particularly for Margaret who used to own one! Having wandered and enjoyed the entire garden through the day, a drive past the bulb fields and plenty of good gardening chat was the ideal way to end the afternoon.
Here are a few words from Margaret…
What did you think about the trip?
"Thank you all for a wonderful two-day stay. Both Joanne and I enjoyed it immensely. I'm so glad I chose to come in late April as so many Azaleas and Rhododendrons were already in flower. They made a great backdrop for the Tulip displays.
"The park was well set up for wheelchair users, which was quite a relief. It can be quite difficult when you have mobility problems. Our hotel was fantastic too, it was so comfortable. The food was a delight for me and very much to my taste, possibly due to my Austrian forbears."
What have you grown from the Farmer Gracy range and what would you recommend to others?
"For summer, I think that my favourite plant would be the Calla Lily 'Rainbow' Collection that you gave to us!
"For spring I would recommend Tulip 'China Town'. My personal choice for next year will be the 'Bobby Charlton' Collection, which includes blue Grape Hyacinths and White Anemones – I will certainly be ordering that collection."
If you would like to win a trip to Keukenhof next spring, do keep an eye out for our next competition which will be live on our website and across social media channels from later on this the year!