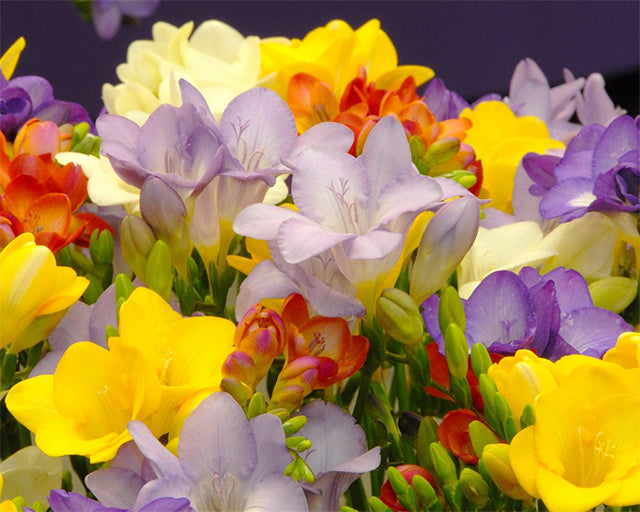 Freesias: Colourful & Fragrant Summer Garden Delight
By Naomi Jones
It's hard to beat freesias when it comes to pure late-summer flower power. With bold blooms in a contrasting mixture of loud colours, combined with their powerful, distinctive fragrance, they're a true late-season delight for the senses. For this week only, you'll save 50% on all freesias, including single- and double-flowered mixes. This half-price deal is only available while stocks last – please order early to avoid disappointment!
These gorgeous flowers bring a touch of the vibrant South African landscape right into your own garden. And, despite their exotic origin, they're actually very easy to grow in this country. The top-quality freesia bulbs supplied by Farmer Gracy are heat treated, which means they can be planted outside in the spring and grown just like any other summer-flowering bulb.
Flowering from mid-summer to late autumn, beautifully colourful and exotically fragrant freesias provide a refreshing uplift to the garden, picking up the slack just as other summer flowers are beginning to fade. Not only do they extend the season of colour in your garden, but they're a popular cut flower too. With exceptional vase life and a rich, powerful scent that will fill your home, there's really so much enjoyment you can get from having your own fresh cut supply.
Freesias are very versatile and fully deserve their space in any type of planting scheme. Bright, mixed colour blooms such as these are becoming very trendy, too, with the multi-coloured 'boho' look now increasingly popular in urban gardens. If you have a small space, grow vivid flowers like freesias in pots positioned at different heights to create a lush, colourful surrounding. They equally good in large gardens too, providing bright pops of colour in beds and borders.
How to grow Freesias

Farmer Gracy's heat-prepared freesia corms are ready to plant in spring and will flower from late summer into autumn. The optimum time to plant them is in spring, and they can either go straight into flower beds or outdoor containers.
Heat treating is a process which subjects the bulbs to high temperatures for more than 30 days which imitates the hot South African summer, during which time the bulbs are in a dormant phase. In their native environment, they'd normally begin to grow in the autumn once the weather cools. By planting them in a cool, moist UK garden in spring after heat treatment, we can mimic these conditions, after which the freesias will begin to flourish as if it's a South African autumn! Having this process all taken care of before the bulbs are sent to you means that you can just plant them without all the fuss.
When your corms arrive, choose a bright, sunny spot in which to plant them. For the best effect, plant them in groups at a depth of about 5cm with the pointed end facing upwards, and space them about 5cm apart from each other.
Freesias like to grow in a heavy, loam-based soil. However, if you're planting in very heavy or clay soil, it's a good idea to mix in a handful of grit to the planting hole to aid drainage. If you're planting in containers, use a loam-based compost, or a mixture of garden soil with multipurpose compost.
After planting, water the planted area well and leave them – foliage should start to emerge after several weeks. The flowers will begin to grow in the height of summer. During the flowering season, you can snip some of the stems at the bottom to use in cut-flower bouquets.
Although freesias can flower right through autumn, they're a frost tender bulb so it's best to lift them from the ground before winter. They can withstand a light frost, so they should be lifted and stored soon as after the first frosts as possible.
To store your freesias to use the next year, lift them out of the ground and cut off any remaining foliage approximately one inch above the corm. Shake off any excess soil and keep them in a light, frost free place over winter in a tray, on top of a shallow layer of compost or sand. The following spring (around April time) they can be planted outside again.
Freesias in brief
Grown from heat-treated corms, plant outside in spring

Highly fragrant

Excellent as cut flowers

Flowers during late summer and autumn

Suitable for pots and borders

Height 40-50cm

Thrives in full sun

Frost tender, store indoors for winter

Attracts bees and butterflies
Top tips for growing Freesias

After planting any summer-flowering bulb in a border, it's a good idea to mark where it is to avoid them being accidentally dug up. In the case of freesias, which benefit from a bit of staking, you could mark the planting area with a surrounding of three or four short canes (approximately 40cm above ground when pushed in) interwoven with twine for the plants to grow through – this will do the job of supporting your freesias as well as marking where they are.
To create a really impressive display, plant them in groups among other summer-flowering bulbs, such as agapanthus and nerines.
If growing in containers, keep an eye on water levels during the hottest days in summer. Freesias tolerate hot, dry conditions well, but containers can dry out very quickly. Water them whenever you notice the soil is completely dry.
Planting partners for Freesias

Create a beautiful planting scheme that provides continuous, harmonious colour throughout summer with these planting partner ideas. Freesia mixes are very bright, so you can turn them into a highlight by plant them next to white flowers, or you can really turn up the colour volume in your garden by combining them with other vivid flowering plants.
Freesias + Agapanthus 'Umbellatus'
Both freesias and agapanthus originate from South Africa, so they'll be quite at home in each other's company! They can be grown in sunny borders or containers and they'll provide a wonderful display from mid-summer onwards.
Freesias + Crocosmia 'Lucifer'
Groups of freesias look fantastic mingling amongst groups of crocosmia, which will both flower simultaneously during summer and autumn.

Freesias + Nerine bowdenii 'Alba'
The white nerines flower on tall stems that will tower just slightly higher than the freesias, adding extra height and interest to your display. Grow them in pots or borders – they too make excellent cut flowers.

"Freesias: Colourful & Fragrant Delight for the Summer Garden"
is a guest blog written by:

Naomi Jones
Author of Garden Nomey blog