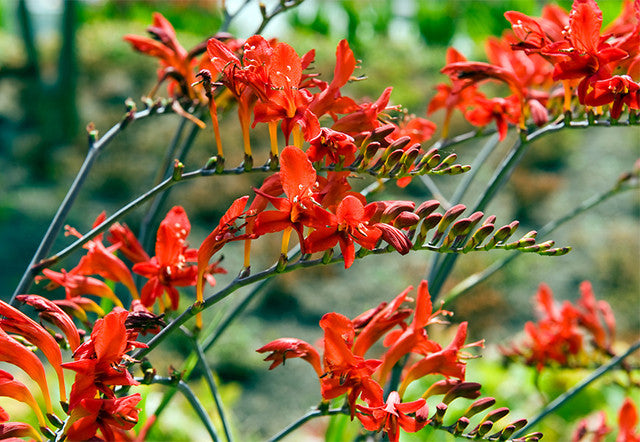 Crocosmia: a vibrant, easy to grow summer garden jewel
By Lisa Cox
Creating a planting scheme that provides colour and interest all year round can be challenging, especially in mid-summer when many of the early flowerers have faded and you're waiting for the late summer stars of the show to come to life. Crocosmia (or Montbretia) are one of those brilliant plants that bridge the gap to ensure that you have interest at a time when other plants just aren't showing off at their best.
Rich hues of red, orange and yellow
What I love most about Crocosmias is their arching habit and rich hues of red, orange and yellow. So often I work with clients who prefer a more elegant and subdued colour scheme of blues, pinks and creams, but I think a garden without the richness of all the seasons is somehow a little lacking and by the time I get to late summer I'm longing for the warm tones that autumn brings.
Crocosmia is one of those plants that many people associate with gardens of the past and I think it's often overlooked as being outdated and a bit boring. But nothing could be further from the truth as it's easy to grow and flowers forever. It absolutely deserves a space in the garden.
As well as being a valuable border plant, Crocosmia is also a great cutting flower. In fact the blooms will last for weeks indoors if they're picked as the flower buds start to open and if the water is refreshed regularly. They look fabulous grown in containers too - choose a tall pot to show off the arching stems to full effect.
Some varieties aren't fully hardy and others can be a little invasive so stick to those that are widely available and you can't really go wrong. One of my favourites is Crocosmia Lucifer which is probably one of the most commonly grown varieties and proudly boasts the RHS Award of Garden Merit. Its scented and vibrant red flower stems reach 1.2m in the right conditions and are perfect for attracting bees. The seed heads are attractive too and can be left for winter interest if desired.
A little snippet of Crocosmia history
Crocosmia originates from South Africa and is a member of the Iris family (Iridaceae). Its name originates from the Greek for Saffron (krokos) and the word for smell (osme) as the flowers have a strong smell of saffron when steeped in water. The plant is also used to make yellow dye.
How and where to plant your Crocosmia/Montbretia corms?
The "right plant, right place" philosophy is key if your planting scheme is going to thrive. Crocosmia corms prefer to be planted in humus-rich, moist but well-drained soil, but they're pretty tolerant of most soils as long as it's not too dry.
Although a sunny position is preferable, and indeed flowers will be more prolific in full sun, crocosmia will grow perfectly well in partial shade. I have some planted on a bank under the dappled shade of the trees and they're perfectly happy there.
Actually, I think crocosmias look best planted on a bank or in a raised planter where the arching stems can be shown off to full effect but they also looks great planted next to a pathway. The basal leaves rarely get untidy and as long as the pathway is wide enough to allow for any overhanging foliage, they can very effectively frame a view or vista and lead you through the garden.
Crocosmias work best I think planted in less formal gardens with grasses and informal perennials which have a contrasting habit and flower shape. Heleniums, for example, work really well as the flower heads are flat on top. But I also love the colour contrast between orange crocosmia and the rich deep purple of Penstemon 'Raven' which together provide interest from mid-summer through to early autumn.
Crocosmia varieties
Which variety you choose will very much depend on the space you have and the colour you like most. A good point of reference is the RHS Award of Garden Merit which is a stamp of approval to indicate that the variety is of notable value and that it has been tried and tested.
As Crocosmia Lucifer and Crocosmia George Davison need a lot of space, it's not the best choice for small gardens. If, then, you're limited with space you may prefer a smaller variety such as Crocosmia Emily McKenzie or Crocosmia Mistral which reach a more manageable size of 60cm.
If your soil is particularly light, or indeed particularly heavy, dig in some good organic matter before you plant. Crocosmia corms are best planted in the spring but it's important to ensure that you keep them well watered for the first two years whilst they're establishing. Mulch annually with compost or composted bark to keep the soil rich of nutrients and to help with moisture retention.
If you find that flowering diminishes you'll need to lift and divide the clumps. Do this in early spring, picking out the largest corms and replanting them in newly enriched soil. In fact it does no harm to do this every few years as this will ensure a strong and vibrant flowering period year on year.

"Crocosmia: a vibrant, easy to grow..."
is a guest blog written by:

Lisa Cox
Garden Designer
Lisa Cox Garden Designs