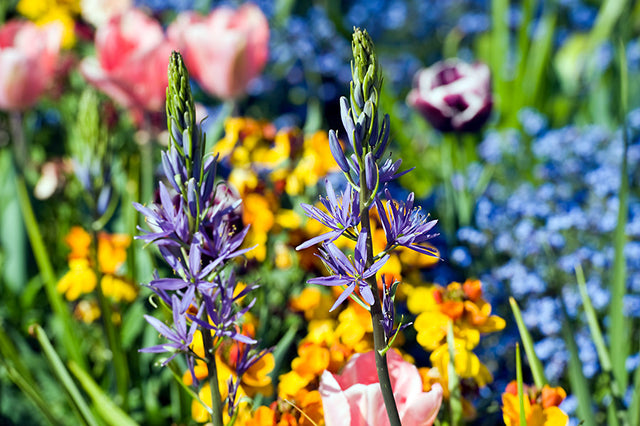 Camassia: A Favourite with UK Gardeners in the Know
I'll never forget the first time I saw a mass of Camassia in bloom. It was true-blue love at first sight. I went all starry-eyed. Then acquisitiveness kicked in: "I've got to have this!" Nowadays, they're a gardening staple as far as I'm concerned.

Camassias start flowering just as your tulips are giving the last of their best. But it's not just their habit of blooming in April or May when your garden's about to take a breather between spring and summer that makes them so popular. If they flowered in the hectic, colour-filled days of early spring, I'd still make room in my garden for them. I'm guessing you would too.
Camassias are still something of a niche for those in the know. After all, everybody is familiar with daffodils and tulips, but though they're every bit as deserving of fame, Camassias are less widely recognized. However, that may be changing.
Let's look at why UK gardeners are falling in love with Camassia bulbs and why your garden should have them!
They're Gorgeous in the Garden and the Vase
Cool white, blue, pink, or purple blooms cluster on tall flower spikes with up to 80 or even 100 blooms per stem. My number one tip is to mass them or group them for maximum exclamation-worthiness. One thing is sure: even if they didn't have all the advantages we'll look at further down this list; Camassias would be winners just for their striking good looks.
If you're gardening for the vase, Camassia plants are a must-have in your garden. They last well when cut and will cover a tricky time when your selection of blooms for the vase is getting a little lean.
Camassia Bulbs Naturalize and Multiply
Much as we love our gardens, few of us have the luxury of a lot of leisure time to spend pottering around in them. But we can still get incredible blooms with bulbs we only plant once and then enjoy (just about) forever. Camassias don't really like to be disturbed, so you aren't taking short-cuts if you don't lift them during dormancy. As for winter chill, a thick mulch is enough to see your bulbs through even the harshest winters.
It's nice having plants that only get better with time. I'm also a bit stingy and like to get lots back every time I spend on my garden. Camassias form clumps as they grow older. You can split them up for even more bulbs, but you won't find them multiplying to the point where they're problematic either. All in all, it's a nice balance.
They Aren't Fussy
Many bulb species are quite particular about good soil drainage, but Camassias quite happy growing in relatively heavy, moisture retaining soils. At the same time, they're reasonably drought tolerant after flowering and during summer dormancy, making them useful for those spots where other bulbs fail to perform well.
A sunny spot is ideal, but Camassia plants are perfectly happy with light shade too, so they'll thrive where tulips definitely wouldn't. I find that a lot of UK gardeners are choosing Camassia for dappled shade, and they look marvellous under trees. You also won't need to stake the flower stems, and I've never seen these plants pick up any serious pest or disease problems. Low maintenance? Camassia practically defines that term!
They Have a Story to Tell
I love plants with a special history, and Camassias have a good story behind them. They come from North America, and the bulbs were used as a food crop by native American tribes. The Lewis and Clark expedition, which explored the wilds of the US in the early 1800s, supplemented their rations with Camassia.
Apparently, they taste a lot like sweet potatoes when roasted, but admittedly, I haven't tried eating mine! However, those who do snack on their bulbs warn you to be very sure of your plant identification since similar-looking bulbs can be deadly. I'd class this snippet of information as "nice to know, but don't try this at home!" Am I a scaredy cat? Probably!
You Get Lots of Camassia Options
Returning to things practical, let's take a quick tour through some of the Camassia options you'll find in Farmer Gracy's webshop:
Blue Donau – Lavender-blue, 60-70cm
Cusickii – Pale sky-blue, 60-70cm
Cusickii Alba – Like Cusickii, but with white flowers
Camassia Pink – Very unusual, soft pink, 60-70cm
Esculenta – Quamash: – Intense blue, 60-70cm
Sacajawea – Very pretty, variegated foliage and creamy flowers, 90cm
Semiplena – White with semi-double blooms, 70cm
Blue Melody – Wonderful variegated foliage, intense blue, 70-90cm
What You Need to Know to Grow Them
If I were to kick this section off with "Not a lot," you wouldn't be surprised. I think the most important things to remember are that Camassia bulbs get planted in autumn and like moist soils, at least until they're finished flowering.
Plant your bulbs pointy side up 8-10cm deep and space them 8-10cm apart. Remember, you can always thin them and spread them around later, but you'll want a good floral display in their first growing season.
Choose a garden bed. You can plant them in lawn, but it takes time for the leaves to go dormant so that you can safely mow without hurting your plants, and by then the grass will be a little too long to suit most people. Pots aren't absolutely out, but most gardeners agree that Camassias are at their best in less confined conditions.
As with all bulbs, remember to give the leaves time to feed the bulb for next year's blooms. Only cut the foliage down once it has yellowed. If you want to divide the clumps, do so during the summer months.
What Goes Well with Camassia?
A background of deep green or purple foliage shrubs is perfect to throw your blooms into relief. Try combining Camassia with spring snowflake (Leucojum), late-flowering poeticus Narcissi, forget-me-nots or bleeding hearts. Try white Semiplena Camassia with purple Alliums – the contrast in form and colour is a genuine eye-pleaser.
Ultimately, there are few plants that won't work well with Camassia, so feel free to play around and get creative. Just don't dot them around too much or you'll lose a lot of the impact they're capable of having.
Get Started with Farmer Gracy
Farmer Gracy has a superb range of Camassia including the ultra-rare pale pink variety. The bulbs are top-notch – selected for the best flower quality and completely disease-free. If you're ready to make a splash with your flowering Camassias, this has to be the best place to begin.
Not yet planting season? That's not a problem. Place your order and wait. Your bulbs will arrive at the perfect time for planting. It's really hard to go wrong with Camassia, but Farmer Gracy ensures you won't make the biggest mistake of all: missing planting time!