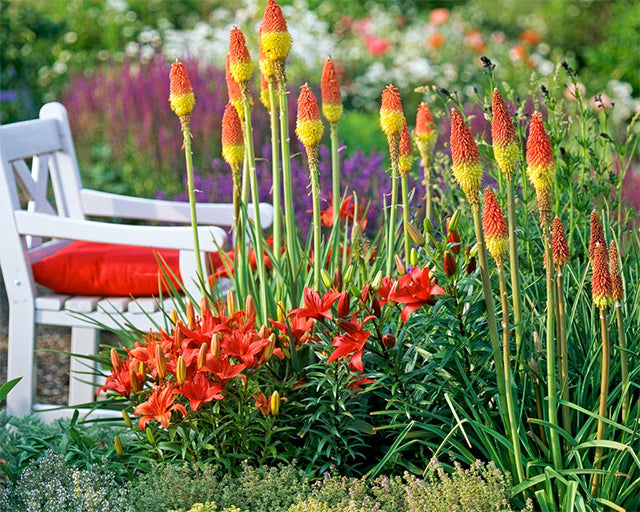 What You Need to Know About Kniphofias
Let's not get this wrong. Although they're not exactly scarce, just knowing about Kniphofias, also called Red Hot Pokers, puts you ahead of other gardeners. After all, as striking as these late-summer-flowering marvels may be, they're not famed in story or song. At a guess, their rather unpoetic name is more likely to be responsible for this omission than the plants themselves, but it's too late to ask Wordsworth why he doesn't seem to have been a Kniphofia fancier!

It's not a huge leap from knowing about Kniphofias to knowing how to grow them. After all, they're not exactly fussy plants. If anything, knowing a little about Kniphofias means taking less trouble with them than you would with most bulbs. But, for those who have been hesitating and wondering whether these exotic-looking blooms can tolerate their lack of gardening experience, a few Kniphofia basics are sure to make reassuring reading.
Let's take a jog through.
Fast Kniphofia Facts
Kniphofias come from South Africa, but they do well in the UK when planted in full sun.
Kniphofias aren't 100 percent tolerant of winter chills, except in mild areas or well-protected spots. However, in most gardens, the old tuft of leaves is sufficient to protect the crown over winter allowing you to treat your Red Hot Pokers as deciduous perennials.
Red Hot Pokers tolerate soil with poor nutrition and drainage. In nature, most species grow along rivers in soils that are saturated for at least part of the year. Nevertheless, although this makes them more tolerant of heavy soils than most people realize, well-drained soil remains the best choice.
A lot of people mistake Kniphofias for Aloes because their blooms are similar. However, all aloes have succulent foliage, while Kniphofias don't.
Kniphofias are long-lasting and showy cut flowers.
Gardening with Kniphofias
Although Kniphofias can also make very striking single-specimen accents, they're at their very best when planted in a blazing mass. On the other end of the spectrum, they work well in the mid to late summer and autumn mixed border, combining well with Crocosmias, Dahlias, Foxgloves, Lilies, and Echinacea to name but a few flowering companions.
Remember that they are tall and that their foliage is quite showy. It takes up a fair amount of room, especially once the plants are established and begin to develop multiple crowns.
There are many Kniphofia species and cultivars, but Farmer Gracy has chosen two of the very best for you. They're the classic, tall orange Kniphofias with their bright yellow skirts of stamens, but Kniphofia 'Alcazar' offers you a softer, apricot-orange while Kniphofia uvaria 'Grandiflora' is a deep orange-red that's bound to be a focal point.
If you've never grown Red-Hot Pokers, now's the time to try. I'll admit that they're personal favourites, and since Farmer Gracy brings you the very best, there's no reason to delay getting started. Spring is your planting season – don't miss it!