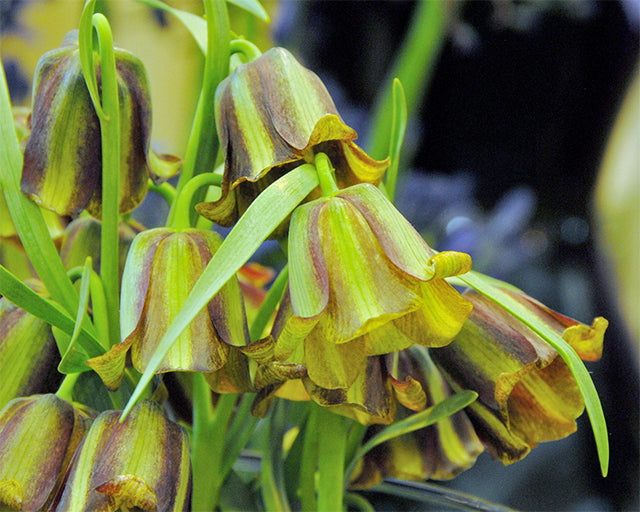 All about Fritillaria acmopetala
This very special variety is a perfect example of how exquisite natural fritillaries can be. The subtle details of Fritillaria acmopetala include humbug-like markings in contrasting shades of pale green and maroon, elegant, slender arching stems and nodding bell-shaped flowers with elegant curled back pointed petals. In fact, this particular variety is commonly known as Pointed Petal Fritillary due to its unique flower form.

A worthy winner of an RHS Award of Garden Merit, you can be certain that when you grow this tried and tested variety, it will put on a reliable and beautiful show. With lovely, ethereal looks, its fabulous details are best appreciated when planted in big groups in a prominent position in the garden, such at the front of a sunny border, patio container or rockery.
Also establishing well through grass, you can enjoy them within a meadow-style planting scheme too. Emerging during spring, Fritillaria acmopetala reaches a height of around 45-60cm and bears multiple blooms per stem. And what's more, once you've planted the bulbs you can expect a perennial-flowering display every spring thereafter – they just keep on giving and require very little in return!
Part of the joy of these marvellous plants is their unfussy nature and reliability, which makes them pretty easy to grow in most gardens. They thrive in any soil type and naturalise in the ground, returning each year for another show. You can successfully grow these fritillaries in pots, borders, rockeries or through grass, and they'll be perfectly happy in full sun or light shade. Follow these simple steps to achieve a gorgeous display of Fritillaria acmopetala in your own garden:
Choose a sunny or lightly shaded space in your garden. This variety prefers slightly moist conditions, and is best positioned at the edge of a meadow planting scheme, at the front of a border, in patio pots or a rockery.
Plant Fritillaria acmopetala in autumn, anytime between mid-September and late-November.
The bulbs should be planted fairly deep, under approximately 20cm of soil. Position one bulb in each planting hole with the pointed side facing upwards.
For a natural-looking display, scatter the bulbs in a swathe and plant them where they land. If planting in denser groups, space the bulbs about 15-20cm apart from each other. Bulbs planted in containers can be packed in more tightly at a spacing of around 5-10cm apart.
The bulbs will remain dormant in the soil throughout winter and begin to emerge from around April.
Allow the flowers and foliage to fully die back after spring to allow the bulbs to store as much energy as possible before they become dormant for summer, rather than removing the foliage when still green. Leaving your fritillaries to die back naturally will help encourage naturalisation and help the bulbs produce a good display of flowers the next year.
Fritillaria acmopetala in brief
Grown from bulbs, plant in autumn
Flowers during spring
Ideal for borders, containers, grass or rockeries
Thrives in full sun or light shade
Fully hardy
Easy to grow, perfect for beginners
Grows to 45-60cm tall
What to plant with Fritillaria acmopetala

You can create a really stunning potful of flowers with Fritillaria acmopetala alone, or make a grand display in borders by combining them with the right selection of plants. When choosing a planting combination, it's essential to consider flowering times, heights, growing conditions and flower habit so that you can enjoy a full and varied display. Both contrasting and complementary colour combinations work well in the plant world and can create very different effects. When planting different varieties in a combination, you can either mingle them together for an informal look, or separate them into bold neighbouring groups. Here are some of our favourite choices for planting with Fritillaria acmopetala:
Echoing the dusky maroon tones of Fritillaria acmopetala, the magnificent Tulip 'Nachtwacht' is the perfect complementary plant in terms of colour. The contrast lies within the flower form - big, double peony-like blooms unfurl slowly from mid-spring, forming a dense backdrop of deep colour to show off the dainty, nodding blooms of the fritillary. These two are a great pair for planting in a large patio container or garden border.
Just like Fritillaria acmopetala, Leucojum 'Gravetye Giant' is a beautiful natural looking plant with nodding flowers and enjoys a sunny spot, with soil which is slightly on the moist side. These two make a pretty pair when planted together, flowering simultaneously from mid to late spring, both with bell-like blooms and pretty pointed petals. 'Gravetye Giant' can reach up to 90cm tall, so it will tower gracefully above the fritillary. This combination would work well in a meadow-style planting, on the bank of a pond or within a rockery or a border.
For a big, impressive border display, try planting a large swathe of Fritillaria acmopetala in front of a group of stately tall-flowering Fritillaria persica 'Ivory Bells'. With similar-shaped flowers, the taller 'Ivory Bells' act almost as an extension for the smaller fritillary, which in turn provides floral interest at a lower height, just below the upright flower spikes of 'Ivory Bells'. Both flowering from mid to late spring, you can enjoy watching the delicate fresh-green blooms unfurl into an really spectacular display.