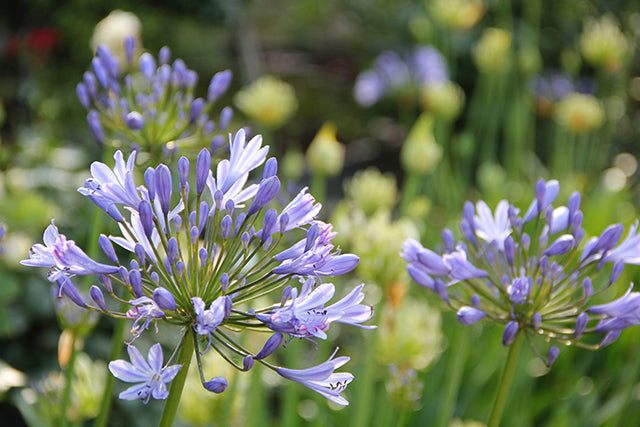 Agapanthus! All about Growing African Lilies
By Naomi Jones
There's no simpler way to create a showy and impressive display than with easy-to-grow Agapanthus. Effortlessly flowering with statuesque and bold clusters of lily-like blooms on tall, sturdy upright stems, these beautiful plants provide important colour and structure throughout summer, with minimal fuss.
Flowering in the height of summer, agapanthus (or African lily) do best in a sunny position and will inject a much-needed fresh pop of cool colour into the garden from August onwards. They come in shades of blue, white, pink or mauve and look fitting in both traditional and modern planting schemes. Not only are they fabulous in the garden, but they're great for use as cut flowers too. The dramatic blooms have long, upright stems which make them particularly useful for tall, contemporary or simple glass vases.
With its exotic looks, agapanthus makes a big impact, whether you have a large patio, deep borders or just a balcony. They like having their roots restricted and have good drought tolerance, which together makes them ideal for container growing. They also sit very well in small gardens with narrow beds or along pathways. Another bonus is that they're beneficial to pollinators too, attracting bees and butterflies to the garden with their nectar-rich flowers.
Agapanthus in brief:
Grown from bare roots
Plant in spring
Height 1m
Spread 50cm
Grows in any free-draining soil
Suitable for containers and borders
Thrives in full sun
Flowers during mid-summer
Half hardy
Suitable for cutting
Attracts bees and butterflies
How to grow Agapanthus
Some varieties of Agapanthus are more hardy than others, so it's important to read the information supplied so you know whether it can be left outside during winter or not. The hardy varieties (which tend to be deciduous) can withstand a typical UK winter under a layer of mulch, whereas the less hardy varieties (typically evergreen) need to be moved indoors or covered with mulch as well as fleece during winter. If you want to play it safe, there's no harm in adding a thick layer of mulch to your agapanthus or secure down a few layers of horticultural fleece in autumn, which can then be removed in late spring.
Agapanthus are grown from bare-roots and should be planted in spring. It's best to start them off under cover or in a warm, bright place to give them a good start. A conservatory or greenhouse is ideal.
If planting in containers, choose one that's at least 30cm wide. Fill the container almost to the top with a loam-based compost, or a mixture of multipurpose compost and garden soil will be fine. Position the roots on the surface and then top up with around 5cm more soil. Firm down the soil with your hands and give it a good water.
If planting in beds, choose a sunny and preferably sheltered location - next to a wall, hedge or along a walkway is perfect. Dig over the area to loosen the soil and plant the bare roots 5cm below the soil surface, at a spacing of approximately 30cm. Cover back over with soil and then water in.
You'll see shoots beginning to emerge as the weather warms up in the following weeks. To get the most out of your plants, it's a good idea to feed them weekly with a liquid feed throughout summer. Agapanthus don't need a lot of water, but it's important to keep an eye on containers as they can dry out quickly and may need a good soak a few times a week during hot weather. Keep watering them regularly after flowering so that the foliage can stay healthy and continue to transfer energy down to the roots. Doing this will aid next year's growth and flowering. In the autumn, or after flowering, cut the stems off at the base.
It can take a couple of years for the agapanthus to establish and provide a really full display. Once they've established into larger clumps, they produce more flowering stems and denser foliage. The roots like to be restricted, but after four or five years they may become too dense. At this point, it's a good idea to lift them and split them with a spade, then replant each section into a separate position or pot.
Three amazing agapanthus…
Agapanthus 'Umbellatus' ↑


Impressively large blooms formed in rounded clusters above very long, strong stems. Agapanthus 'Umbellatus' is an evergreen variety and hardy enough to withstand a typical UK winter (down to -10C). Striking marked petals gives it a unique look with ready-made contrast, creating a perfect display on its own. A wonderful variety for cutting and ideal for contemporary floral designs. It flowers between August and October, attracting bees and butterflies.
Agapanthus 'Albiflora' ↑


Produces attractive ball-shaped clusters of large white flowers during midsummer, which attract bees and butterflies to the garden. A lovely alternative to the traditional blue varieties, providing a chic, fresh look that sits well in contemporary or white gardens, as well as informal cottage styles. Agapanthus 'Albiflora' makes a wonderful cut flower in both mixed or single-variety arrangements.
Agapanthus 'Black Buddhist' ↑


An evergreen variety with stunning, large dark blue flowers which are formed in dome-shaped clusters above tall, dark stems. Like all agapanthus, this is an excellent variety for growing in containers or sunny borders, establishing over time to provide a fantastic display with multiple stems. Provide a little frost protection over winter and Agapanthus 'Black Buddhist' will reward you with repeat displays between June and August, year after year.
Try this border combination!
These three varieties create a rich, vibrant display together and will provide a continuous flow of colour from early summer through to autumn. All thrive in full sun and tolerate most soils. Plant them in groups or swathes in the border and enjoy each one coming into its own as the season progresses. From left to right:


"Agapanthus! All about Growing Agapanthus"
is a guest blog written by:

Naomi Jones
Author of Garden Nomey blog